The Patterson Amazon Fulfillment Center gave a generous donation to the Stanislaus County Veterans Employment Committee (VEC) on Veteran's Day.
Joe Sicilian, Vice Commandant, Marine Corps League, was on hand to tour the facility before receiving the $25,000 check. The VEC sponsors Stanislaus County Veterans Stand Down, an event offered annually to provide assistance to area veterans, many of whom are homeless. Held most recently in Graceada Park in Modesto on Oct. 31, the event offers hot meals, personal care kits, haircuts, clothing and other items to vets in need. Ninety-three vets registered for the October event, Sicilian said.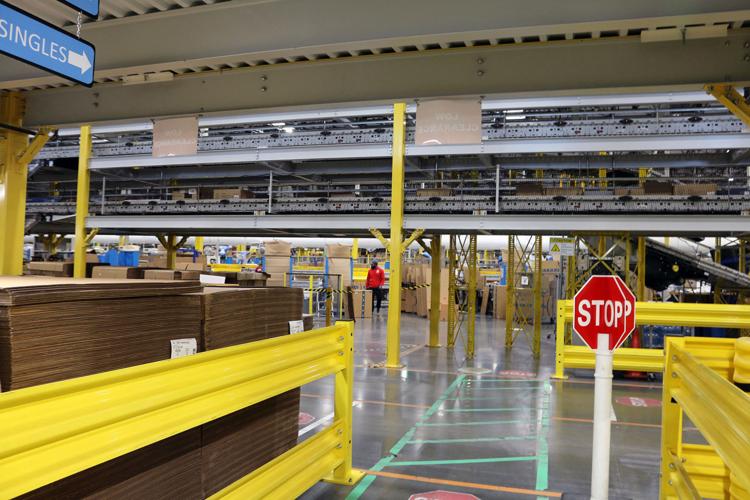 VEC funds are principally disbursed for the Annual Stand Down event, during which backpacks from Backpacks for Life, an organization started by a vet, are distributed, Sicilian said. The packs include warm socks and other essentials needed by vets who are homeless. VEC pays for shipping; Backpacks for Life, a veteran-run non-profit, donates the backpacks. The organization also provides gas cards, clothing, training, transportation and other direct costs to assist veterans in gaining employment. More than 200 veterans receive assistance from the VEC each year, Sicilian said via email.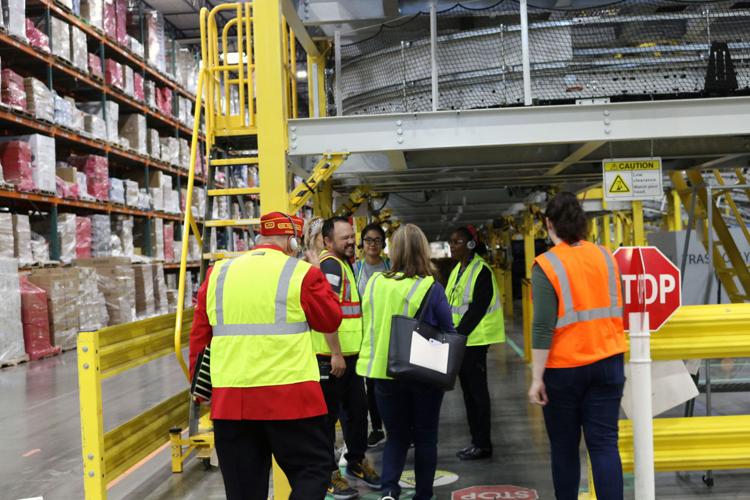 "This is our 4th year, and we have been blessed by a very active and generous Community in the Central Valley. We would like to increase assistance to Veterans seeking Employment and the donation from Amazon is a great step forward toward that goal!"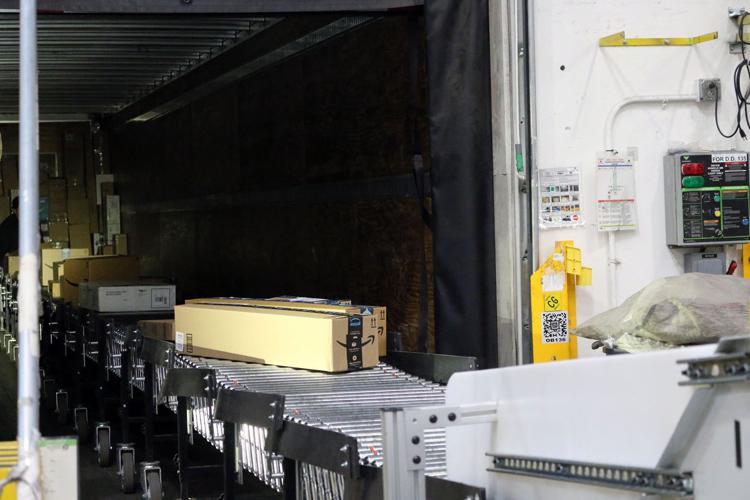 "Amazon is committed to being a good corporate neighbor and part of that is giving back to where our associates live and work," Shevaun Brown, who works in public relations for Amazon, said via email. "Amazon is thrilled to donate $25,000 to the Stanislaus Veterans Employment Committee to help expand their impact serving disadvantaged veterans across California.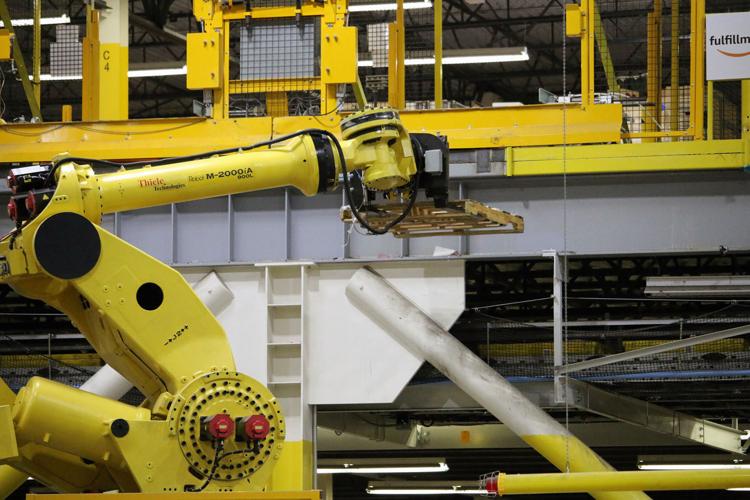 "As a company, Amazon values the leadership skills and problem-solving abilities abilities that veterans bring to our fulfillment centers. We actively seek leaders who can invent, think big, have a bias for action and deliver results on behalf of our customers. These principles look very familiar to men and women who have served our country in the armed forces, and we find that their experience leading people is invaluable in our fast-paced work environment."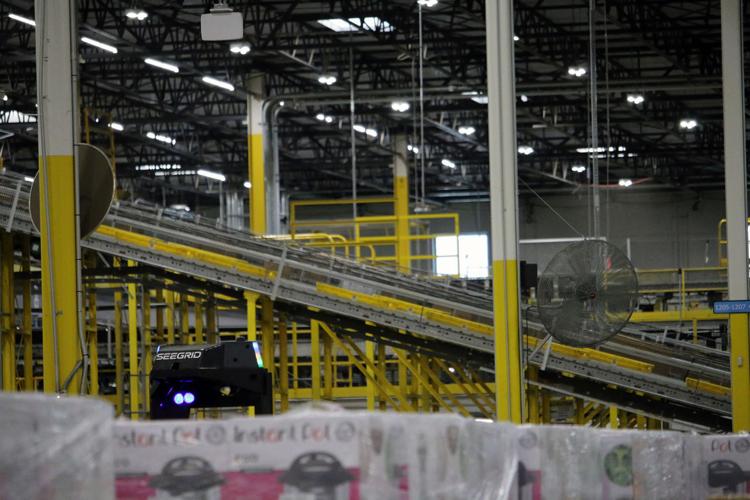 Brown said the current donation is "just one way Amazon works to support our country's veterans and military spouses." In 2016, the company to employ more than 25,000 veterans and military spouses by 2021. "We're excited to say that the company is well on track to meet that goal with more than 21,000 employed so far."
Senior Operations Manager Michael Bottomley is one of those, who served in the Army and is an Iraq combat veteran. He leads the tour today, along with Learning Trainer Sandra McCoy.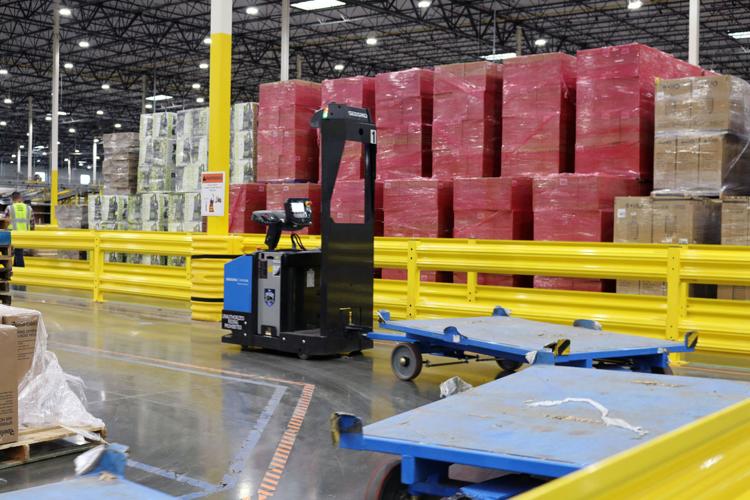 Several things hit you at once, on the premises of the Amazon campus. There are "No Photography" signs in the parking lot - the warehouse is known for its tight security. Other than a couple of employees chatting in the parking lot, there is no one else around.
It's not easy to tell where the building's front door is. Although I had been invited, I was still stopped before I could get all the way into the lobby. Protocol is followed to the letter, and no one gets in or out without passing through security.
It's extremely loud inside the building even in the lobby; well away from the conveyor belts, forklifts and other machinery, it was difficult to hear conversation.
At the security desk, we were issued headsets so that we can hear Mike as he conducts the tour.
Past the desk, the walkway is defined by green lines on the floor. Blue-and-white signs identify various sections, and there are signposts at junctures. There are stop signs at intersections, and we are advised more than once to stop and look left and right.
Everything here is geared to safety and efficiency.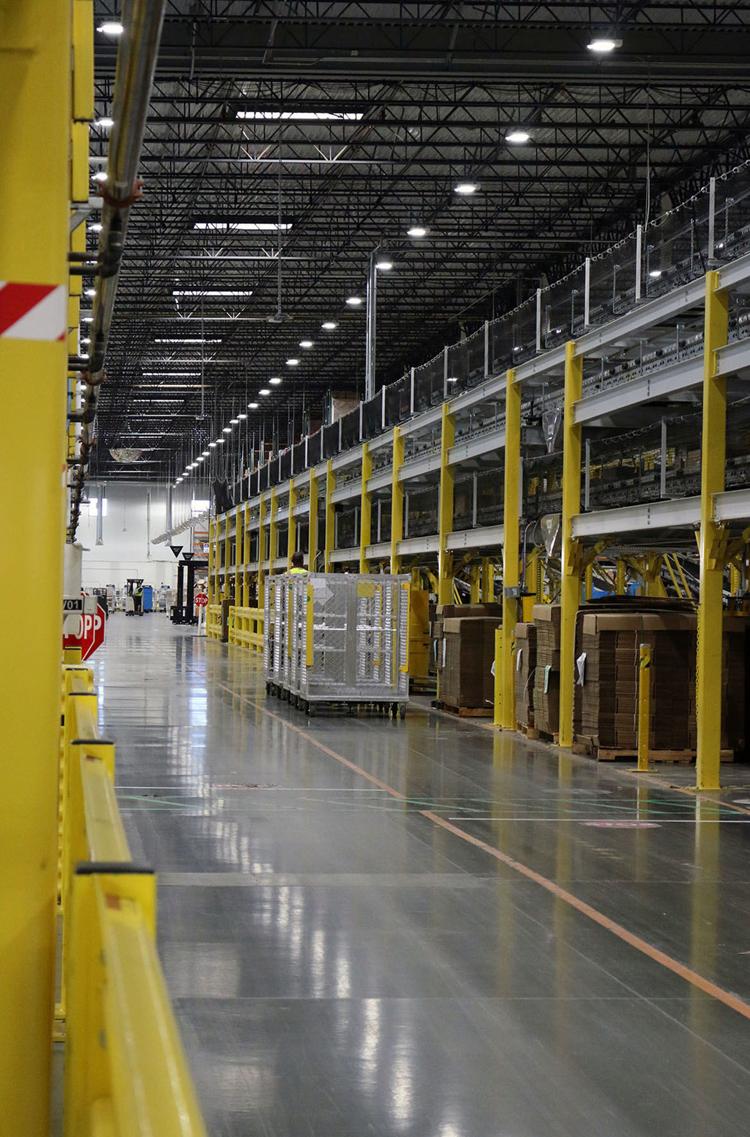 Although we arrived at break time for at least one group, there was still constant movement – packages moving along conveyor belts, a few employees going about their business on foot, one or two people whizzing by on electric forklifts – and even a forklift driving around on its own.
Countless overhead lights keep the warehouse bright as day, and skylights are scattered throughout.
Although this is a 24-hour-a-day, seven-days-a-week shipping operation handling millions of packages a year, it seems almost surgically clean.
Past the first three conveyor belts carrying packages up a level, we encounter something employees call "Robostow" – a giant robot whose entire purpose in life is to pick up empty wooden pallets, one by one, and lift them up to the next floor for processing. The machine does this with very little human intervention – someone keeps an eye on it, but the extremely sophisticated robot itself uses a combination of sensors and algorithms to make all the calculations necessary to pick up and move the heavy wooden pallets, cutting out a tedious task and eliminating a potential cause of workplace injury. The Patterson warehouse is one of a handful of Amazon facilities that have such a machine. Otherwise, this location doesn't have a lot of robotic equipment, as the facilities that handle smaller items do.
The machines are used to lighten the load of human employees, Brown explains later, leaving the living and breathing workers free to focus on things like creative thinking and problem-solving. "Employees have a stake" in the success of the company, she said, which shows in the company's culture. The mood since our arrival has been upbeat.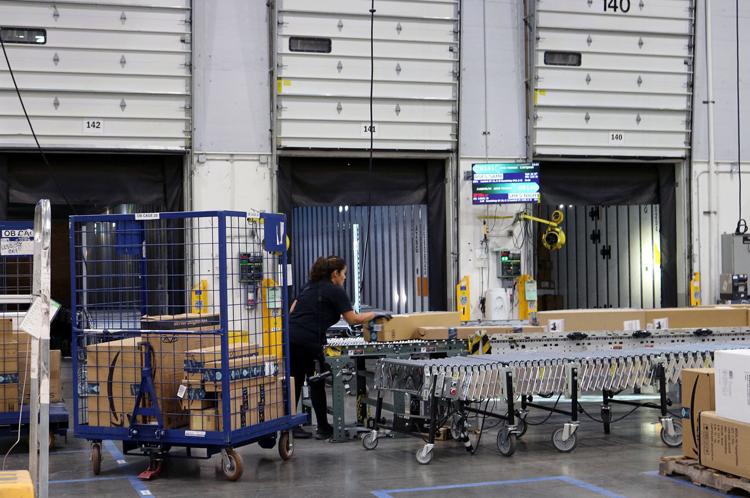 Everything here has a purpose, including colors. Although there is a lot of yellow for safety, it is balanced by just enough blue in the signs and elsewhere to make the building seem less sterile.
The significance of color extends to employees: White name tags indicate temporary employees. Blue name tags are coveted. When Sandra, who also helped with the tour, was a temp, she said she prayed during breaks in her car that she'd get the job – a lot of coworkers she thought were "great" didn't get hired on, she said. (Ninety percent of employees are permanent.) She started at the fulfillment center in Tracy, working nights. Commuting from Patterson to Tracy, and working a schedule that created hardship in her home life, she asked for a shift change, and "within two days," was working an earlier shift at the warehouse here.
The tour continued past the gift wrap station. Employees who enjoy wrapping gifts are given the opportunity to rotate into the spot.
Beyond the incoming truck bays, conveyor belts move outbound packages to the outgoing bays. A sensor "reads" outgoing boxes, checking for order accuracy. It can detect if there's so much as a crayon missing, or extra, McCoy said.
The company supports sustainability, and is working with suppliers to use their own packaging, which should mean fewer boxes, Mike said. Multiple orders placed by a customer on the same day are consolidated, whenever possible.
Leaving the outbound area, we cross under several conveyor belts, stacked one on top of the other. The adjacent shelving could hold products at any big box store, except for the lack of display. And the aisles are narrower. The forklifts that whiz up and down them are on wires, Bottomley explains, for safety.
As we return to the security area, tour finished, the blue robot forklift, pulling several carts behind it, makes a circuit to pick up product. It plays music to warn employees it's in the area, McCoy said – they call it "Jingles."