Local publisher, podcaster, historian, and photographer, William Hoffknecht, is certainly a jack of all trades when it comes to the independent "do-it-yourself" entertainment and media industry. For the last ten years, Hoffknecht has hosted podcasts that have centered around the topics of comic books, video games, photography and history; and most recently, has started to publish a quarterly comic book anthology, Hundred Percent Comics (H % C).
"I'm a person who wakes up in the morning and I come up with an idea and I do it," said Hoffknecht.
Hoffknecht, who works regionally as an IT Manager for Amazon, is currently on a hiatus from season two of his most popular podcast, "I Love You, California," a short-form podcast that takes listeners into the beautiful nooks and crannies of California.
According to Hoffknecht, the podcast was inspired by an old radio show hosted by Paul Harvey, called, "The Rest of the Story" which consisted of little- known facts and stories on a variety of subjects. Hoffknecht used this, along with his love for California, which he gained through traveling the state as a child, to springboard into the podcast.
"The State, the geological formations, and the history have always been one of my favorite pastimes," said Hoffknecht. "We are lucky to live in a state with so much ecological interest and we grew up driving around everywhere as kids...It is just something I grew up with and love studying roads, maps, and mountains."
Since Hoffknecht handles all of the production, writing, and editing of the show, he has had to put it on hold for now so that he can divert his attention to his latest podcasting venture.
"There's this podcast network called Thunder Quack and one of their podcasts is called "The Epic Marvel" podcast. They break down these "Marvel Epic" series and the host of that (Kurtis Findlay) got me to do a side project of his called, "The Epic Marvel Crossover" so I just started doing that, and the first episode airs on Tuesday," said Hoffnecht.
According to the Epic Marvel Podcast website, every month, Hoffnecht and co-host Jim Mason will discuss a story in which a Marvel character comes face-to-face with a character from a different universe (DC, Image, Dynamite, Malibu, etc). In its premier episode, Hoffknecht and Mason discuss a physical altercation between The Hulk and Superman.
"I think that this Hulk versus Superman is on the Mount Rushmore of crossovers," said Hoffknecht to a concurring Mason, during the first episode of the Epic Marvel Crossover.
Originally hailing from Merced, Hoffknecht relocated to Patterson in April of 2013 after living in Fernley, Nevada.
"When we (Amazon) started building in California, they essentially had me move here; they like to get established personnel in the area…they were building Patterson and Tracy at the same time and I chose Patterson because it was closer to Merced," said Hoffknecht, who now manages IT for Amazon fulfillment centers in the Bay Area.
Last week, Hoffknecht published the very first issue of his comic book, Hundred Percent Comics (H % C), a black-and-white, short-form anthology comic comprised of free-spirited, unconventional content that wouldn't normally be found inside of a comic shop.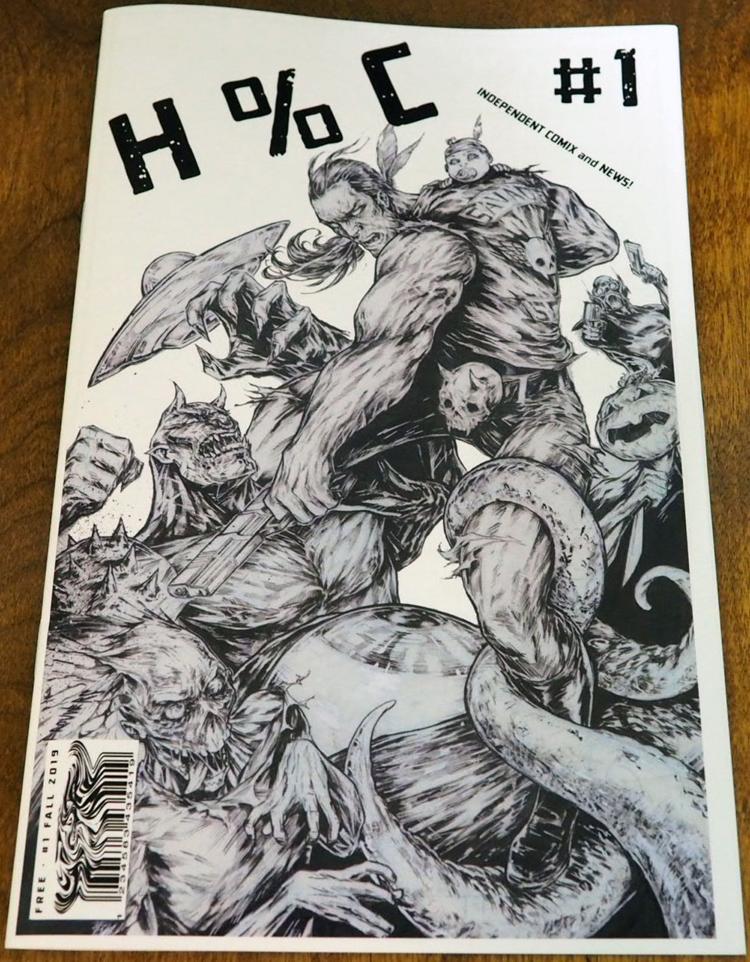 "This is again one of those ideas when I woke up one morning and said 'I wanna do comics,' cause I love comics but I can't draw, and I'm not good at art, but I am good at putting stuff together so I thought I'd publish a comic," said Hoffknecht. "My goal is to publish this quarterly."
H % C is comprised of stories and art from multiple writers and artists and presents them together so that the reader can enjoy a variety of styles in a single issue.
The back of the cover page reads: "H % C #1 - Fall 2019 - Published Occasionally by 100% Comics, Patterson, Ca."
"The idea was to be a publisher and give them (the writers, and artists) a place where they can get their works on the web, and get print copies," said Hoffknecht. "I wanted to support local and independent creations and support local comic shops and that's why I made it a free magazine, so that shops can have it for free, and so that it can hopefully drive people to the comic shops."
Hoffknecht delivers his comics to local shops in Merced, Lodi, and the Bay area. He hopes that one day the comic can be printed on newsprint instead of comic paper. He says that it is hard to find comic printers who print on newspaper, and dreams of his comic feeling as if it were printed in 1982. Hoffknecht also hopes that through advertisements, the comic will be able to pay for itself. So far, the comic is offering low prices for local business advertisers.
Hundred Percent Comics is currently accepting submissions from local artists on comic-related art, pinup pieces, and articles that revolve around comic books.
"I'd love to get enough stuff to start building issue two," said Hoffnecht.
Inquiries can be sent via Facebook @100PercentComics or email at goldenBoyPhotography@gmail.com.
GoldenBoyPhotography@gmail.com GoldenBoyPhotography@gmail.com
Issues of Hundred Percent Comics can be picked up for free at the Patterson Irrigator, 26 North Third Street. Other locations include: Blues Café, in Patterson, Red Sky Comics in Merced, Modesto Comics, Crush Comics in Castro Valley, A-1 Comics in Sacramento, Fantasy Books and Games in Livermore, King Kong Comics in Pleasanton, Waterfront Comics in Suisun City, and Comic Plus in Los Banos.