Editor's note: the correct name and acronym for the device that allows firefighters to breathe in smoke-filled buildings is self-contained breathing apparatus (SCBA). The Irrigator regrets the error.
Blackbird alert! Blackbird alert! That's the secret code word the guys jokingly use when the Fire Chief is spotted coming to Station 2, located in the distribution warehouse area on the west side of Patterson. I like when Chief Gregory visits because I can smell his dog, Kona and his two daughters on him. Believe it or not, I call smell that his daughters are good humans and really love Kona.
Before the Chief arrived, my friends Augusta and Bill from Westside Animals for Adoption had just left from our lesson this morning and we had a lot of fun. Engineer Mike and Firefighter Frankie are really working hard to get me trained and it's starting to pay off because I'm listening much better now. Especially when Sara and her Golden Retriever, Bombur, come by on their morning walk! Or when John stops by on his strange-looking bicycle and gives me treats!
Today Chief Gregory wanted to talk to Mike about an upcoming boat training the guys were planning. The Chief recently purchased a new rescue boat for the department. Captain Dave picked it out and everyone is really impressed with how nice it is, especially compared to the old rescue boat that was, well, let's just say you had to make sure the oars were in it because there was usually a good chance they would get used.
I keep hoping the guys buy me a dog life vest so I can go with them on the boat. Did you know they respond to water rescue emergencies anywhere on the westside? They've already taken the boat to several calls on the San Joaquin river. Often times water rescue calls don't have positive outcomes. I'm sure to give them extra love when they come back from those type of calls.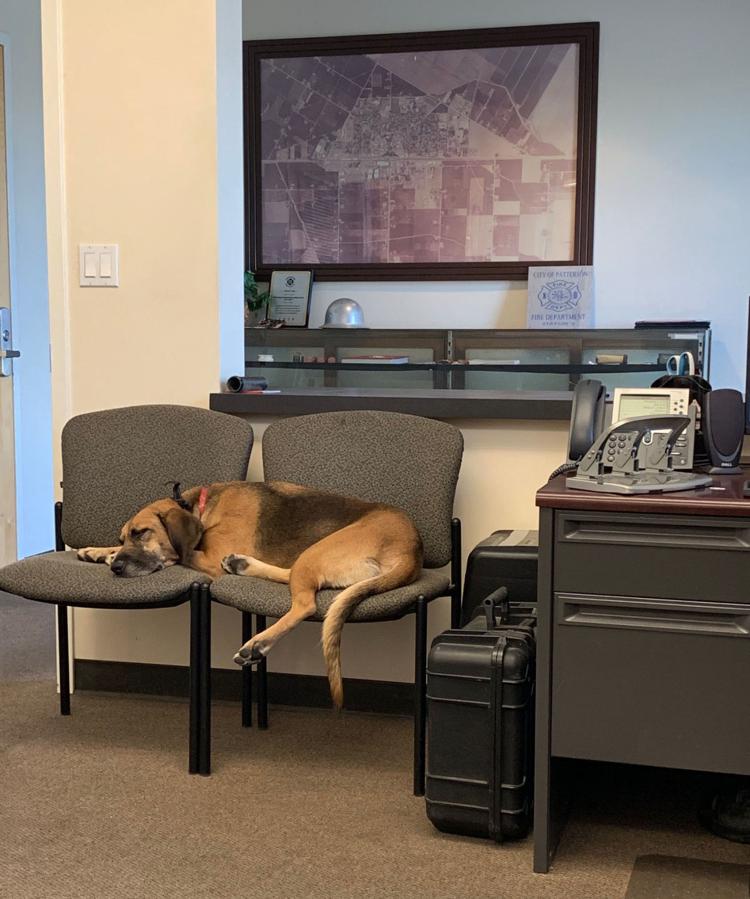 I can tell everyone likes Chief Gregory. Did you know since he became the Fire Chief in 2016, Patterson Fire Department has grown from two to three personnel at each station? Both Station 1 and Station 2 each have a captain, engineer, and a firefighter-paramedic on duty at all times. But, even with that level of staffing, they have to rely on mutual aid from neighboring departments when they have a structure fire.
Also, under Chief Gregory's leadership, both Stations now provide Advanced Life Support (ALS) service. That means in a medical emergency the firefighter-paramedics can provide care that an EMT can't, such as administer lifesaving medications and place an advanced airway. These types of skills improve your chances of survival when every second counts.
A few other achievements in just three years under his leadership include: contracting with the California Office of Emergency Services (OES) to provide emergency response to incidents (such as wildland fires) in a state-owned fire engine, upgrading all of our self-contained breathing apparatus (SCBA), and implementing regular labor/management meetings where they work to resolve issues. Chief Gregory's greatest accomplishment though was allowing me to become part of the Patterson Fire Department family!
Chief is leaving now, so Mike needs to make sure I'm contained inside the station or on a leash. Sometimes I smell the feral cats over at the school district corp yard and if the gate is open, I'll make a dash for it! Again, I'm a hound dog and I just can't help myself. For some reason I'm most successful escaping when A-shift is on duty.
I gotta go now. It's lunchtime and the crew has already run four calls, got in a workout, had a training session for me, and had a meeting with the Chief. The afternoon looks to be just as busy!