Amado Escobedo returned to the classroom at the Re-entry and Enhanced Alternatives to Custody Training (REACT) Facility of the Public Safety Center on a recent Friday morning to speak to a couple of reporters about the changes he's made in his life.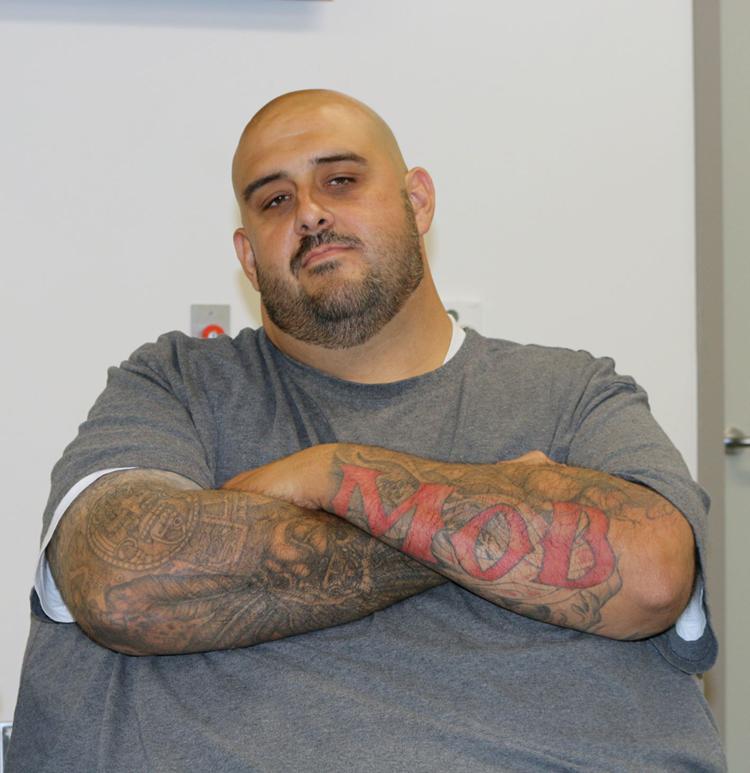 Escobedo was followed in by Lt. Scott Houston, who oversees the REACT facility, and Sgt. Pedro Beltran, who's responsible for the programs. The two officers, who have let us all into this minimum-security section of the jail, introduce us, and then leave. We will text when we have finished the interview. We are locked in, but relaxed - this could be any classroom, anywhere.
Like most inmates, Escobedo's growing up years weren't easy: surrounded by gang culture, and taught not to trust cops. That's what his parents knew, he said; that's how they showed him love.
He first served time at juvenile hall, and dropped out of school at the age of 15 or 16, he said. He's been in every type of jail facility: juvenile hall, county jail, state prison, federal prison. "I've pretty much dedicated two decades of my life," he said, "that I can't get back. "
"I finally got my GED in 2017, through REACT," he said. Learning Quest, one of various community-based organizations (CBOs) that offer free services at the facility, offers literacy services. "Those are some wonderful teachers, that helped me, and pushed me," he said, adding that they saw potential in him "that I didn't even see in myself."
Escobedo also credits the Learning Quest staff with supporting him as he began taking classes at MJC. "They called me on the first day of class… that's very encouraging… just to have that little extra; makes you feel like you mean something in their life." The staff often checks in to see how he is doing, he said.
The programs available at the REACT facility are geared to preparing inmates for life after their release. "There's all kinds of programs," Escobedo said, "behavioral stuff, parenting classes, Friends Outside…" Escobedo said, mentioning one instructor in particular who encouraged the inmates to set goals. "(He) tried to give you an understanding of life outside these walls… the broader perspective of life." He liked the class, he said, because it helped him understand that "I deserve better. My kids deserve better…They deserve a dad that's gonna be there. That kinda started opening up my eyes."
In offering programs at the REACT facility, "they brought positive people into this environment," Escobedo said. The jail environment, he said, is "nothing but negativity. You know, and when you're having positive effect like that, it… makes you want to strive, to be better – to be a better person, to be a better dad, you know; strive to just live a better life."
Escobedo said he "pretty much went through" all of the programs and classes offered at the REACT facility, and still had time to serve. Due to his criminal history, he was initially rejected for the ankle monitoring program. "Thanks to (Sgt. Larry) Cupit; thanks to quite a few of these deputies, that spoke up for me," because of the progress he'd made, "(it) gave me a chance to come out about nine months early, to the Salvation Army."
Escobedo credits the Salvation Army with helping him make the transition back into society.
The Salvation Army allows parolees to re-enter society "in a secure environment," Escobedo said. The program gives parolees an opportunity "to focus on ourselves, to get our life back on the right track."
Both the Salvation Army and the Gospel Mission offer parolees in the ankle monitoring program a secure place to stay, away from negative influences in their pasts. If eligible, Escobedo said, "you can go and finish out the rest of your time at the Salvation Army or the Gospel Mission. You live there," he explained, "and then you ask permission to go do anything that you have to go do." It's a gentle transition to help parolees ease back into managing their own time and making their own decisions.
He's been living at the facility for nine months. "That's why I was able to get my license, two semesters of college, my life on the right track, building up bridges with my family, spending time with my kids."
Asked if other inmates had given him a hard time while he was working on changing his life, he said, "I was not easily encouraged, but I was more able to encourage others." He is currently supporting other MJC students who are also in the Salvation Army program, he said.
Escobedo is pursuing an AA in chemical dependency, partly to secure his own future, and partly to help those still incarcerated. "I want to be able to give back. I want to be able to show, you know, that people can change. I want to be able to support my family, and I want to be able to buy a house."
Escobedo is also learning heavy equipment repair at MJC. "So I'm just working my butt off. Got a 3.0 GPA." He credits the instructors at MJC with helping him to stay motivated. "They know my situation, and they're pushing me, hard. I have nothing but positive people around me. And it starts from here," he said, referring to the classroom we're all sitting in. "It starts from REACT."
Escobedo has set what he calls "baby" goals, one-year goals, five-year goals, and 10-year goals. "Little things, that you just want to accomplish," he said. "Before, the gratification was the drugs. (Now), the self-gratification is accomplishing things: the first semester of school; the first certification; the GED…"
He is motivated by his accomplishments, as well as by his goals, and he hopes his progress will have helped repair his relationship with his family by the time he passes an MJC milestone, that they might be there to help him celebrate it.
Escobedo also credits deputies at the facility for helping him change his life. "There was quite a few deputies that had my back, and gave me, always, some encouraging words." He expressed the hope that they might attend his MJC graduation, as well.
He says he realized he needed to turn his life around when his son got in trouble. "That buckled me down," he said. He realized "he's going down the same path as me. I gotta show him something different. I gotta man up. I gotta be a better dad. And I can't be a dad through pen and paper. I can't be a dad through a telephone. I gotta be a dad physically. I gotta be there, in his life."
His relationships with his children are better now, he says. "My kids love me. They see a whole different change," he said, adding that their grades have all improved. He has a son and daughter; his girlfriend also has two kids.
Like most who have been through addiction, Escobedo's family has tried to help him, he said, but his relationship with them is strained.
"I'm in the process of rebuilding my bridges," with his family, Escobedo said, looking serious for a moment. "It takes time… they're very standoffish, until I show them. It might take years… but it's in the process. I'm willing to show them the work. I love my family; I will always love them. If they can't forgive me, that's on them. I'm doing the work."
Escobedo has also learned to address issues effectively. "I don't hold things in no more; I speak it. If there's a problem, I'm gonna address it. If there's something on my heart, I'm gonna speak it."
Making the effort, and staying focused on the moment, he said, has allowed Escobedo to be successful. "I'm just trying. That's all I can do, is just try every day... when tomorrow comes, it comes. I'm trying to be what I gotta be today: a better dad, a better brother, a better student, a better fianceé."
Next week: The drug-abuse lifestyle brought them together; now, they've learned to love each other again without it.