Last week, the Patterson High varsity baseball team won back-to-back games over Merced High off the backs of strong pitching and an outburst of hitting that saw the Tigers outscore the Bears 16-3 over the course of two games. On Tuesday, it was a different story against Golden Valley.
Runs were at a premium on April 9 against the Cougars. Only one run and seven hits were tallied between the two squads, but luckily for Patterson they were the owners of the lone run, defeating the visitors 1-0 in a tight ballgame.
Senior Miguel Alvarez produced another quality start for the Tigers on the mound. Alvarez pitched five innings, giving up three hits and two walks.
Alvarez has been lights out for the Tigers. In his last two starts Alvarez has scattered seven hits, three walks and five strikeouts over 13 innings pitched. He has no earned runs charged to him during that span.
Junior Zach Rodriguez came into the game in a relief appearance. He was equally dominant, surrendering no runs while yielding a hit, a walk and striking out three to extinguish any hopes of a late Golden Valley rally.
"Everybody knows when Miguel comes in what you're gonna get, but what I'm excited about is Zach coming in and shutting them down," head coach Harley Parson said following the slim 1-0 victory. "His last two (outings) have been right on."
Golden Valley senior Jason Raine was also tremendous in his start. He pitched six innings for the Cougars with three hits, a walk, an earned run and eight strikeouts in the loss. Raine has been a bright spot for the Cougars. He entered Tuesday with a 2.67 ERA and 30 strikeouts this spring in 18.1 innings pitched.
The only run of the game came in the fifth inning. Sophomore Logan McCleery began the inning with a single. Strikeouts from freshman Javier Huizar and senior Joseph McGarry led to two outs in the inning.
Sophomore Jordan Imada came to the plate hoping to extend the inning, but the nature of the at bat changed when McCleery was able to reach second on a wild throw during a pick-off attempt that sent the ball sailing into the right field foul territory. Imada took advantage of the RBI opportunity with McCleery at second base, and drove a single into the outfield that scored McCleery and gave Patterson a slim 1-0 lead.
"I'm feeling good with how we're playing at certain times, but we still have a long way to go," Parson said.
The Tigers will continue to scratch and claw for a playoff spot. The top four teams in the CCC are entitled to advance to playoffs. After Tuesday's game versus Golden Valley, Patterson sits in fourth place behind Buhach Colony (6-1), Atwater (5-1) and El Capitan (4-3). Golden Valley (1-4), Central Valley (1-6) and Merced (1-4) round out the bottom half of the standings. Patterson has seven games remaining on their league schedule this season.
Parson said playoffs are a goal the Tigers have in mind.
"We talked about our big goal for this year is playoffs. I believe our league takes four teams this year and we want to be top three," Parson said. "They might not show it all the time, but we're talking about it and we're working at it everyday. I'm really pleased with what I'm seeing so far, but you know I'm never satisfied."
McCleery pitches shutout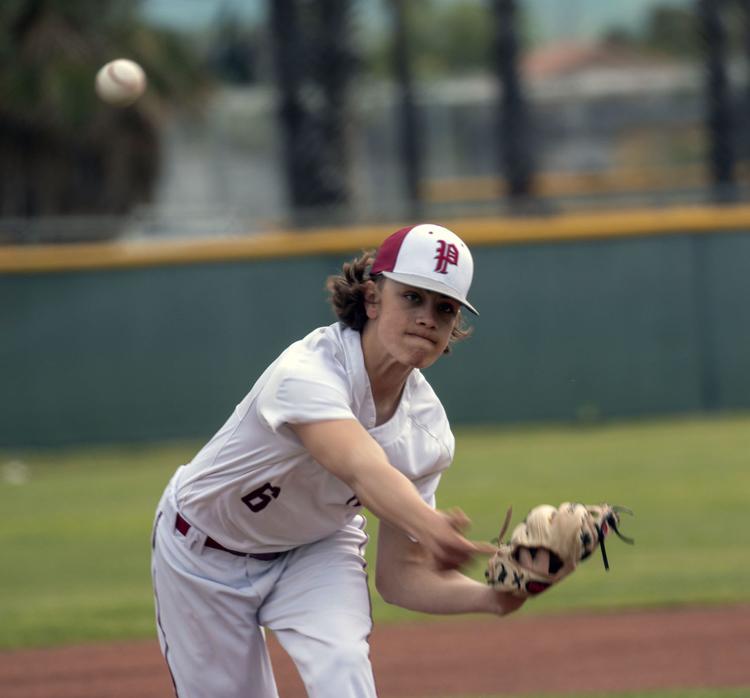 Allowing only two hits over five innings of work, sophomore Logan McCleery shut down the Merced offense last Thursday at the Patterson High varsity baseball field.
McCleery found the strike zone all game against the Bears. Of the 57 pitches he threw, 40 of those were for strikes.
Pitching coach Kevin Durham commented on McCleery's strong outing.
"He was working those fastballs. He was hitting those spots," Durham said. "He's working. He earned his spot as a starter. Him and Miguel (Alvarez) are going to be our one and two guys. He's definitely earned it."
Thursday wrapped up a solid week for Alvarez and McCleery. The two starters allowed one run in 12 innings, combined with only six hits and 11 strikeouts. Durham just hopes the Tigers can keep it going as they enter the meat of their league schedule.
"We feel good. We're just hoping to keep it rolling and see some consistency. They're both working. They're both throwing strikes on what we call," Durham said.
The way McCleery was pitching on Thursday, the offense may have only needed to produce a couple runs in order to clinch a victory, but the Tigers did much more than that.
Patterson scored 10 runs on just nine hits in order to send the fans in attendance home early with a mercy rule victory over the Bears.
Patterson scored two runs through the first three innings, but exploded with four runs in the fourth and fifth to reach the game's conclusion.
Senior Joseph McGarry ended the affair when he slapped a grounder into left field, scoring senior Ryan Phelps and McCleery. Overall McGarry went 1-2 with two RBIs and walks.
Phelps finished the game going 2-3 with three runs, an RBI and a walk.
Freshman Javier Huizar had a 1-4 day at the plate with an RBI.
Junior Zach Rodriguez was a perfect 2-2 with two walks, a stolen base and two runs.
The win pulled Patterson back to even with a 2-2 record in the Central California Conference and 7-3 overall this spring.