Patterson came off their bye week looking well-rested as they trampled visiting El Capitan High by a final of 59-17, to improve to 6-4 overall and 3-3 in the Central California Conference. 
The Tigers went straight for the Gauchos' jugular, with 21 points in the first quarter. By halftime the fans at home had plenty to feel good about, with Patterson up 49-3.
It was a strong way to end a season that has at times frustrated the Tigers. After their loss to Merced on Oct. 18, Patterson entered their bye week working to tune up before the final game of the regular season. Head coach Rob Cozart shared that the object of the final game was to play a complete game of football, and also noted that the bye gave Patterson time to get healthy and rejuvenate their roster for the final push.
"We wanted to come out and put together four quarters. We haven't really put together four quarters all year, which was kind of disappointing," Cozart said. "We had a couple weeks to prepare, but it wasn't necessarily preparing just for El Capitan for two weeks. It was more going back to basics for us in terms of fundamentals. A lot of individual work, simplifying things, honing in on what we do best and also getting healthy and getting guys in the position to be more at full strength than we have been." 
The Tigers took the field last Friday with the future of playoffs looming, but head coach Rob Cozart said that peering to the horizon and taking El Capitan for granted was not really a factor for his squad. He stated he wasn't really worried about falling into a trap game.
"The good thing is we don't know who we are playing until Sunday afternoon. We don't know where we are playing, so for us it was one game at a time." Cozart said. "There wasn't any opportunity for our guys to do that." 
49-point first half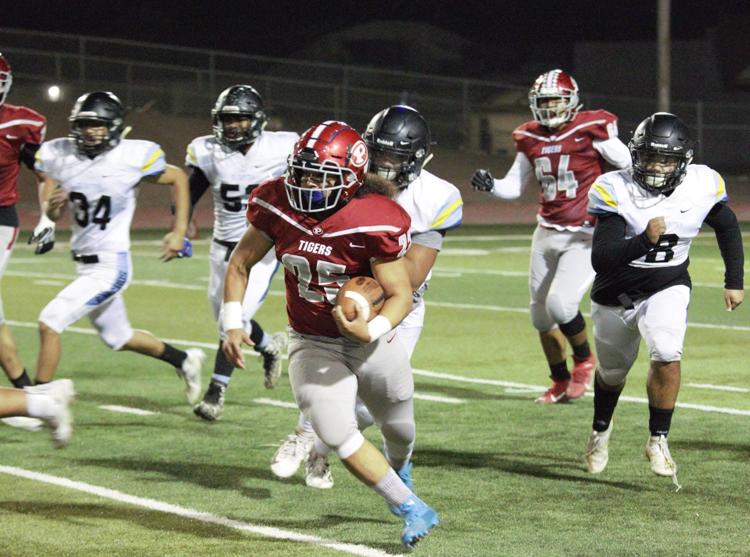 The Patterson offense simply overwhelmed El Capitan in the opening act. 
The Gauchos have had a rough season in the Central California Conference. They have allowed every team in the CCC to score 30 or more points against them leading into Friday's game against Patterson, and the Tigers wasted no time hitting that mark. 
A little over a minute into the game, senior Obadiah Godbolt found the end zone for the first of five times with a nine-yard touchdown run to put Patterson up 7-0 early. 
Seven minutes later the Tigers were again celebrating a touchdown, when Godbolt burned the Gauchos' defense with a 45-yard touchdown run, improving the lead to 14-0. 
El Capitan scored their only points of the first half with a 20-yard field goal with 1:12 left in the first frame, but Patterson responded less than 20 seconds later with a 39-yard touchdown pass from junior Logan McCleery to senior Cesar Martin. It was Martin's first catch and touchdown this season, which was fitting on senior night. 
McCleery kept his hot hand going with a 34-yard touchdown pass to sophomore Javier Huizar in the first two minutes of the second quarter, to extend the lead to 28-3. 
Godbolt piled on with another explosive play, dashing, shifting and maneuvering his way through traffic to dust the defenders with a 58-yard touchdown run. 
Senior Javier Alvarado joined in on the scoring with a three-yard touchdown run on Patterson's next possession. This was a cathartic moment for Alvarado, who had actually run a chunky 68-yard touchdown run in the first quarter, but his effort was erased due to a block in the back penalty that negated his otherwise fantastic effort. 
Godbolt added to his robust final regular season game with a six-yard touchdown run to put Patterson in a commanding 49-3 position at halftime, making it four touchdowns for the senior by halftime. Yet his final stroke was perhaps the most impressive of the evening, with a remarkable run to open the second half.
Following an interception from senior Davante Imhoff to give the offense the ball, Godbolt took full advantage with a back-breaking 72-yard touchdown run, to go up 56-3 with 8:28 left in a second half that had a running clock the entirety of its duration due to the substantial Patterson lead. 
Patterson would add a field goal from junior Adrian Melesio, while El Capitan added a pair of touchdowns in the final moments of the game to bring the score to its 59-17 resting place. 
Godbolt reaches 1,000 yards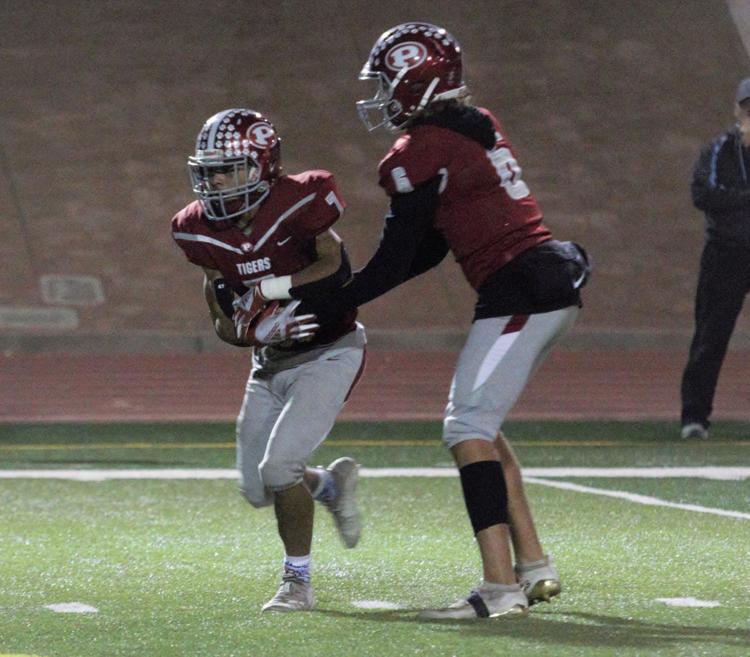 Finishing the night with a gaudy 13 carries for 257 yards and five touchdowns meant something special for the speedy running back. 
With his awesome outing, the senior reached the 1,000 yard rushing mark on the season, putting the cherry on top of a dynamic senior campaign. 
Overall, Godbolt finished with 131 carries for 1,073 yards and 14 touchdowns on the ground, to lead the team in rushing yards and touchdowns. 
Although he was not targeted at all as a receiver in the final game, the senior also put up 23 catches for 444 yards and four touchdowns as a receiver. That combined with a deadly special teams return game means that Godbolt no doubt stands out as one of the top players in the Central California Conference in 2019. 
McCleery crosses 2,000 yard mark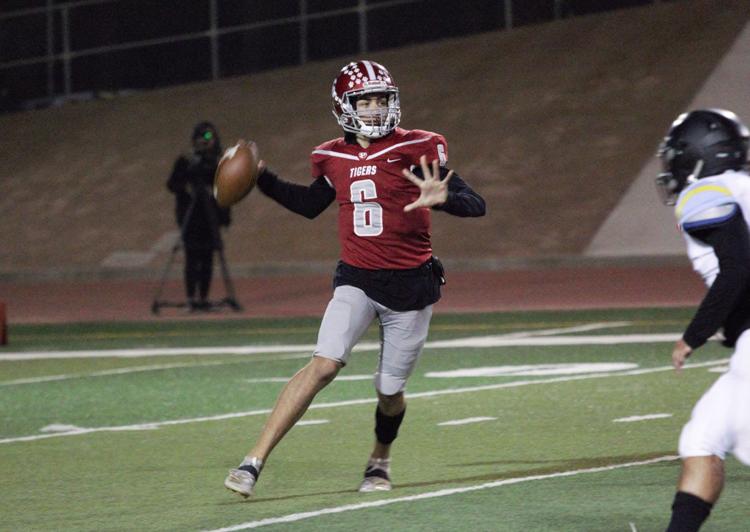 McCleery's second year at the varsity level has turned out to be even better than his first. With his 167 yards against the El Capitan defense, McCleery reached a milestone last Friday. 
The junior finished the 2019 regular season going 127-243 for 2,006 total yards and 16 touchdowns. 
This is a fantastic follow-up to a strong rookie campaign at the varsity level where he threw for 1,726 yards and 11 touchdowns in 2018. 
This is the highest total of yards a Patterson quarterback has thrown since Gabe Sanchez' 2017 season (2,849). That was also the last time the Tigers had a player with 2,000 yards passing and 1,000 yards rushing in the regular season. 
Counting playoffs into the fray, it is the second straight year Patterson has finished with a 1,000 yard rusher and a 2,000 yard passer since junior Jordan Imada and McCleery did so last year following their playoff push. 
The last time two different players achieved the feat before that was in 2015 with quarterback Kevin Todd (2,332) and running back Jamal Broussard (1,015). 
16 seniors honored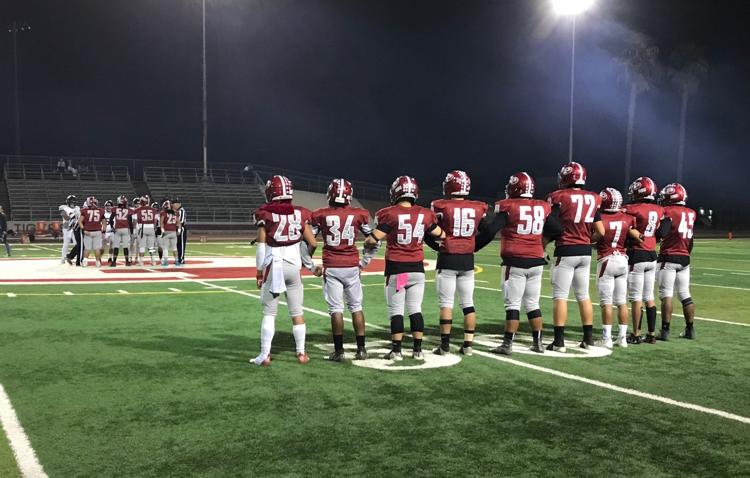 If the score wasn't high enough to make Friday a festive atmosphere at Patterson Community Stadium, certainly the pomp environment of senior night would only add to the celebration. 
The Tigers honored 16 seniors for the final home game of the season. Many of the seniors received elevated minutes in the final regular season game, and Cozart noted that his players always stayed ready regardless of how often they saw time on the field during games, which was a testament to their hard work and dedication to the team.
"That's just a byproduct of the guys doing the little things throughout the year. They still plug away and continue to do their job and do what they need to do so that way when their number is called they are able to do what they need to do," Cozart said. 
The seniors on the roster in 2019 were: Jerry Alcazar, Javier Alvarado, Logan Foumai, Obadiah Godbolt, Davante Imhoff, Jordan Jacob, Yaseen Johnson, Cesar Martin, Omar Ortega, Gabriel Pineda Moreno, Anthony Polk, Manuel Ponce, Kurandeep (Kevin) Somel, Daniel Tafoya, Flor Neri and Payton Quintero. 
Hosting Del Campo for playoffs
The CIF Sac-Joaquin brackets are in, and the Patterson High varsity football team will indeed play in front of their home crowd one more time in 2019. 
Patterson's 6-4 season was enough to earn them a seventh seed in the CIF Sac-Joaquin Section Division IV playoffs. Waiting to play the Tigers will be 10th seed Del Campo High School. 
The Cougars finished 5-5 overall and 2-4 in a tough Capital Athletic League under head coach Mike Dimino. 
Patterson and Del Campo had two mutual opponents this season in Merced and Capital Christian. Patterson lost to Merced (54-24) and Capital Christian (63-42). Del Campo also lost both match-ups to Merced (13-7) and Capital Christian (35-0). 
The winner of Patterson versus Del Campo will move on to take on the Valley Oak League co-champion Oakdale High (7-3, 5-1) in the second round.
Patterson versus Del Campo is scheduled for 7 p.m. on Friday, Nov. 8 at Patterson Community Stadium.