Dozens of people opposed domestic violence, human trafficking and sexual abuse by taking part in Chest of Hope's sixth annual Leave Out Violence Everyday 5K run-walk.
Before the race Saturday morning, Chest of Hope founder Merlyn Pittman told the participants at Lincoln Park that it would be the last.
She explained Wednesday that it was time for a change.
"In my opinion, it has run its course. We have raised awareness on domestic violence and human trafficking for six years. We will continue to do so, but in another capacity," she said. "We have not decided what course of action to take next year, but it will be something different."
Chest of Hope is an agency that opened in Tracy in 2011 to provide resources to people who have survived domestic violence and human trafficking. The organization opened a safe house in 2012 and also provides individual and group counseling, life coaching, and help getting legal intervention services.
Before the L.O.V.E. 5K, supporters gathered in front of Tracy City Hall, and three men swapped their sneakers for high heels to take part in the first Walk in Her Shoes. Accompanied by Pittman and others, the men walked in heels to Lincoln Park, following a route about a mile long, to draw attention to domestic violence.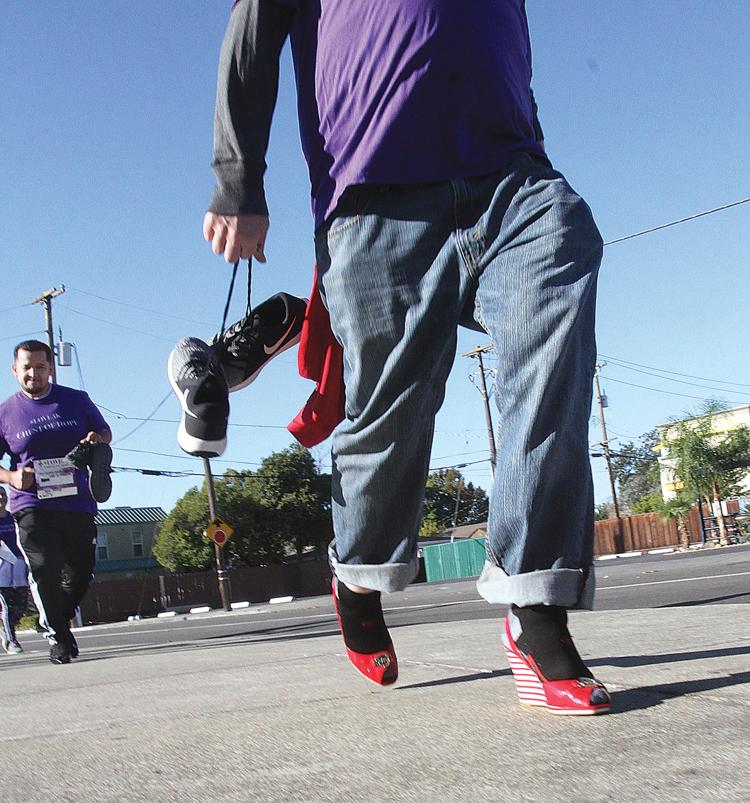 Chest of Hope is also launching a new project this fall: a teen café dubbed the Hope Spot.
Pittman hopes to have it open before Thanksgiving, giving Tracy's youth a safe place to hang out.
"We've identified the same struggles adults have, teens have those same struggles as well," she said. "We're incorporating a program where they will come in and meet with kids. They will be able to hold their own classes, supervised, of course. It's all centered around the teens and it's a place where they can meet and be free to speak."
The Hope Spot will be open to all teens, regardless of gender. To encourage sharing, they will all be required to sign a confidentiality agreement not to repeat what their peers share.
"It's going to be a healing spot for them," Pittman said.
The Hope Spot will be in the Creamery Business Park, 450 E. 10th St., Ste. C, and is already furnished. Pittman said the staff is working on the programming it will offer with counselors and psychologists.
"They can come in, have a meal — we'll have sandwiches and juices or sodas," she said. "It's really a place to unwind and de-stress for them in a learned environment."
To start, the Hope Spot will tentatively be open Monday through Friday, 2-8 p.m. Pittman said it could expand to the weekends if the organizers see enough demand for it.