The city of Tracy is looking for anyone in the market for some used city vehicles, and the city also has plenty of old traffic lights and light poles it wants to sell off.
As the Tracy City Council approved the purchase of $905,808 worth of new vehicles on Tuesday, including two police interceptors, six public works trucks and other equipment, the council declared that some of its old trucks and cars will soon be up for auction. The city also has a yard full of old traffic lights and poles that will be for sale as well.
Public Works Superintendent Robert Gravelle noted that most of the vehicles, including police cars and public works trucks, stay in service until after the council declares them to be surplus. Once that happens, they are taken back to the public works shop, where city mechanics remove equipment, such as radios and flashing lights, that can be reused.
In most cases, he said, the city has gotten its money's worth out of the vehicles, some of them more than 15 years old.
"The Ford F-250 Super Duties are very well used. They've got quite a few miles on them and are starting to rust," Gravelle said.
"Some of the vehicles, we're surprised at what they sell for," he said. "Some of the vehicles, people get a good deal on them."
He noted that landscaping companies often buy the old trucks. As for old buses, once the city removes outdated compressed natural gas tanks, the buses are inoperable and sometimes end up costing the city money as they're hauled away as scrap metal.
"We know of a gentleman who turned an old bus into a chicken coop," Gravelle said.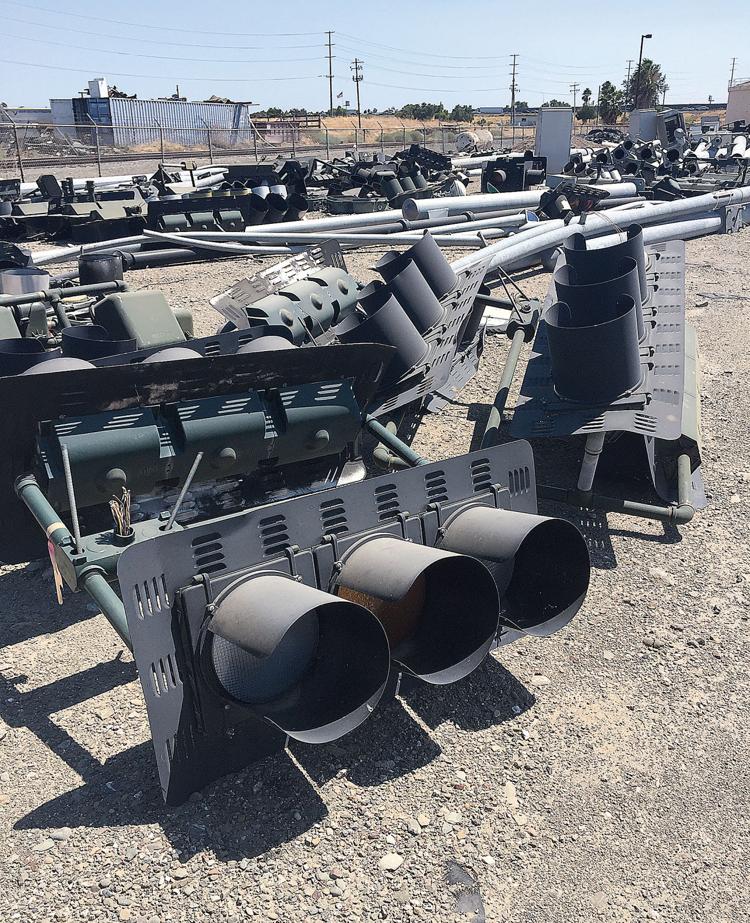 Up at the wastewater treatment plant on Larch Road, the city has been collecting traffic-related items, mostly left over from when the city has to make repairs in the aftermath of auto collisions with light poles and traffic signals.
Senior civil engineer Ripon Bhatia said that while the city has had plenty of room to keep old poles, signals and electronics boxes, the expansion of the wastewater treatment plant — including a new 42-inch pipeline from the treatment plant to Old River — now requires that the city clear out the lot where these items are stored.
Bhatia said the items have been piling up for a while, and he still hasn't decided the best way to get rid of them. If he can find cities or contractors in the market for used traffic signals or electronics boxes, they could be sold. Auctions similar to the auto sales are also an option, or they could just end up as scrap metal.