A controversial apartment complex on Valpico Road cleared the Tracy City Council on Tuesday, seven weeks after the project failed to gain support from the Tracy Planning Commission.
After a 4½-hour discussion — including two hours of public comment, with most of the speakers arguing against the 264-unit project on the basis of increased traffic — the council decided that commute traffic problems in the south end of town couldn't be blamed on one particular development.
The project is also a step toward more housing priced for moderate-income residents in San Joaquin County, council members said, consistent with the state's affordable housing goals.
The council approved plans for the apartments 4-1, with council members Nancy Young, Rhodesia Ransom, Veronica Vargas and Dan Arriola voting to overturn the Aug. 14 planning commission decision. Mayor Robert Rickman cast the dissenting vote, citing a need for the city to commit to widening Valpico Road, after the other four indicated that they would vote in favor of the project.
Katerra Inc. is the developer of the Valpico Glenbriar Apartments, which will be 11 three-story buildings on an 11.62-acre parcel between Glenbriar and MacArthur drives.
Katerra is actively recruiting employees for its Tracy factory.
Katerra is also preparing to open a 577,000-square-foot manufacturing plant in Tracy's Northeast Industrial Area. That's where the Menlo Park-based company plans to employ 542 workers, who will put together components of the apartment buildings — including walls and floors with the electrical lines and outlets, plumbing, windows, and doors installed at the factory — to be trucked to and assembled at the construction site.
The first hour of Tuesday's discussion was presentations by city planning and development employees and representatives of Katerra. City employees noted that the project dated back to 2012, when it was approved under a different developer. It was approved again in 2016.
Katerra project manager Kristina Covall told the council that the project brings jobs and moderate-income homes to a site that has long been slated for this type of development.
"This has eight years in the making to complete this infill project," she told the council, adding that Katerra made some changes to the 2016 plans, including the layout of the buildings and the apartment designs. "As staff has noted, this project has been following the Tracy growth management plan, and we've tried to create a project that meets the needs of a median-income household and follow the growth management ordinance, and we think that this will create a more stable rental environment."
She said that the apartments were a logical next step after creation of the Katerra manufacturing plant.
"Obviously it's an important project for us, but it's a great way that we can bring a lasting relationship with Tracy and show that we do have commitment here, that goes further than just one development, a one-off development that you might see from another developer," Covall said. "We have a factory here and we're ready to do a real investment in the community."
A 264-unit complex intended to showcase an innovative construction concept failed to gain enough votes from the Tracy Planning Commission.
More than 30 people spoke to the council during two hours of public comment. Most of them urged the council to uphold the planning commission decision. On Aug. 14, the commission voted 2-1 in favor of the project, with one commissioner absent and another commission seat vacant. Because approval requires a majority vote of the full five-member commission, the project was not approved.
Hidden Lake resident Ubbo Coty told the council that he keeps track of the time it takes him to cover each leg of his commute and he has found substantial gridlock on Tracy streets.
"Every morning, I sit in traffic about 53 minutes, from MacArthur and Valpico to get to Schulte (Road) and Mountain House — or International — Parkway. That's an average of 53 minutes in the morning," Coty said.
He said that by the time commuters get to Interstate 580, they have already passed through an industrial area congested with tractor-trailers moving to and from large distribution centers in the area.
"This project is going to add a lot of commuters to our already existing traffic problems," Coty said.
Victor Chow told the council that traffic is bumper-to-bumper during commute hours, with no signs of getting better in spite of promises from the city that road improvements are on the way.
"We've been hearing this, that we've got this plan and we've got that plan, that we're going to fix this road, that road, and we're never going to catch up. We keep developing and building houses. It's never going to change. It gets worse every month," Chow told the council.
Monty Montgomery, a Tracy resident since 1967, lives in the neighborhood southeast of the intersection of Valpico Road and MacArthur Drive and also said traffic is bad enough.
"I would think that if these people are really serious about building this project, they maybe should advance the city the money to increase the lanes on Valpico westbound from the project to four lanes, and that would be a big help, because that's a bottleneck there, when it goes from four lanes to two lanes," he said.
Valpico Road is four lanes just west of MacArthur Drive but narrows to two lanes at Glenbriar Drive and continues as a two-lane road most of the way between there and Tracy Boulevard, where the road widens in front of the Red Maple Village shopping center. Valpico narrows to two lanes again from just west of Sycamore Parkway all the way to Lammers Road.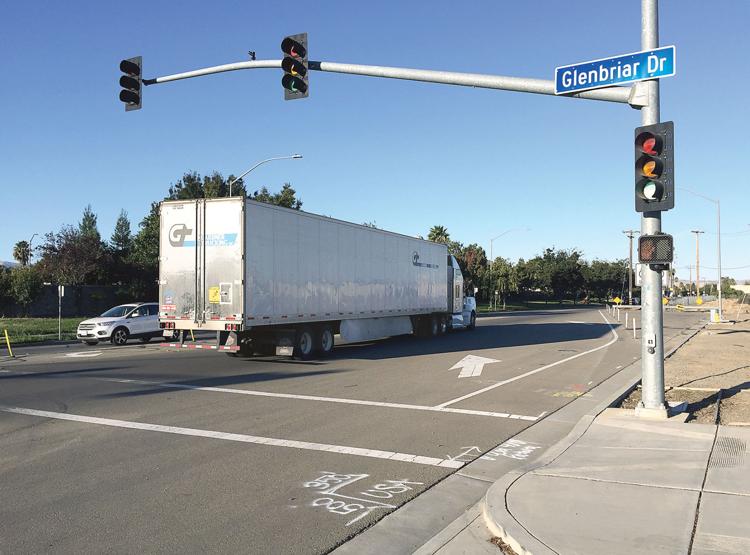 The council also heard from people in favor of the project, including Yosemite Drive resident Jackie Curtin, who said she moved here from the Bay Area a few years ago and decided to stay.
"They are not all families that are going to come live here that have $4-, $5-, $6-, $700,000 to buy a house where we are," she said, adding that Bay Area cities are even more expensive with comparable homes costing $1 million or more. "That's why people come to us, because they can find a beautiful place to live in a very nice city, without all the hoopla of the Bay Area."
Peter MacDonald, who has owned part of the 11-acre parcel since 1999, told the council that the city's planning staff convinced him to have the land zoned for high-density development.
"We bought in Tracy because Tracy was being so well laid-out and planned, growing intelligently," he said. "When the general plan was redone in the early 2000s, the planning director asked for our cooperation in having our property redesignated to medium density to high density.
"If you know real estate as I do, you know that vacant medium-density property sells for a higher price than vacant high-density property, but we cooperated because the redesignation made planning sense, next to commercial on an arterial street.
"It keeps a community balanced when each neighborhood has some apartments. When we finally did bring this to the city in 2012, and ever since, the staff has been cooperative and professional. In 2013, the City Council stood up for their general plan by approving our apartment project."
Also represented were members of Carpenters Local 152, which has offices in Martinez and Manteca. The group protested Katerra's use of nonunion workers in its factories.
"We want those livable wage jobs for the people that live here in the city of Tracy," said union member Dan Nuncio. "Let's take a look at what the city is building out with all of these warehouses that are out there. Is Katerra part of the solution, or are they part of the problem of bringing down that middle-income class that we have in Tracy?"
Katerra's Covall countered his comments by telling the council that the company would treat its Tracy workers well.
"Katerra is a high-tech company. It is a construction technology company. You guys are bringing high-tech jobs from Silicon Valley to Tracy here," Covall said. "We don't pay minimum wage. We pay market rate salaries, and we have a great benefit system."
In the council's discussion, Arriola pointed out that California Senate Bill 330, the Housing Crisis Act of 2019, could restrict the city's ability to reject new housing development. The bill recently passed by overwhelming margins in both the Assembly and the state Senate and now awaits Gov. Gavin Newsom's signature.
Interim City Attorney Leticia Ramirez noted that the law would require a city to provide its findings, in writing, about a proposed housing project's adverse impacts in order to deny the project.
"According to CEQA (California Environmental Quality Act) analysis, I don't think we have that public health adversity," Arriola said, asking for confirmation from fire Chief Randall Bradley and interim police Chief Alex Neicu that the apartment project wouldn't be a health and safety risk.
Councilwoman Nancy Young, who had just joined the council when it unanimously approved the first incarnation of the apartment project in 2012, said that the complaints about traffic, aesthetics and how the project fits with the neighborhood sounded familiar.
"I've heard the argument many, many times: It's a wonderful project, or it's a good project, but just not in my backyard," she said. "Many of the issues that you've brought up tonight are very valid in your own respect. A lot of things don't necessarily have anything to do with this project. The commute issue is an issue that we're challenged with and that many of us are working on from various angles, whether it's Valley Link or whether it's the bus system."
Ransom said that even if the audience in the packed council chambers objected, the council members should stand on their principles.
"At the end of the day, our decisions need to be made based upon what's in the best interest of our city, based on all of the information that we have, based on fact, and not based on emotion," Ransom said. "The traffic is a real issue. That's not a made-up issue. The infrastructure issue is a very real issue. It's not a made-up issue. These are things that, if you live in this city, you deal with those things."
"At the same time, we're a city with competing interests. We have been talking about affordable housing," she added, saying that it's an issue people have raised since she joined the council in 2016. "I had constituents coming, old and young, saying, 'We can't live here. Our kids can't live here. We're being pushed out.' We looked really hard to find out what we can do in order to be able to address the issues of housing affordability here."
Vargas said the city needed to think of young adults moving out of their parents' homes for the first time when considering the town's housing, jobs and transportation mix.
"We've heard it many, many times here, that we need to diversify, we need to have another type of housing, and we need to have an affordability component," Vargas said.
Rickman said he wanted more information on when Valpico Road would be widened, saying he wanted assurance that neighbors' traffic concerns would be resolved. City Engineer Robert Armijo said the development of the Valpico Glenbriar Apartments would contribute about $1 million in impact fees toward a potential $6 million widening project, but the city would have to find other funding to cover the balance.
Rickman also acknowledged that Tracy's traffic problems were bigger than one apartment project, especially because many commuters from east of Tracy cut through town instead of taking Interstate 205.
"My immediate problem, at least with this development, is that bottleneck right there (at Glenbriar Drive), when that's going to be taken care of," he said, "and I want the answer before I move forward on that."