The Tracy City Council has reviewed three options for the aquatics park that will be the centerpiece of the Ellis development and rejected all of them.
Surland Communities LLC, developer of the Ellis project, provided the concepts at a special meeting of the council on Tuesday, but the one concept that would have fit the city's $54 million budget for the project didn't include a pool suitable for competitive swimming.
Another concept would cost $80 million, $26 million over the city's budget. It includes the competition-size pool but would require the city to spend a larger share of the Measure V sales tax money the city expects to collect in the coming years. A third option, coming in at $130 million, would include all the features the city wants in an aquatics park, but would have to be a long-term project.
Those numbers came as a surprise to a City Council that hoped Surland would present an aquatics park proposal that met both the residents' expectations and the city's budget.
Councilman Dan Arriola noted that in August 2017, the price tag was $41.5 million, and in March 2018, when the city amended Surland's development agreement, the cost rose to $54 million.
"For all of the things that our community wanted, you told us it was $54 million," Arriola told David Sangree, president of Hotel and Leisure Advisors, one of the consultants Surland hired to define the costs and operational assumptions for the project.
"Before, we could have done it for $54 million in 2018, yet today that costs us $130 million, so how do we have a $76 million mistake? I'm very concerned about that," Arriola said.
Sangree replied that the costs presented last year were a reflection of the costs of similar projects in the region at the time.
"Since we did that study and the plans were drawn, and then they hired another cost estimator, the cost numbers have skyrocketed," he said, adding that the city can also expect costs to continue rising as the city waits for Measure V money to become available year by year. "If you assume it could take a few years, or could take up to eight years to build one of these designs, the time-value of money means the project cost is much bigger than it would be if it was all built today."
Project history
A new aquatics center for Tracy has been in the city's plans in one form or another since 1989. Surland officially brought the 321-acre Ellis project to the city in 2002, and around 2006 the developer offered the city $10 million along with 16 acres of land for an aquatics center in exchange for assurance that the development would gain as many as 2,250 residential growth allotments over 10 years.
Those allotments, which serve as reservations to take out building permits, gave the developer priority status as the Measure A slow-growth law, passed by voters in 2000, took hold.
Since then, the water park project has faced a series of delays. A proposed agreement with Wild Rivers LLC to build and run the park fell through in 2014, and the city amended Surland's development agreement in March 2018 to allow Surland to build the aquatics park, with the cost still estimated at $45 million. Under that agreement, Surland would provide its $10 million and the city would provide $35 million.
Last October, Surland hosted a launch party and showed off drawings that depicted all the elements that would make up an aquatics complex, including a 50-meter competition pool, a recreational/warmup pool, a winding "lazy river," waterslides, an indoor pool, a children's activity pool, a fitness center and a toddler area.
Cost factor
Now, the City Council needs only to approve a final conceptual plan for the aquatics park, which was the topic of what was to be a 1½-hour special meeting before this week's regular council meeting.
The concepts Surland presented on Tuesday looked the same as those unveiled a year ago, but the price tag was much higher.
The city's budget for the aquatics center hasn't changed: $45 million plus $9 million of contingency funding for unforeseen price increases, with Surland still putting up $10 million and the city putting up $44 million. Most of the city's share will come from Measure V, a half-cent sales tax approved by Tracy voters in November 2016.
Tracy Parks and Recreation Director Brian MacDonald started the meeting by highlighting a couple of nearby projects, including a new aquatics center in Elk Grove that cost $47.5 million and one in Dublin that cost $43 million. Both have competition pools.
Surland presented its concepts as a phased approach, with the $54 million version to include the lazy river, waterslides and toddler pool. The competition pool and recreational pool would be part of a second phase that would bring the total cost up to $80 million. The $130 million version, which extends the lazy river and adds an indoor pool and a children's activity pool, was presented as a long-term vision.
Support and dissent
Public comments took up much of the first 1½ hours of the meeting, with some speakers urging the council to accept the $80 million version of the project while also expressing dismay that, in the version that would fit the city's budget, Surland left out the single feature that swim center advocates expected would be at the center of an aquatics complex.
"The people who have been here tonight have waited decades for this project, what they've requested is a pool, and the $54 million project has no pool in it. I know it has water, but it doesn't have anywhere to swim," said Jacob Hunter, who is a board member of the Tracy Tritons Swim Club, president of Mid-Valley Swim League and a coach for Tracy High's water polo program. "Our membership of the Mid-Valley Swim League, as a group of six swimming groups in the area, we all need a pool that we can use and have proper competition at, and this has none of that."
Molly Lowe, who is also active with the Tritons, told the council that the $54 million version presented by Surland was instantly obsolete.
"The $80 million option is … a compromise that works and benefits all community members," Lowe said, adding that it's because of the community's swim center advocates that the city has money for the aquatic center in the first place.
"Measure V passed in 2016 largely because the swim community was asked to step in and help, advocating for it door-to-door," she added. "As a result of our involvement, the measure passed. Now it's time for you to make it right."
Pete Mitracos said that a new pool was part of the vision that came out of the Tracy Tomorrow 2000 project, an effort to map out the city's future for a variety of categories, including recreational amenities.
"What we needed was a 50-meter pool and a recreation pool," he said. "When Surland got a hold of it, it became this whole other thing that's lasted for 15 years. We still need a 50-meter pool and a recreation pool. That should be the first priority in this project. It should be designed around that, and it should come in as staff has recommended, at $54 million, or whatever, the smaller the number the better."
The special meeting soon went past the 1½ hours allotted. Mayor Robert Rickman rearranged the night's regular meeting agenda to postpone some matters to the council's Nov. 19 meeting, allowing the aquatics center meeting to continue after other matters were discussed and voted on. From there, it took another 2½ hours for the council to decide how to proceed.
City Manager Jenny Haruyama told the council that the city staff, working with Surland, could design the aquatics center one feature at a time.
"You can basically do this a la carte if you want," she said. "You can chose which elements you feel should be in there. It could be waterslides, it could be meeting space, warmup/rec pool, lazy river, splash zone for toddlers, with the not-to-exceed amount of X. Staff is recommending not to exceed $54 million.
"If you bring back a final design, you'll see those numbers will be firmed up."
Surland CEO Les Serpa told the council that his company could work with a phased approach, starting small with whatever features the council preferred.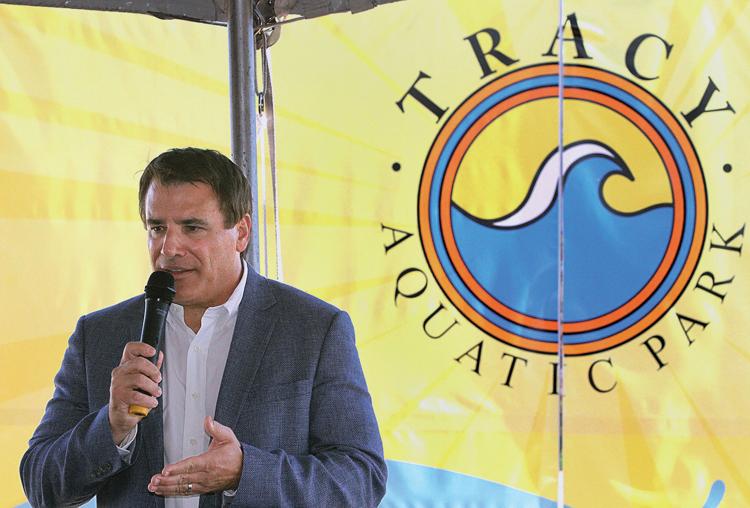 "Give us a number. We will design and try to get everything in it that we can," he said. "What we'll do is we'll sit with you as a council and say, 'Here's what we think the priorities are. Do you want us to move it around?'"
He suggested a scenario where the city would add $11 million to build a competition and warmup pool to the $54 million version of the project
"If we have $65 million of Measure V money, we'll give you the best thing we can. We'll start with a 50-meter pool, start with the leisure pool and work our way down through the most important items, but we'll bring that back to council and ask if this is your priority."
Rickman said the council should move forward with what it can afford to build now and make sure it has options to expand from there, similar to what the city has done with Legacy Fields.
"If there's a swimming pool we want to build, if that's the No. 1 thing we want to build, build it," he said. "And if there's a water slide or whatever it may be, build it if we have the money. Build it and the council will decide how much money we spend on it."
MacDonald, the parks and recreation director, affirmed the order of priorities: a 50-meter pool first and a recreational/warmup pool after that, followed by a lazy river, water slides, and then a toddler pool and fitness center if they fit in the budget.
The council didn't take a formal vote. Haruyama expects to have a new concept for the council to look at before the end of the year and something to vote on by early 2020.