California Highway Patrol public information officer Joe Whitlock held up a thick book of arrests made by Tracy CHP officers at a briefing Saturday night.
"These pages are filled with arrests and almost every single one of these is a DUI arrest," Whitlock said. "Some were involved in collisions, some we caught before they were involved in a collision — it's a huge number."
The officers and guests at the briefing were getting ready to take part in the inaugural Saturation Saturday, a special drunken driving enforcement in partnership with Mothers Against Drunk Driving. The nationwide event involved 262 departments in 18 states, including the Tracy CHP office.
Whitlock said guests from MADD were invited to the launch so they could see how officers were involved and so the officers could see how drunken and intoxicated drivers have affected the community.
"When we get out there, it's just business, it's what we do," Whitlock said. "But we see people like you that have been affected personally by the outcomes of these DUI crashes, I think it gives us motivation."
Speaking to the group, he said they would need to remain vigilant and have programs like Saturation Saturday until there weren't any more drunken drivers or DUI collisions.
"Hopefully some other briefings like this have already occurred in the other parts of the country and there are officers out there right now hunting for drunk drivers," Whitlock said. "It's a double-edged sword: You don't really want to find drunk drivers, but you know they're out there. But when you catch them, you're glad they're off the road. As long as they are out there crashing — which they still are — then the job is not through."
In the 17 years Whitlock has been at the Tracy CHP office, he said he felt the number of DUI arrests had gone up.
From Jan. 1 to Aug. 25, 2018, there were 183 DUI arrests, some for alcohol and some for drugs, and in that same time period this year, there have been 222 arrests.
Whitlock said that although the number of DUI arrests has gone up, the number of DUI-related crashes the office has investigated has gone down.
After Saturday's patrol, Whitlock said officers made a lot of stops and arrested one driver on suspicion of drunken driving.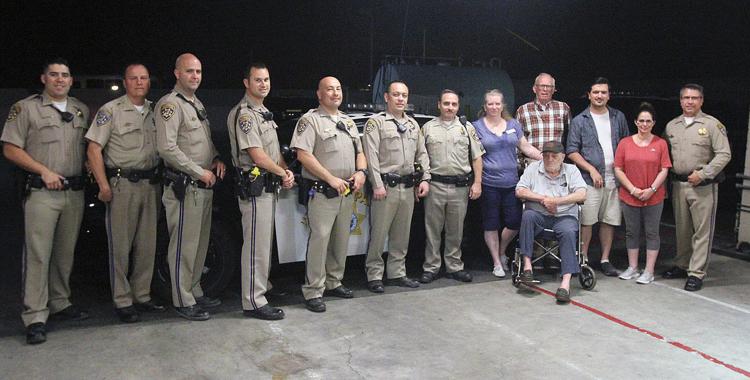 Among the guests gathered for the launch was Barbie Little of Stockton, a volunteer with MADD. Her 18-year-old daughter, Destanee Little, was killed in June 2010 by a drunken driver who hit her car from behind going 109 mph. Destanee's boyfriend, David Heredia Jr. of Tracy, survived the crash and attended Saturday's briefing with Little.
Little was happy to see MADD collaborating with the CHP for the targeted enforcement.
"I try to go to the checkpoints when they do them and I always try to support the officers. They are trying to keep our roads safe and they are trying to save lives by keeping these people off the roads, so I was really happy to see this nationwide saturation and the effort especially right before Labor Day, which is a really bad time for drunk driving," she said. "Maybe give a wakeup to somebody who normally doesn't drink and drive but they think they'll go to a party."
Several officers shared their personal experiences with drunken drivers, including Whitlock, who said his sister's car was struck by a drunken driver in 1977 while she was driving up to Lake Tahoe. The impact sent her car over the edge of 600-foot hill and she was trapped in the wreck for about 10 hours with a friend who died in the crash.
"I never really thought about it, but maybe there are more of us that have been affected," Whitlock said.
Little, because of her involvement with MADD, wasn't surprised by the number of officers who had experience with drunken drivers.
"Almost everyone I know or talk to has some sort of connection, either themselves, a family member or a friend that has either been a drunk driver or affected by a drunk driver, hit by a drunk driver," she said. "It's so widespread — I didn't have that knowledge before. A lot more people are affected than people realize."
The DUI enforcement will continue this weekend as Tracy CHP officers set up a sobriety checkpoint somewhere within their jurisdiction from 7 p.m. Saturday to 2 a.m. Sunday. The checkpoint is funded by a grant provided by the California Office of Traffic Safety through the National Highway Traffic Safety Administration.
Whitlock urged people who drink or use marijuana to stay off the roads.
"There are new things that have come out in the last few years like Uber and Lyft — a ride is a couple of clicks away," Whitlock said. "And also, we just need to continue to be our brother's and sister's keeper and look out for those wanting to get in the car behind the wheel and not allow them to do that, get them home and get them a ride."
Little said drivers should think about the potential consequences of their actions.
"Don't take that chance of thinking 'It's only a couple blocks' or 'I don't have far to go,'" she said. "There are officers out there. Officers are dedicated — they want to keep the roads safe, they want to keep us safe."