The Tracy Public Cemetery District will open the city's second cemetery for business Monday after nearly four years of work.
Alma Celaya, the district manager, said the Valpico Memorial Park will have plots available for sale starting Monday morning. An open house from noon to 2 p.m. Saturday will give people a chance to explore the first phase of the 20-acre site at 12815 W. Valpico Road.
She said there has already been a great deal of interest about the new cemetery.
"We have one person who calls every month just to ask and see," Celaya said Tuesday at Tracy Cemetery, 501 E. Schulte Road. "They are very excited and will be out there Saturday. They have family here but they want something out there."
Cemetery district trustee Kevin Tobeck, who retired from the city's public works department, said he had heard much the same.
"I have acquaintances that are waiting for it to open because they want to be buried out there as opposed to here," he said.
The Valpico Memorial Park joins the Tracy Cemetery on Schulte Road as a burial site for the nearly 100,000 people who live within the cemetery district boundaries. That 200-square-mile area includes Tracy and the surrounding unincorporated areas of San Joaquin County, including Banta, Vernalis and Mountain House.
The decision to open it now is a response to the gradual filling of Tracy's first cemetery.
"We still have some graves left, not a whole lot, so Valpico Memorial Park will serve its purpose," Celaya said. "That has a lot to do with it — give families choices — so still being we have some here, they'll get a choice now of either going out there or choosing from here."
The cemetery on Schulte Road sits on about 23 acres and has about 500 unsold plots, some for standard burial and some for cremated remains. Celaya said the cemetery has about 220 burials a year and more than 30,000 people have been interred there since its founding.
The cemetery has served the city for 138 years, since the founding of a cemetery association in March 1881. The Tracy Public Cemetery District was formed in June 1929, and a five-member board now oversees both local cemeteries' operations.
The new cemetery extends north from Valpico Road between Corral Hollow and Lammers roads. The 20-acre property was acquired in 2011, and ground was broken in 2014.
It will open with four burial sections, including areas dedicated for veterans and for infants. An additional six sections in the 6-acre first phase will be developed when the district deems there is enough demand. In 2015, the first phase was expected to include about 1,000 plots.
The veterans section will be similar to the Little Arlington section of the old cemetery, with upright white marble markers. An area next to the graves will have five flagpoles to fly the flags of each branch of the military.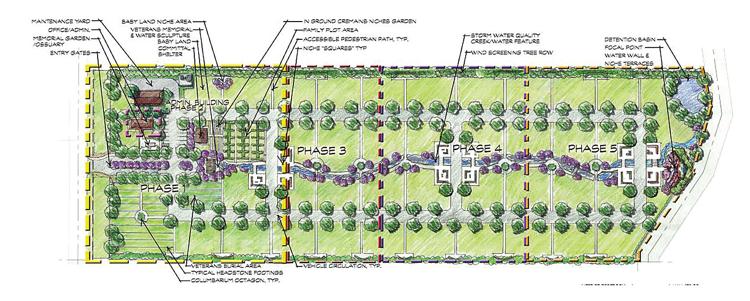 Celaya said the opening of the Valpico cemetery won't change anything at the Schulte Road cemetery. There are still hundreds of plots that people have reserved ahead of time waiting to be used.
"Even if the last plot was sold here, this cemetery will remain very active," Celaya said. "This cemetery will always require a full crew to maintain it and keep it up. One day, once that (Valpico cemetery) gets busy, it will require possibly a smaller crew."
Tobeck also emphasized that the cemetery on Schulte Road will continue its operations as usual.
"Nothing will change from a visitor's standpoint," he said.
The new cemetery will have its own office, he said, but most of the business of running the cemetery district will take place at the original cemetery for now.
"Until that time that is so full that most of the demand and work is out there," Tobeck said. "Then you will see it shift."
People can purchase plots at the new cemetery beginning Monday. A district staff member will meet people by appointment at the new cemetery and then return to the office at the old cemetery on Schulte Road to finish paperwork.
Three more phases of the cemetery heading to the north will be developed as needed. The Valpico Memorial Park is expected to fulfill the needs of the district for at least the next 100 years.