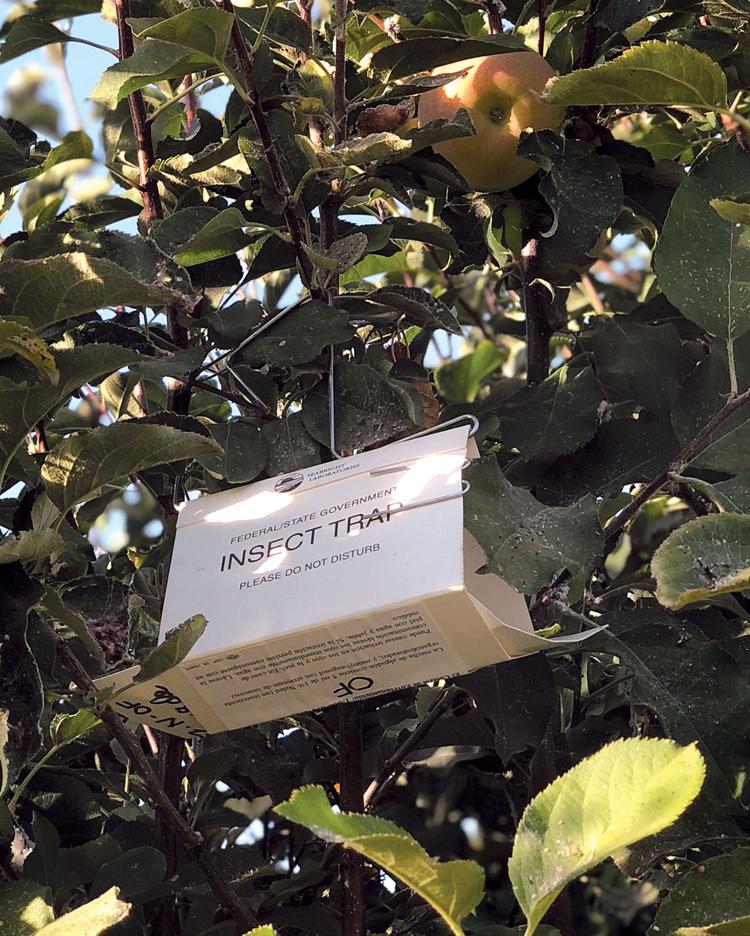 The discovery of two adult male oriental fruit flies last week in a southeast Tracy neighborhood started an eradication campaign for the invasive pests, which lay their eggs in fruit and result in rotten produce.
A serious oriental fruit fly infestation could cause a federal quarantine on local crops, potentially leading to significant economic losses for growers, and confiscation of homegrown produce. But officials are optimistic that it won't come to that.
Bagri said on Tuesday the first of the flies was found Oct. 14 in an urban area of east Tracy as part of routine insect trapping the office conducts from April 1 to Oct. 31 each year. A map from the state Department of Food and Agriculture shows that it was somewhere in the Hidden Lake area, east of MacArthur Drive and north of Valpico Road.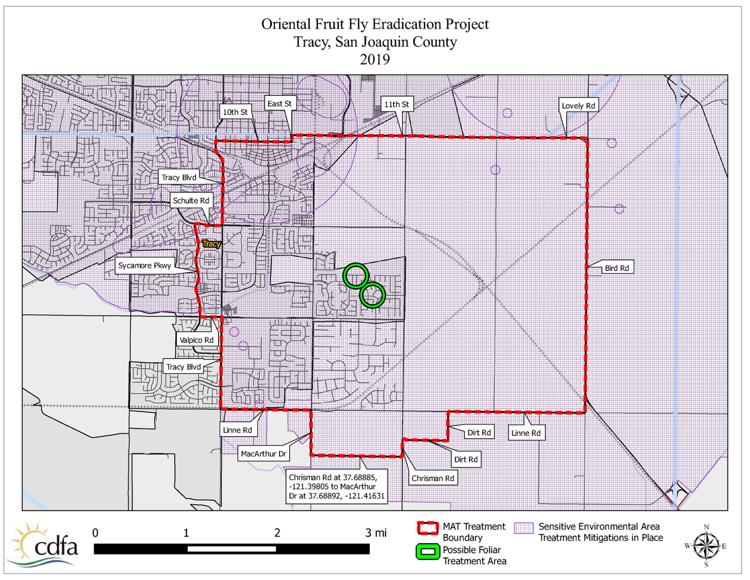 That brought a response team from the Department of Food and Agriculture's pest detection staff to Tracy the next day.
The team placed traps specifically targeting the oriental fruit fly in an 81-square-mile "delimitation area" around the original find. That area roughly encompasses all of Tracy, along with Banta and other rural areas to the north, south and east of city limits. The town of Mountain House is not included.
On Oct. 16, the Department of Food and Agriculture told the county agricultural commissioners that it had found a second oriental fruit fly, also an adult male, close to the first one.
"When there are two fruit flies, it triggers a treatment protocol," Bagri said. "We contacted the Tracy city manager and the mayor to let them know there will be a lot more state people in the city area. They will be doing daily servicing of those traps."
The state's treatment protocol is designed to attract and kill sexually active male flies looking to mate within a 1.5-mile radius of each place a fly was found.
Bait stations are placed on utility poles or trees about 6 to 8 feet off the ground, out of reach of children and pets. They contain a gel with a chemical that attracts male oriental fruit flies, methyl eugenol, mixed with a small amount of the organic pesticide Spinosad. The idea is that if the males are killed, any females in the area cannot produce offspring, and the local population dies off.
The bait treatment will last up to three months depending on whether any other oriental fruit flies are found. The Department of Food and Agriculture says the treatment will not harm bees and butterflies.
The state will also maintain traps throughout the delimitation area that will be inspected daily for the length of three life cycles of the oriental fruit fly, a time span that will last into June or July.
The oriental fruit fly attacks more than 230 crops, including fruits, nuts, vegetables and berries. It is native to southern Asia and is established throughout that region and in Hawaii.
"As most of the residents are aware, cherries are the No. 1 crop here," Bagri said. "We have some cherries which are now obviously already harvested, but if there is any chance of finding the fruit flies, like more, and then if a quarantine hits, it will be a huge impact on our cherry growers and our tomato growers."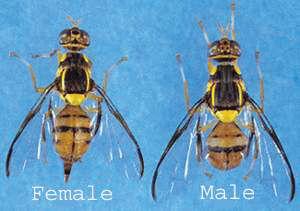 Bagri said the state would institute a quarantine if it found a total of six fruit flies inside the delimitation area before the end of its monitoring in early summer. How long the quarantine would last would depend on factors including how many flies were found and whether they were male or female.
Bagri said the timing was lucky for local farmers, as all the crops that could have been impacted had been harvested before the fruit fly was detected.
"At this point, we don't have any issues going on with any of the crops. But because this particular delimitation will go on up to nine months, so there will be this intensive trapping going on probably until June or July of next year, 2020, and there will be cherry season, which is April, May and June," Bagri said. "We're hoping for the best and hoping that there will be no new finds."
If more flies are found and a quarantine zone is established, farmers will have to have a plan in place to treat their crops so they can still sell them. Farmers who do not have a pretreatment protocol will have to destroy their crops.
For now, people can simply expect to see more state workers around checking traps each day — but that could change if evidence of an infestation is found.
"Once the quarantine hits, that's when the state will go out to every single yard and strip all the fruit and double-bag it and destroy it," Bagri said. "And also that's when the treatment in the backyards will start."
At that point, meetings would be scheduled to let the community know what was going on.
Bagri encouraged people to take care not to bring any invasive pests into the area.
"We always tell our residents, don't pack a pest," she said. "Oriental fruit flies right now are established in the state of Hawaii and overseas in Asia. So we try to educate our homeowners not to bring any fruit, because that can bring all kinds of exotic pests, including Mediterranean fruit flies, so we encourage our homeowners not to bring fruit from other states and other countries."
In August 2018, the discovery of 15 oriental fruit flies triggered a 123-square-mile quarantine in portions of Sacramento and Yolo counties. The quarantine was lifted in May.
The state agriculture department's 17-page notice of treatment for the city of Tracy can be found here.