The chance to get a discount on school supplies brought teachers and parents out to Staples on Saturday, where they stocked up on composition books, folders, pens and pencils, and anything else they figured their kids will need when school starts next week.
Bohn Elementary School third grade teacher Tuesday Casado doesn't know how many students she will have in her class on Aug. 6 , the first day of classes, but she went ahead and bought all the items a class of 25 third graders would need to start the school year.
"I prefer to have every child have the same supplies. There are income fluctuations in the same classroom. Nothing is a little more fancy or a little more rugged than the other," Casado said as she picked out 25 new green folders. She provides supplies up front and expects parents will replace them as the year progresses.
Getting a 20 percent discount on Saturday, when Staples hosted its Block Party for students, teachers and parents, was her incentive to stop by the Naglee Road store. The school's parent-teacher group provides some money for supplies, but she typically ends up spending her own money to get everything her classroom needs.
"We were told this year that we were supposed to (get a budget), and we got an email from our PTO that there is money in the budget, but she doesn't know how much," Casado said. "They'll give us a set amount of money and then we turn in our receipts and use it as you choose throughout the year. It varies from year to year, depending on the class size and the amount of money in the budget."
She added that it typically falls short of what teachers need to supply their classrooms.
"Every year, most teachers spend their own money for their own classrooms. Some of it is making it cutesy and others it's necessities," she said. "It depends site by site, what's allocated. The bigger the parent club, the more money it generates."
The associate superintendent for business services in Tracy Unified School District, Casey Goodall, said each school gets an operating budget that is supposed to cover copy machine leases, paper, pencils and similar supplies, among other things.
"To stretch their budgets as far as possible, they ask parents to donate office supplies," Goodall said. "Any dollar saved from donations allows the schools to offer more funding opportunities for other options."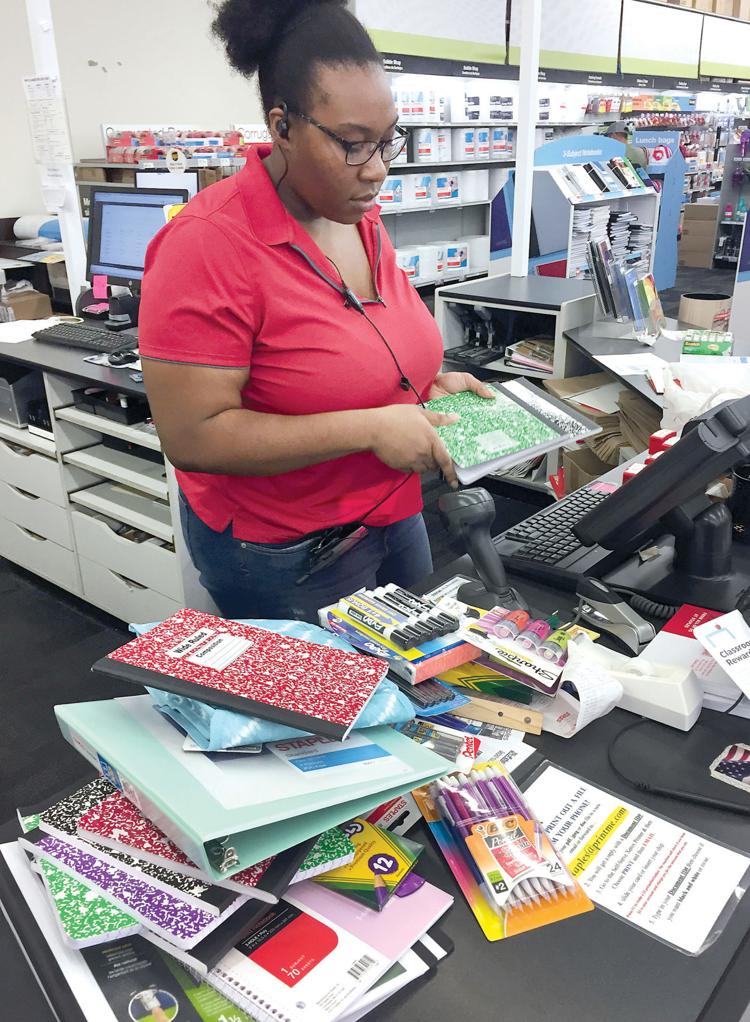 Monte Vista Middle School teacher Lisa Mendez said she looks for cost breaks wherever she can. She figures on spending $500 to $1,000 each year and expects to get reimbursed for about $300 worth. She's had years at other local schools where she's had to spend more but got reimbursed for less.
"I'm an artist and a lot of things I sell help fund my art class," Mendez said. "It's one of those things, if funds are tight for me at home and my husband complains too much, I turn the receipt in. Most teachers have side gigs to help pay for things."
Yolanda Caro, the librarian at Hawkins School, was there to buy supplies for her own two kids' classrooms and to buy supplies for the library.
"For this classroom, I'm kind of just helping the teachers because they don't get that extra support and they're having to pay a lot out of pocket," she said. "We buy them hand sanitizer, tissues, extra paper, pencils, stuff like that they can use throughout the year for students that either may not have it, or just to have there in the classroom."
Staples general manager Jennifer Squire said that keeping the store open for a couple of extra hours last year on the weekend before the first day of classes showed how much demand there is for school supplies at this time of year.
This year, the company gave her the go-ahead to offer the 20 percent discount, and she decided to make it a festive event. Saturday's turnout was the response she hoped to see.
In addition to the sale, the store brought in Burger IM, Café Platano and I Live for Dessert to provide free food. Que Jelinek of Mountain House and Toni Edwards of Tracy gave free haircuts to kids, and the West High Blue Crew handed out shaved ice and set up games.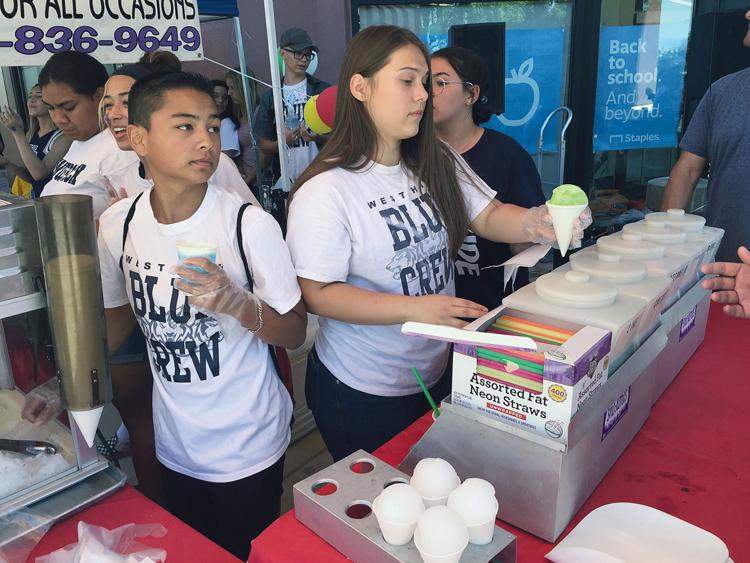 "So far our sales are about triple where they would normally have been on a normal Saturday," Squire said. "The 20 percent off is driving sales, but definitely the event itself I think started everything."
The discount was also the incentive for a charitable organization to buy school supplies for kids. The Tracy branch of Youth With A Mission, a Christian ministry that helps at-risk kids find their path in life, filled 100 backpacks with supplies for a giveaway at 10:30 a.m. Friday at its 1367 Parker Ave. location across from Central School.
"The Lord put it in my heart that you can give away backpacks and school materials to the kids," said John Abechi, director of YWAM's Tracy chapter . "We want to invest in the young kids that are coming up, because they're the future for tomorrow. At the same time, we want them to know what is wrong and right.
"I have 100 backpacks to give away on Friday and I have a plan for extra just in case we have more than 100 (students). We can still support them."