A conversation about safety in Tracy in the aftermath of four homicides this year started taking shape Tuesday when Tracy City Councilman Dan Arriola hosted a town hall meeting at Monte Vista Middle School.
At the end of the two-hour meeting, Arriola said his goal was to start the community discussion on how to make Tracy safe. He said public input was necessary to help shape any city policies that might come out of the discussion.
"I really hope that today is simply the beginning, and I'm looking forward to continuing the conversation, and hopefully we'll develop some policy initiatives that we can further discuss," Arriola said.
About 30 people at Tuesday's meeting talked about the value of neighborhood watch groups, city maintenance and patrol of parks, and a heightened level of vigilance among Tracy's citizens.
Also at the meeting were Councilwomen Veronica Vargas and Rhodesia Ransom, state Sen. Cathleen Galgiani, Tracy Police Lt. Trevin Freitas, San Joaquin County District Attorney Tori Verber Salazar, and representatives of Rep. Josh Harder and Assemblywoman Susan Eggman.
Arriola told the crowd that he wanted to host the meeting so that people could process the effect that four violent deaths over the past six months have had on the community. Three of them, two homicides on Carlton Way and one last month on Lowell Avenue, occurred within a few blocks of Arriola's home.
Steven Weber, 58, was killed Nov. 13 in Dr. Powers Park, across the street from the school where Arriola led Tuesday's meeting, and the police are asking for the public's help in finding the killer in that case.
"These four homicides in our community, they aren't just names. They aren't just numbers. They aren't just statistics," Arriola said.
"I think it's so important that we know their names and say their names and recognize that all four of these people were part of our community, and we can't forget the people that they leave behind. It's so important to realize that each of these people had families. Each of those people had loved ones, and each of those people had a story and a life to continue that is extinguished because of violence in our community. Today we have an opportunity to hopefully prevent those actions from ever happening again."
For the rest of the meeting, Arriola asked people about their perspectives on how safe the community is and what they think the city government can do to make it safer. He also asked whether there were any "hot spots" in town where people felt especially unsafe.
One woman said she felt safer in Tracy than she ever did in growing up in east Oakland.
"One of the reasons I moved to Tracy is because it was very safe," she said. "Because I volunteer with the Tracy Police Department, I know how hard they work, and nothing makes me feel more safe in this community than that."
Another woman said she felt safe but recognized that others in town lacked the security of a home to return to or a car to use to get around town.
"I don't think I would feel so safe if I were walking in a park at twilight," she said. "I don't think I would feel so safe if I were homeless. I don't think I would feel so safe if I didn't have a car and a home to go into that I can lock."
A woman who attended the meeting with her young son and daughter also said she felt safe in her home but not around town.
"I feel safe in my house and when I'm driving too, but some areas in town … especially at Walmart lot at night, and Lincoln Park too. There's a lot of homeless around. There's a lot of strange people doing strange things," she said.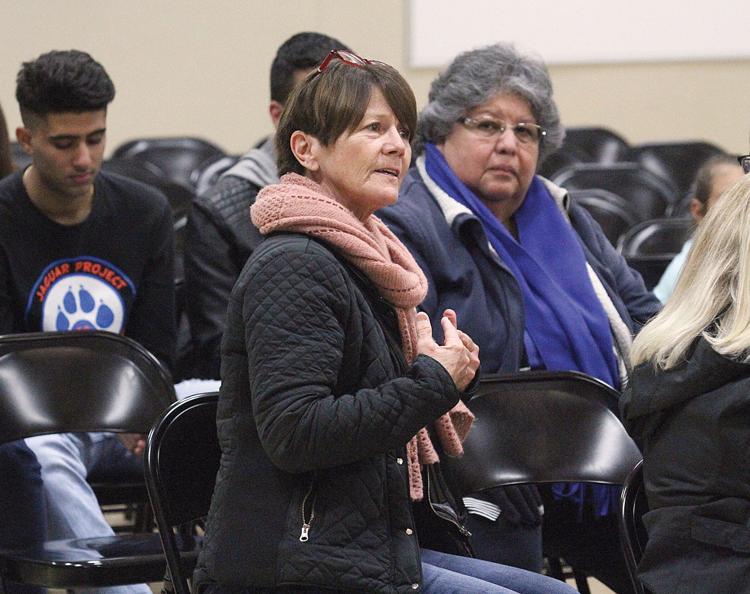 Local emergency room nurse Dotty Nygard, who has lived in town for 25 years, said that any growing city becomes less safe and people should understand how their lives and daily routines should reflect that.
"I love this city, but if we all agree that we feel safe, we're letting our guard down," she said. "In this day and age, we can't."
She went on: "We need to be aware of our surroundings. We need to just be a little bit more engaged with where we're at. We mentioned at the very beginning about neighborhood watch. I lived across town in another neighborhood that did have neighborhood watch. We had periodic community neighborhood meetings. We knew each other.
"I think this is where we have to start. If you really want to be involved in helping everyone feel safe, it begins in your neighborhood."
As for places where people feel unsafe, the conversation kept returning to the atmosphere in local parks, especially at night and especially now that more homeless people are camping in the parks.
"As a student from Tracy High, most of the students from Tracy High walk to the library, and they have to pass through Lincoln Park, and so one reason I feel unsafe is probably because of the homeless. Some of their activities make me wonder, what are they going to do next?" said one young man. "They come up to me, they're like, 'Give me all of your stuff. Give me money. Do you have anything on you?'"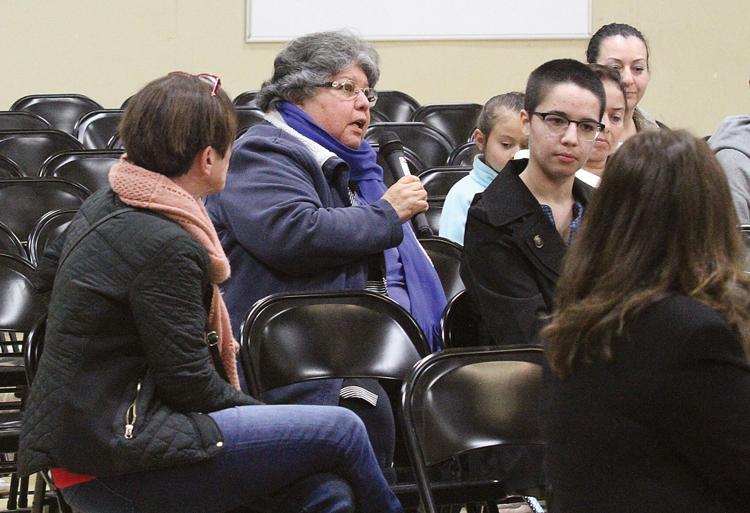 Tracy Parks and Community Services Commissioner Linda Jimenez said people have complained to the commission about conditions in parks, including El Pescadero Park.
"What's come to the commission regarding El Pescadero Park is that there are people using drugs. There are syringes in the park. There are people smoking possibly marijuana, and they are concerned because there are some homeless situations in there and families aren't feeling comfortable with their children.
"I'm not saying that if you're homeless there's going to be a problem, because I don't believe that," she added. "But those are the issues that are being addressed regarding that that park, and people are staying in the park in the evening, late in the evening."
As for investments the city could make, people suggested that, even at night, parks should be presented as more welcoming as opposed to someplace where people could be concealed. Better lighting and cameras were named among the possible solutions.
"Probably one of the best investments is not necessarily security guards staying in there, but if you had constant — maybe some kind of security company that could drive through every once in a while, so that it does deter from other issues," one woman said.
Another man who works in the city's public works department said that cutting back brush and vegetation in parks makes those places less appealing to those who would try to stay out of sight.
"We've already implemented that," he said. "We actually had two officers that came in and met with a group of public works people, and they asked us to raise the shrubs up off the ground. Maybe nine months ago, a year and a half ago, they had a big influx of homeless people embedding into the landscape of the parks."