An outbreak of vaping-related illness that has left at least six dead nationwide underscores the urgency of efforts by Tracy Unified School District to warn students against electronic cigarettes.
The district's director of student services, Rob Pecot, said he and other administrators had been monitoring an uptick in e-cigarette use on campus.
"We definitely noticed last year that we were seeing an increase in incidents of vaping," Pecot said. "We see it at middle school, we see it at high school, and, in some cases, we see it younger than even middle school."
The district teamed up with school resource officers from Tracy Police Department to schedule presentations about vaping near the beginning of this school year.
"For vaping in general, we don't really know what the negative consequences are. It's kind of a new thing," Pecot said. "To me, that is the scariest thing, that unknown."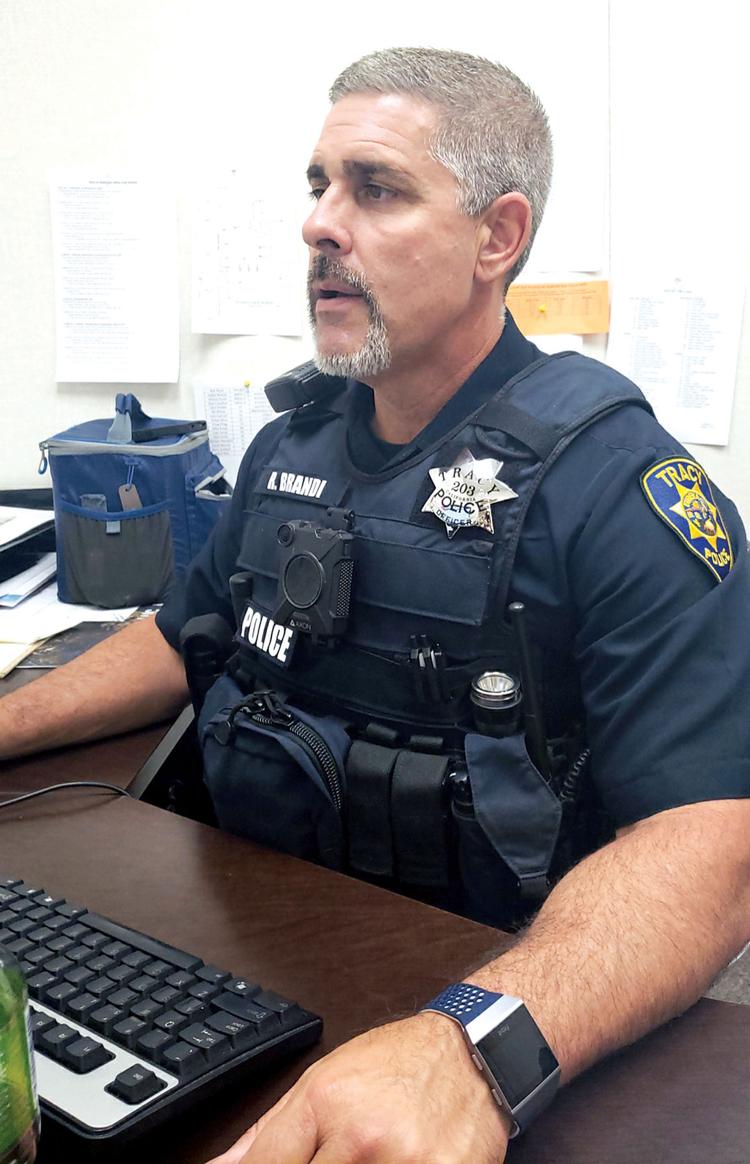 Officer Robert Brandi, who is assigned to Kimball High School, talked with all the sixth-grade classes in the district and the freshman and sophomore students at Kimball. School resource officers at Tracy and West high schools gave similar presentations there.
"We felt that it was better to educate at the lower grade levels as far as what the dangers and hazards would be, so that way they don't sucked into peer pressure or experimentation and things like that," he said.
E-cigarettes, sometimes called vape pens because of their size and shape, have a battery to heat a cartridge or vial of a vaping solution, which vaporizes and is inhaled. Some solutions contain nicotine and are designed to replace tobacco products, and others are made with THC and other cannabis compounds.
The first e-cigarettes looked like traditional cigarettes and were intended to help people quit smoking by providing nicotine without the toxins that come from burning tobacco. Newer models may look like pens or USB flash drives.
In the past five years, they have become trendy among teens and young adults, most of whom have never smoked. The Centers for Disease Control and Prevention report that the number of U.S. youths using e-cigarettes increased by 1.5 million between 2017 and 2018.
School administrators and officers in Tracy say they're more likely to catch students using liquid cannabis than nicotine vaping juices.
The state educational code makes it illegal to take any tobacco or marijuana product, even an e-cigarette, onto school grounds.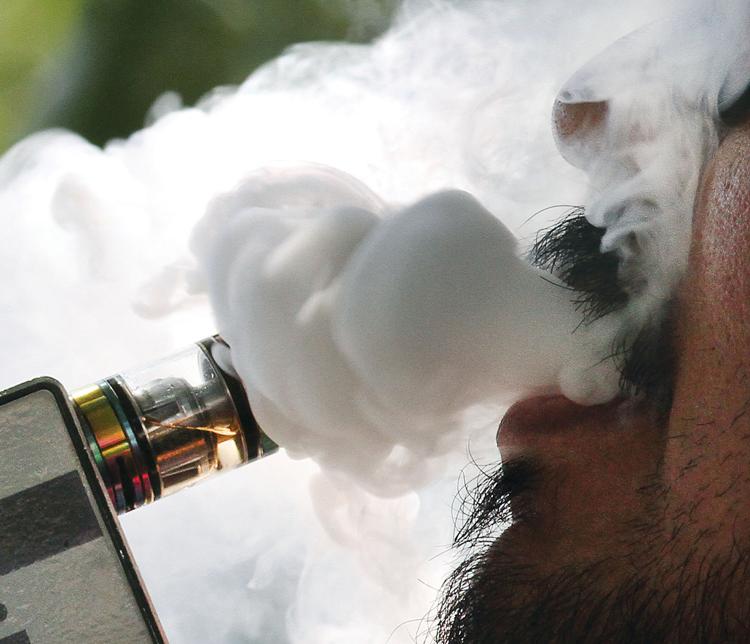 "It includes the pens, the (battery) chargers — anything that could be associated with a tobacco product would be a violation of school policy," Brandi said.
The CDC and the Food and Drug Administration, along with state and local health departments, are investigating a growing outbreak of severe lung disease associated with e-cigarette use. A Sept. 6 bulletin from the CDC said the specific cause isn't known, but all of the hundreds of people who have fallen ill have a history of vaping.
The widespread illnesses have heightened concerns about the safety of e-cigarette products and the risk to teens in particular.
"We're just trying to educate them as far as, 'Hey, when you do this, nicotine is addictive, marijuana is addictive,'" Brandi said. "Nicotine has shown it's linked to cancer-causing properties. You're still getting those same cancer-causing properties in an e-cigarette or a vape pen."
Pecot said the district didn't know of any Tracy students injured by vaping, but that doesn't mean it isn't dangerous.
"We haven't had any illness or anything like that reported, but I see the same thing you see," Pecot said of the reports of lung disease linked to vaping. "The marijuana they're smoking is very concentrated too — it's not your traditional marijuana. This is really potent stuff that is very isolated and it impacts students severely."
Brandi said vaping solutions can have high levels of nicotine — some single cartridges are as potent as a pack of cigarettes — or THC, the chemical in pot that makes users high.
"These synthetic strands are not your 1970s marijuana where you might have 15% to 25% THC. The THC levels (in vaping pens) run anywhere between 75 to 90%, and THC has no medicinal purpose, it's just to get high," Brandi said.
Administrators first noticed students vaping at Tracy schools about five years ago, Pecot said, and "each year it's become more and more prevalent."
He attributed the trend to the relatively low cost, the ease of online shopping, the inconspicuous style that makes vaping devices easy to hide, and the bright packaging and sweet flavors — bubblegum, vanilla wafers and cotton candy, to name a few.
"All things that are enticing to young people," Brandi said of the colors and flavors, "because adults really don't care about that whatsoever."
Pecot said there are vaping devices shaped like watches and even hoodies with vaping devices built into a drawstring.
"Talking to the teens, they all know it's bad for you," Brandi said. "They say it — 'it's bad' — but they still do it."
He said vaping THC is far easier to conceal than smoking a joint.
"With marijuana, if you burn it, you smell it. It has that odor. Not too many people want to take a couple puffs off of a joint, then put it out and save it for later. You're still going to smell it," he said. "With the vape pens, as far as with the marijuana, it's going to be masked in regard to the flavoring so the distinct marijuana is not going to be as present. It's something to where you can take a couple of puffs and it's done and it's concealable — it's easy to hide in a brassiere or hide in your underwear, but a joint not so much."
That makes it harder to enforce rules about vaping on campus. Security guards and administrators are all briefed on what to watch for, Brandi said.
"You can have a straight-A student that's a vaper or you can have that troubled student who is using it," Brandi said. "It's the whole spectrum. It doesn't matter."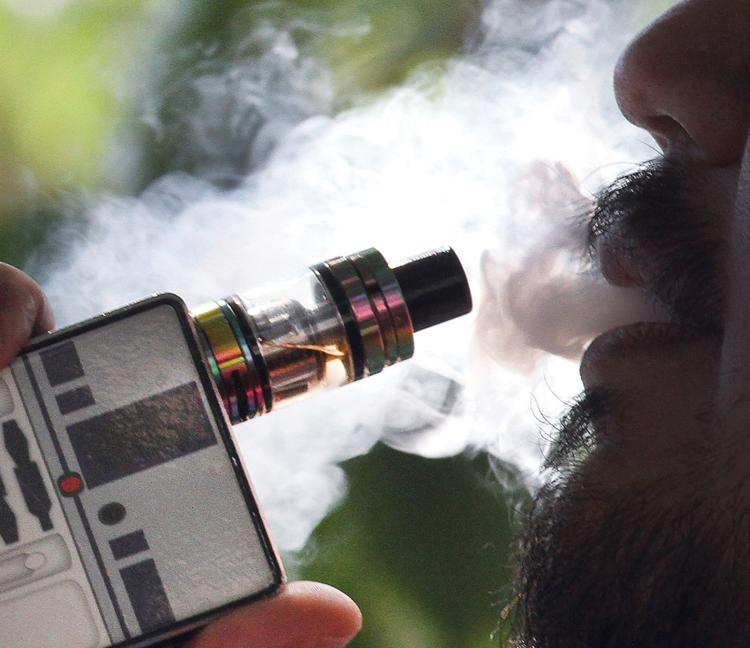 When students get caught, the consequences depend on many factors, including what they were carrying and whether they were sharing it with other students or selling it.
A student caught vaping at school might be suspended and, if cannabis is involved, be required to attend a five-week substance abuse class.
"It's not like the district is just: 'OK, you're suspended and we're done with you' or 'You're expelled and we're done with you.' They're still trying to educate and help in that manner as far as, hey, obviously you're experimenting or you have an issue with this. We're going to make this mandatory in an effort to help you."
Pecot said the penalty could rise to expulsion if a student furnishes vaping materials to other students.
Monte Vista Middle School Assistant Principal David Doyle said many kids are exposed to vaping at a young age. Some have older siblings or parents who vape, and the devices are right there at home.
"I think, on our level, it is students more exploring because it is so easily accessible. We'll have incidents of students bringing them on campus. Most of the time, students just want to show their friends more than get everybody together and try to smoke and all that kind of stuff," Doyle said. "The district is doing a great job bringing in Tracy PD Officer Brandi doing the preventive measures. The students have been talking about the presentation, and the parts they talk about the most is the health aspect."
He said reaching out to sixth graders is important because they have recently completed the Drug Abuse Resistance Education lessons taught to fifth graders throughout the district.
"So they are still very open to making the right decision and making the tough choice, being able to say no," he said.
"We've all been teens, right?" Brandi said. "We know what we've done when we were young, and even though you may watch your child like a hawk, they're still going to be susceptible to different things. And vaping is really easy to hide. Parents may not know that USB port plugged into the computer right there is not a thumb drive, it's a Juul vaping device — it just looks like a thumb drive.
"Just be diligent as far as paying attention — what are your son or daughter doing."