The creation of a new blueprint for Tracy's parks and recreation services is under way, and a community workshop Wednesday was an early step.
Peter Winch, a senior planner with WRT's San Francisco consulting office, led the informal session between 5 and 8:30 p.m. at the Lolly Hansen Senior Center. About a dozen members of the public chatted with city Parks and Recreation Department staff and browsed the concepts that will be part of the Citywide Parks, Recreation and Trails Master Plan.
"We've been working over the last several months, trying to get our arms around what elements this parks and recreation system has today, how well these elements are serving the community as it is now," Winch said.
He added that, as Tracy grows, the city can expect its demographics to change. Calls for new types of parks also require constant updates to the plan.
"Even though it's long range — it's a 20-year plan — we need to update it more often," Winch said. "At the same time, in this case, we're doing a concept-level plan to explore the possibility of a nature park. That was a strong desire among a segment of this community, to have better access to nature."
The city is considering turning a parcel just south of Legacy Fields into a nature park. Trails around town were another prominent concept, including the idea of creating landscaped pedestrian and bicycle paths to connect parks and link neighborhoods to the downtown area.
Participants in Wednesday's workshop visited seven stations, including poster boards showing graphics and photos of recreational activities and amenities that the city offers now or could offer in the near future. People of all ages were free to identify their favorite offerings with color-coded stickers, and they added their own comments and suggestions as well.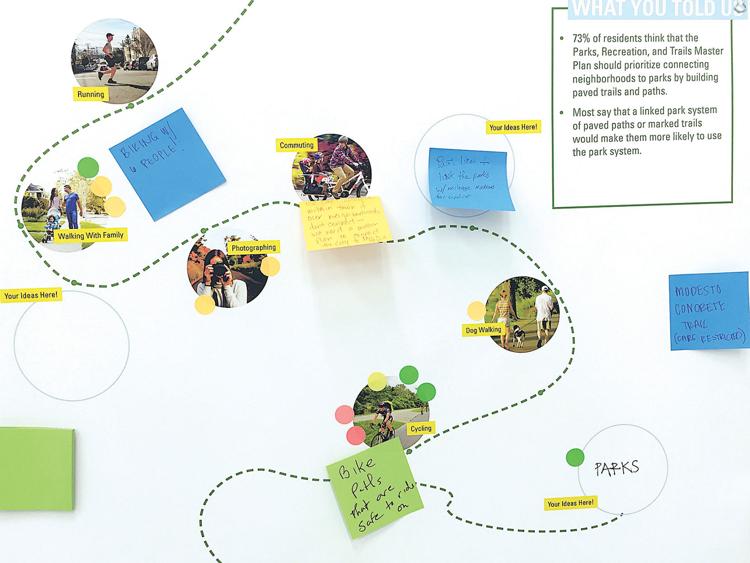 The city plans to have a similar workshop in February and complete a draft of the master plan by March. That will go out for public review next summer, and the planning commission should have a plan to consider by September 2020, with hearings and possible adoption by the City Council in November 2020.
"It is the constitution for our parks and rec department to follow as it prepares its budget and capital improvement plan and determines what kind of recreation programs to offer," Winch said.