The Tracy High School class of 1969 will celebrate its 50-year class reunion Aug. 3 with an evening at Brookside Country Club in Stockton.
That year's graduates numbered 342, but anyone who went to school with the class from kindergarten through high school is welcome. Organizers are still looking for several dozen classmates — 144 in all — to invite them to attend. Their names are listed below.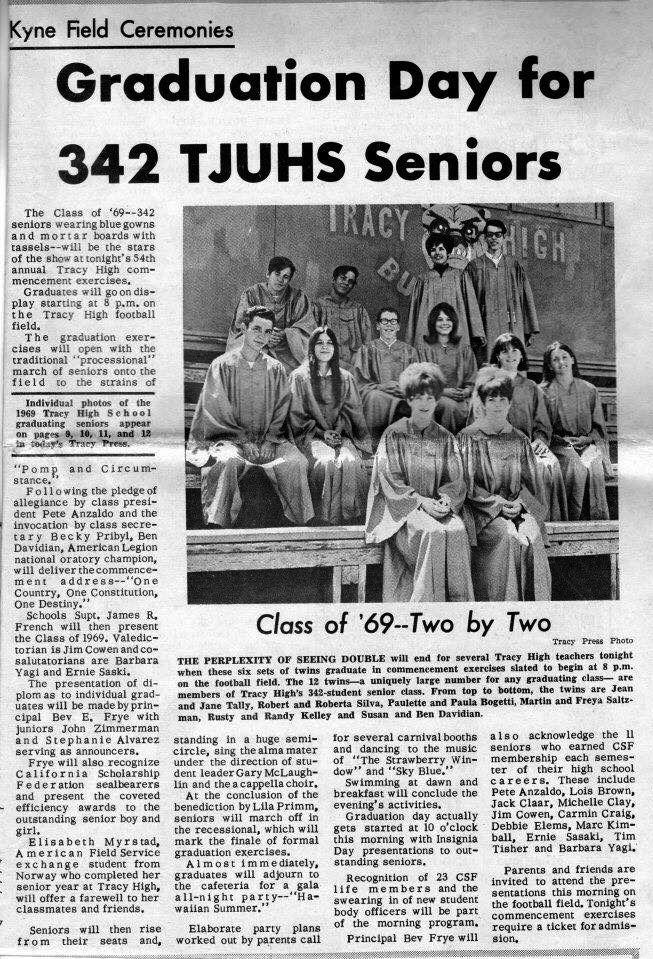 Anyone who has information about any of the "missing classmates" can send an email to classof69tjuhs@gmail.com or call Denise LeClert Armstrong at 209-679-4213.
Armstrong noted that the class included seven sets of twins, some identical and some fraternal, six of whom graduated together, as noted in Press reporting at the time.
People can RSVP for the reunion through July 21. As of last week, the organizers had 136 paid reservations, including some spouses and friends.
Missing classmates, Tracy High class of 1969
Nancy Abts
Dennis Autrey
Donald Autry
Chuck Bell
Ann Boedeker
Ronald Borges
Kathleen Bowen
Jerry Boyd
Lois Brown
Sharon Bullough
Mark Burks
Micheal "Mike" Cahoon
Michael Campbell
Francince Cardoza
Pat Carter
Barbara Carver
Bill Christensen
Magarito "Jesse" Cibrian
Sharon Clagg
Joyce Clifton Richter
Manuel Costa
Carmin Craig Dinkens
Donna Craig
Kathleen "Kathy" Craig
Hilda Currenton
Greg Dani
Kenny Daum
Sue Davidian
Judith DeJesus
Carla Delucci
Harry Dover
Susan Duchene
Darrell Early
Ann Fairbanks
Robert "Bob" French
Barbara Gallivan
Manuel Garcia
Sandra Garcia
T Garcia
Robert Given
Karen Gomes
Norman Gonzales
Robert Gonzales
David Gonzales
Levene Growcock
Joyce Hackman
Robert Hall
Jane Hanson
Lee Helms
Cindy Henley
Adella Hernandez
Judy Howard
Edward "Ed" Hoyt
Dwight Jennings
Dan Johnson
Patrick Jose
Leslie Kennedy
Dorothy King
Katherine King
Charles Kiser
Lee Kristof
Sandra Kuebler
Martin Lacy
Kenneth Lane
Carol Lankford
Dan Lapsys
Carol Lehman
Leighton "Sandy" Lewis
Sue Likins
Sharon Long
Tom Mancuso
Kathy Mandish
John "Johnny" Manzo
Joe Martin
Sandy Martinez
Jerry Mays
Mike McClanahan
Don McDaniels
Gary McLaughlin
George Meneses
Eldon Menzies
Jacqualyn "Jackie" Mills
Kenneth Moody
Mary Neves
Art Newman
John O'Bryant
Steve Oeltjendiers
Linda Ohm
Larry Oliver
Modesto Orsorno
David Pacheco
Ron Parker
Irene Pimentel
Patricia "Patty" Pimentel
Joe Pounder
James Rambur
Elizabeth Ramirez Hernandez
Anthony "Tony" Ramirez
Evenlyn Ray
Wayne Raymond
Richard Reeves
Sharon Robinson
Gennie Rodriguez
Isabell Rodriguez
Richard Rose
Christine Routt
Blanca Salazar
Mary Salazar
Ernest Sasaki
Martin Schlipp
Cheryl Schmitt
Irvin Shellman
Jeff Silva
Joe Silveria
Robert "Bob" Simpson
Clyde Sims
David Smith
John Smith
Vickie Smith
Norman Somers
Robert "Bob" Stevens
Donna Taylor
Ken Taylor
Danny Thayer
Steven Thompson
Tom Thompson
Martin Tolbert
Alfonso Trevino
Sue Tudor
Jim Tutor
Cindra "Cindy" Vale
Martha Vasquez
James Villanueva
Donna Waller
Jeff Weatherill
Jerry Weber
Joan Wheelus Williamson
Patsy Wilson
Cheryl Wise
Bob Wurster
Philip Yager
Barbara Yagi
Deborah "Debbie" Yarlott
John Yoshimra