In September, the Hidden Lake Ward of the Church of Jesus Christ of Latter-day Saints donated about 180 handmade teddy bears to the Tracy Police Department.
The project was the culmination of months of work by the congregation.
At the beginning of the year, as the presidency of the Primary children's organization, my counselors and I were discussing ideas for a project that would serve our local community. Lori Knight had done a similar project while living in Modesto. We thought it would be great to have our children serve other children right here in Tracy.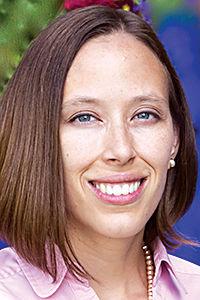 Beginning in March, we asked the Young Men and Young Women youth organizations, ages 8-18, to help trace and cut the materials donated by various families. The pattern pieces were then turned over to our Relief Society women's organization to be sewn up into bear shapes.
Once they were sewn, we had an activity for families to help attach safety eyes and noses to the bears — a task more difficult than it looked.
The week before Easter, we had a stuffing party and Easter egg hunt. Children and their parents stuffed bears and then the parents patiently sewed them shut. The children were fascinated to watch as the bears took shape! Officer Mario Ysit came to help us stuff and sew bears that day and stayed for hours, impressing many with his sewing skills. The children also wrote and decorated notes to go with the bears.
After a long break over the summer, the Relief Society finished each bear, tying and sewing ribbons and repairing a few that had suffered "accidents." Each bear has a unique personality drawn from different colors, textures and patterns of cloth, as well as small differences in facial stitching and decorations — no two are alike!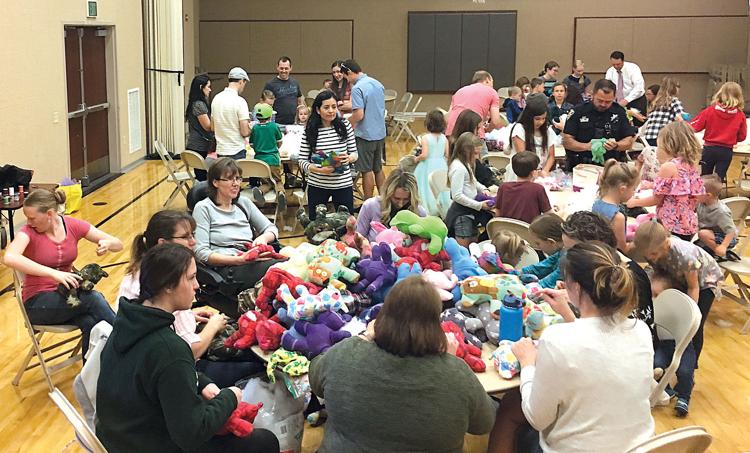 The Tracy Police Department plans to keep some bears at the police station and send some out with officers. We hope they will give comfort to children who need a little extra love and something soft to hold onto when life gets a bit scary.
Thanks to Stephany Valadez from the Tracy Police Department for helping us coordinate with the department. Thanks to Officer Mario Ysit for taking the time to participate in the project and to answer the endless questions from the children.
Thanks to Bishop Kirk Van Katwyk for supporting this project that turned out bigger than we planned. Last but not least, for their extra efforts, thanks to these women and their families who did a variety of tasks in the race to completion: Lori Knight, Patty Call, Heidi Spencer, Stephanie Thayne, Kim Blackwell, Amber Wells, Kristina Van Katwyk, Vikki Frazier, Birdie Cawit, Sarah Mortensen, Diane Hopkins, Debbie Johnson, Laura Franchini, Stephanie Fry, Sheri Lanning, Emily Masters and Lezlie Richards.