It was at 7:57 p.m. Pacific Daylight Time that Sunday evening that Apollo 11 astronaut Neil Armstrong descended the steps from the lunar module "Eagle," which had landed on the moon earlier that day, and stepped onto the gray, dusty surface to become the first man on the moon.
The camera recording the historic event was attached to a tripod to film Armstrong and Buzz Aldrin, who joined Armstrong at 10:11 p.m. for a 2½-hour moonwalk. They planted the American flag, placed a commemorative plaque and gathered some scientific samples before lifting off to rejoin astronaut Michael Collins in lunar orbit in the command module "Columbia" to begin the return trip to Earth.
Among those watching on TV that Sunday night was Tracy Mayor Richard Hastie.
"It's wonderful," he declared when called by a Press reporter around midnight. "It was quite an experience."
He said he had been watching the moonwalk on television, and no doubt many Tracy residents were watching, too.
"I'm just as thrilled as any American," the mayor said. "While they were walking on the moon, I walked over to the window and looked out at that faraway moon. I couldn't believe it."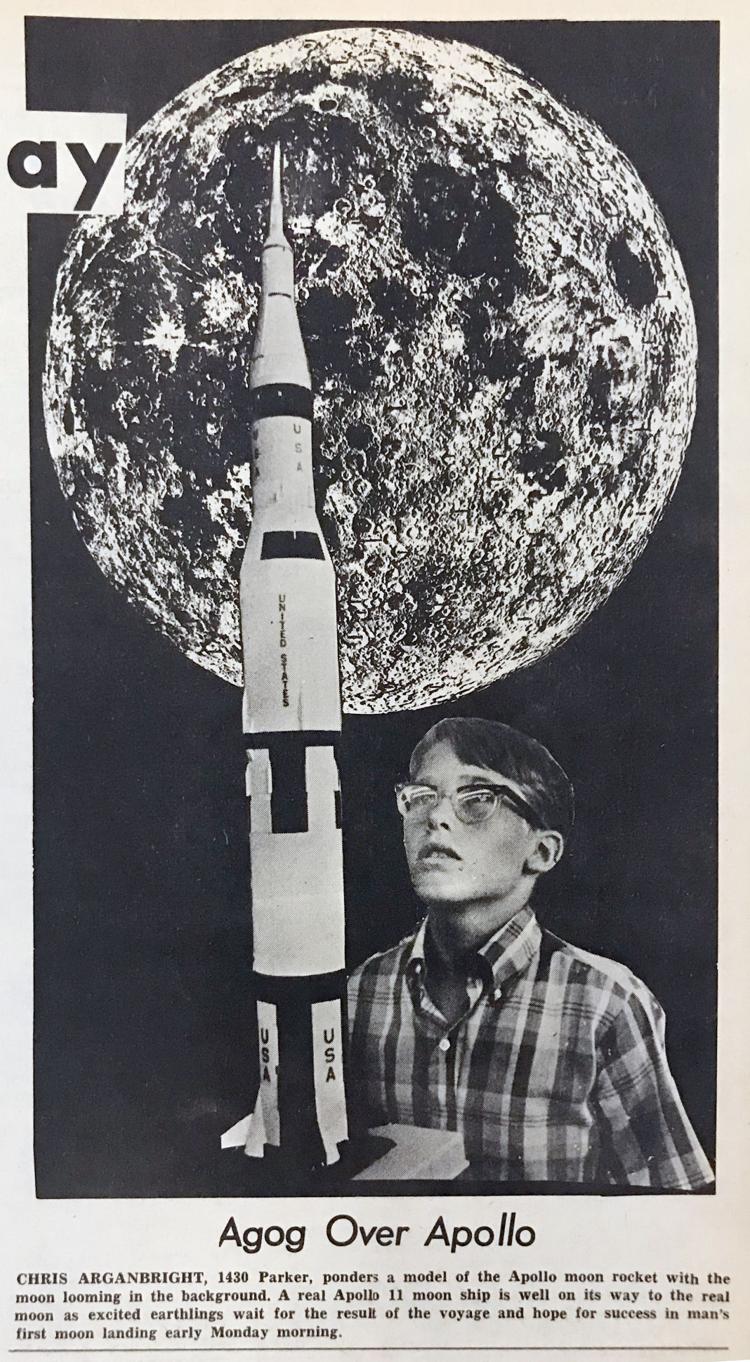 Monday, July 21, had been designated at the last minute by President Richard Nixon as "A National Day of Participation" to commemorate the moon landing. But in Tracy, that participation was mixed.
Federal, state and county offices were closed, postal services suspended, operations at Defense Depot Tracy halted and summer school classes canceled. But city offices were "open for business as usual," reported City Manager Warren Benson.
Most businesses also remained open that Monday; only a few were closed.
One merchant who kept his doors closed to commemorate the moon landing was Bob Anderson of Tracy Camera Shop (then on West 10th Street, where The Commons is now).
Anderson, a World War II P-38 fighter pilot, called the moon landing "the greatest event in history."
"I'm staying home to watch it," he said.
The Tracy Press extended its news deadline to cover the moon landing and moonwalk for its Monday morning edition, which included this editorial comment:
"Expenses and energies required for the man-on-the-moon program have been great, but the challenge was there, and the United States rightly accepted that challenge. The lunar landing was the first major step in the exploration of outer space. Meanwhile, on earth, many problems still exist that could use the same kind of resources, imagination, teamwork and dedication that placed a man on the moon."
In the days that followed the July 20 moonwalk, the Apollo spacecraft was headed back to Earth with its landing scheduled Thursday, July 24, in the Pacific Ocean near the recovery ship, carrier USS Hornet.
One person in Tracy was especially anxious to see TV coverage of the three Apollo 11 astronauts being lifted aboard the Hornet.
Sharon Hedstrom, living temporarily with her parents, Ernest and Helen Lewis, at their Richard Drive home, told a Press reporter that she would be watching the recovery of the astronauts from their spacecraft with everyone else, but she would be taking a special look at the faces of sailors on the Hornet. Her husband, Navy Electrician's Mate 3rd Class Jack D. Hedstrom, might be among them.
She said her husband, who had been Hornet crew member for 2½ years, told her he would try to be as visible as possible, but she couldn't pick him out. She had to wait for a firsthand report July 30 when the Hornet was scheduled to dock in Long Beach.