What a dream come true! A chance to showcase my Bio.fiber.plastic science project on an all-paid trip to Washington, D.C.!
My friends know me as Jacqueline Prawira, currently a freshman at Mountain House High School. I recently returned from Washington, D.C., as one of the top four grand prize winners at Broadcom MASTERS (the most prestigious national STEM competition for middle schoolers).
My journey to Broadcom MASTERS started at the Altamont School science fair. My path continued on after winning first place at the San Joaquin County Office of Education science fair, followed by earning first place at the California State Science and Engineering Fair in Los Angeles, which qualified me for a nomination to Broadcom MASTERS. Fast forward a few months, I was named as one of top 300 semifinalists on Sept. 5.
Being content as a semifinalist for the last two years out of 2,500 applicants nationwide, I considered selection as one of the top 30 finalists as unreachable as the stars. Until Sept. 17 at 5:15 p.m., when an unforeseen phone call proved otherwise. I was selected as one of the top 30 Broadcom MASTERS finalists!
Let me share the highlights of my vigorous weeklong competition in Washington:
Day 1
I could feel the excitement and energy in the atmosphere as we met all the other finalists for the very first time and got to know each other. After an informative orientation and delicious dinner, we all participated in team building events, including the parents. This activity definitely expedited our bonding as friends and as a team.
Day 2
It's Project Showcase time at the National Geographic Museum! Time to suit up and impress the judges! We started with a photo shoot at Capitol Hill followed by a judging session for three hours and public viewing for an additional three hours. I took many opportunities to present and talk about my project to judges, Broadcom Foundation members, Broadcom alumni, fellow finalists and many adults, as well as young kids. I talked at length until my throat dried up and I experienced a foot cramp, but it was all worth it!
After a long day, we ended our day with the classic "dinner and a movie." We dined at a fancy restaurant, Il Canoli, while chatting nonstop. Watching the movie "Inventing Tomorrow" in a privately reserved AMC theater made me feel like a celebrity. Not to forget the popcorn and soda, of course!
Day 3
First day of STEM challenges, wearing my Green Team shirt! We were challenged from all areas of science, coding Raspberry Pis, solving logic gates, finding the cause of the current zombie apocalypse and other mini challenges. We were informed that the challenges were set to make us fail. My team and I chose to rise above the circumstances. We might not have been the experts in all areas, but we collectively made it work, and at the end of the day, we definitely deserved a high-five!
The night would have not have been complete without another impossible mission at the Escape Room Live! As the name clearly implied, a group of us were trapped in a "moving train" with a ticking time bomb and only a handful of clues to defuse the bomb. I never felt so glad being locked in with my fellow smart finalists. We managed to escape with 10 minutes to spare!
Day 4
Headed to the Smithsonian for the second day of STEM challenges! The experience of wearing waders and seining in the Chesapeake Bay was definitely more memorable than just learning about it from a book. There is no substitute for the joy of doing these real-life activities, especially when handling the marine fauna and feeling them jump and squirm in your hands.
Any trip to Washington, D.C., would not be complete without touring the monuments. We visited the World War II memorial, the Lincoln Memorial, the Martin Luther King Jr. Memorial and the Washington Monument under the bright moonlight.
Day 5
We spent our morning on a Capitol Hill trip. I felt truly honored to visit the representatives for Congressman Jerry McNerney, Sen. Kamala Harris and Sen. Dianne Feinstein. Later on, we had a career panel to meet alumni who have successful careers as entrepreneurs, scientists and researchers. I personally sat with an inspiring researcher and Intel ISEF alumna, Sabahat Fatima, who shared the same interests as me.
That night was the awards ceremony at Carnegie Mellon. The place was filled with people from high places. The dinner reception was elegantly decorated and served us with fancy hors-d'oeuvres and a five-star dinner. Dressing up in my finest was definitely a must! At 7 p.m., it was the moment we all had been waiting for. The moment when the awards ceremony officially began. Many speakers shared their passion for science and their contribution to our world.
I have to admit I was deeply nervous through the whole ceremony. Soon they named all the STEM winners, and sadly, I was not one of them. I knew winning ANY awards at Broadcom MASTERS, a national-level science fair, would be as unreachable as the stars.
Until Dr. Henry Samueli's statement proved otherwise.
"The winner of the Marconi/Samueli Award for Innovation goes to — from Mountain House, California, Jacqueline Prawira!"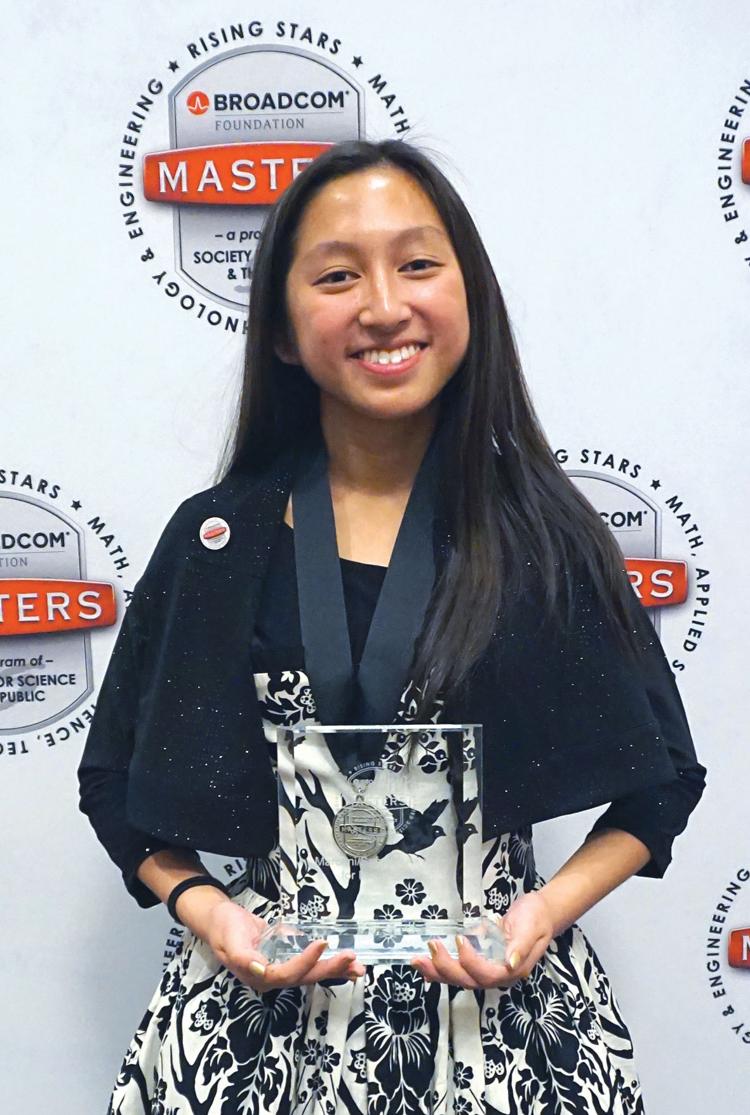 Time froze. Then it restarted as my heart burst with joy. I walked onto the stage in a daze, shock, disbelief, excitement and joy all warring in my head. It's a wonder I didn't drop the plaque. I had just been named as one of the top four grand prize winners! We closed the awards ceremony with a final "We're Broadcom MASTERS!" cheer, followed by a dessert reception, more photo shoots and interviews.
While the night was still young, what better way to seal the celebration than with a DANCE PARTY? Exactly! I danced the rest of the night away with my fellow finalists.
Day 6
The last day, but not the least, included a special field trip to the White House. I was so overwhelmed to be in the White House, I miserably failed to recognize Ivanka Trump! She was standing right next to me and even gave me a high-five! President Trump's STEM advisers also were present to congratulate us and hear about our projects.
The afternoon was a bittersweet time when I had to part ways with all of my fellow finalists. I wish this could have never ended.
This Broadcom MASTERS experience was more than just a competition. These irreplaceable moments have shaped my future and will continue to. It tapped our passion and hidden potential to challenge ourselves beyond our limitations in collaborating, critical thinking, analyzing and problem-solving. It's not how we start but how we implement our knowledge to carry it through to the next level.
I believe the beauty of science lies within the flaws and mistakes. Embracing them leads to learning, and learning nurtures discoveries. And that's not all! The friendship and fun activities that I experienced were incomparably priceless. I will be forever grateful and proud as a Broadcom MASTERS alumna.
Last but not least, special thanks to my family for their endless support. Thank you to my friends, both of my schools (principals, teachers, and staff), SJCOE, and my community for cheering me on every step of the way.