When burglars hit a house near Ron Rio's home five years ago, he made up his mind to make a change in the neighborhood.
Rio started by finding out who his neighbors were as block captain of the Alden Glen Neighborhood Watch, and he has seen participation in the group grow each year in his area south of 11th Street and east of Corral Hollow Road.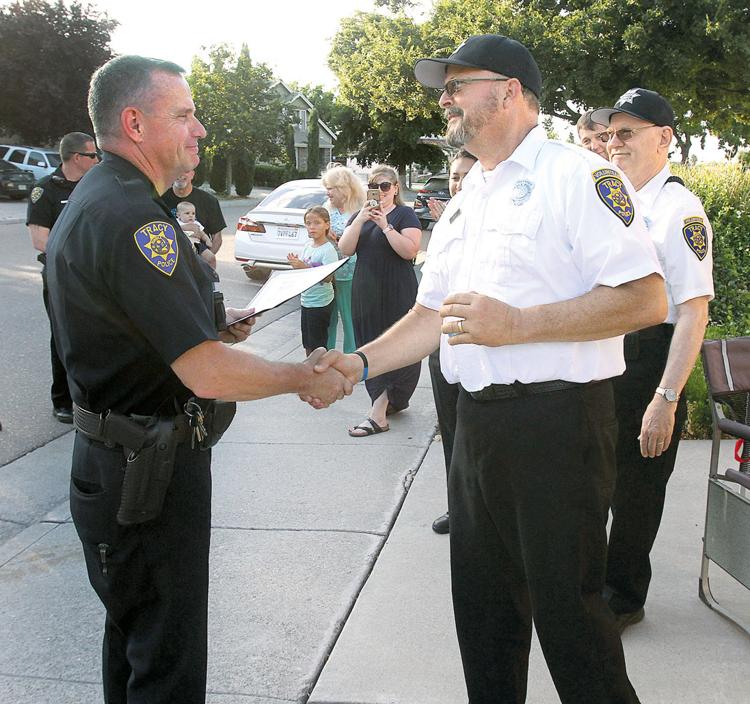 "We didn't even know our neighbors" before the burglary, Rio said. "It got us closer as a unit, which works really well."
He and his neighbors were one of dozens of groups that celebrated their stand against crime Tuesday during National Night Out. Neighbors nationwide were encouraged to get together and get to know each other and their local law enforcement and public safety workers.
In Tracy, caravans of police officers, firefighters, city employees and community leaders arrived with their emergency lights flashing at 20 parties spread across town, including a big community party hosted by Tracy Family Resource Center on East 10th Street.
Rio, who also participates in Tracy Police Department's Volunteers in Police Service program, said many people just don't know who lives around them, but the Alden Glen Neighborhood Watch has built an important kind of camaraderie.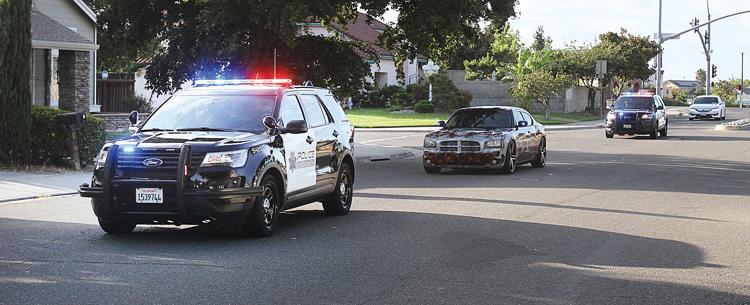 "Most of the people in Tracy commute, they get here late, and we wave but we don't know them by name," he said. "And that has helped a lot. We know who belongs and who doesn't belong.
He said being familiar with the people living near you is one of the most important parts of both Neighborhood Watch and National Night Out.
"It's mainly to just get the neighbors, meet them, greet them," he said. "Know what they drive, know their hours, and we just kind of watch out for each other."
Lt. Tony Sheneman handed out certificates for the watch group and lauded the members' participation.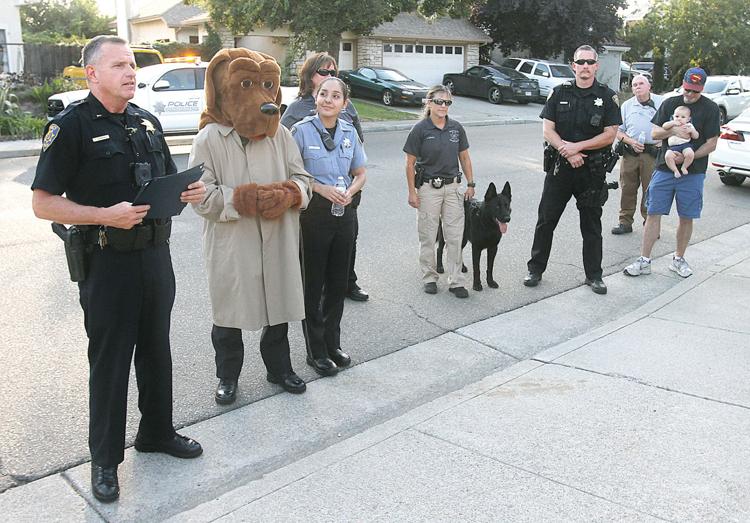 "No police department can be successful without a close partnership with the community that we serve," Sheneman said. "We are blessed here in Tracy to have a very close working relationship with not only the appreciation but the support of the majority of the community members, which allows this to be a very safe area — not just Alden Glen but all of Tracy — to raise a family, to retire to, to come and start your life.
"And it's through the efforts of people who put together Neighborhood Watch, it's through the efforts of people who work as volunteers, and it's people that call in and say, 'This is what's happening in my neighborhood.' It keeps the neighborhood safe and allows us to enjoy a relatively crime-free area."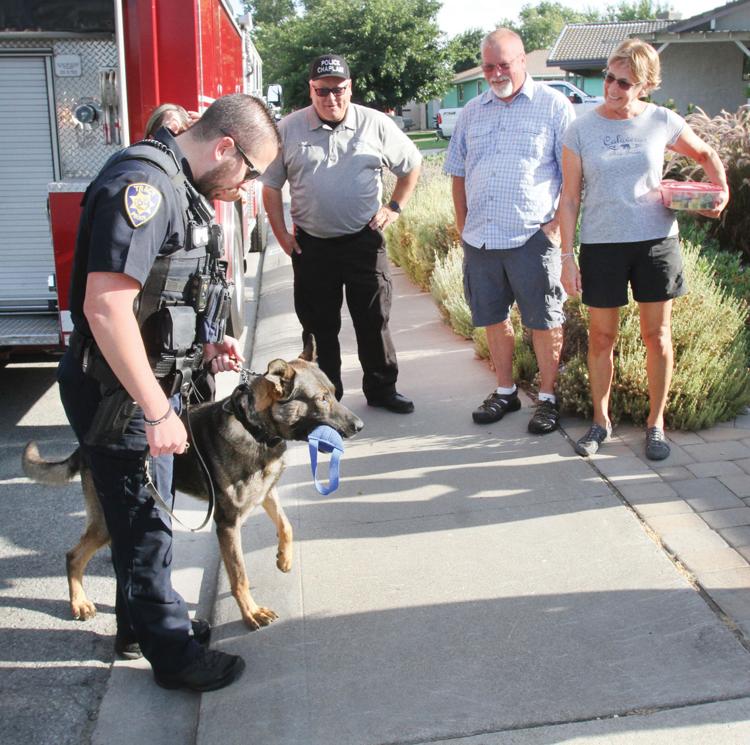 A mile or so to the northeast, near McKinley Elementary School and Dr. Powers Park, Kari Potter is in her second year as block captain for the Madison Avenue Neighborhood Watch.
As her neighbors gathered and waited for a police caravan to arrive, she hoped the visit would strengthen their relationship with the department.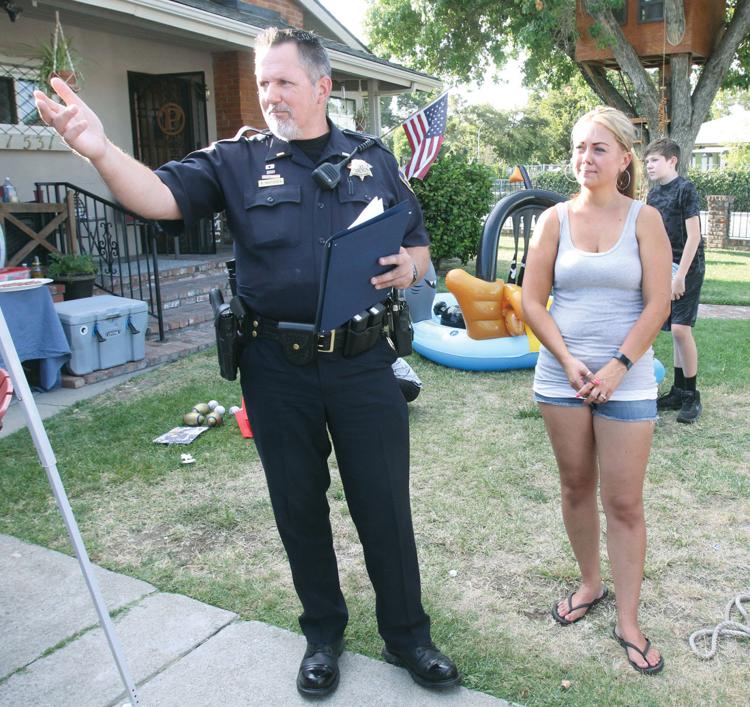 "I guess kind of bring attention to the neighborhood," she said. "We have a lot of homeless people kind of coming up and down, so get us familiar with the police, familiar faces, and it's a good opportunity for all the neighbors to come out and hang out."
The watch group has worked together to monitor suspicious activity and keep tabs on who passes through, including the homeless people who camp out in the park.
"We all take really good care of watching each other," Potter said. "We got the cameras on the houses and at different points, we just watch everybody. We always know who is coming up and down the streets, especially with the school, so it's good to keep an eye on everybody."
She said the block had been quiet in recent months.
"It's just important to get to know your neighbors. You have this little, tiny community of people that live around you — it's important to build a relationship with them," she said. "If you have to go out of town, you know your house is being watched. It's good to build that relationship with your neighbors."
City Councilman Dan Arriola, a county deputy district attorney, was in the caravan visiting Madison Avenue. He emphasized that events like National Night Out were an important way to build the relationships between community members and the police.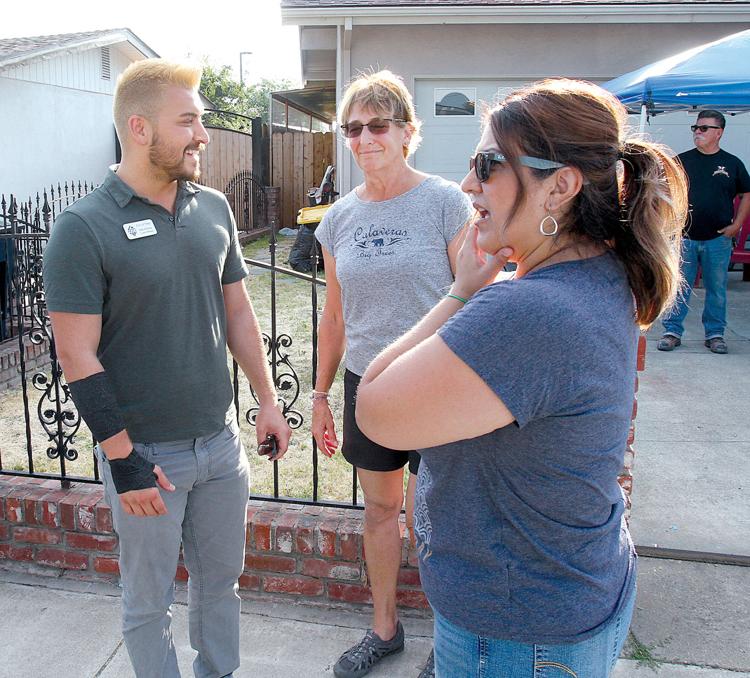 "This is what it's about. Oftentimes at the City Council, we're talking about how we actually going to reduce crime? It's by building partnerships like this, it's by building trust," Arriola said. "This is how we change these conversations, how we open up our minds and open up our hearts, and that's truly how get violence to be reduced in our community."