The photo above of the Standard Oil service station, discovered a short while ago by Bruce Hotchkiss, the Press automobile columnist, provides a reminder of what was a fixture in Tracy for 63 years.
But the station building at the corner of 11th and Adam streets, where now there's only a vacant lot, wasn't the only "fixture" worth remembering.
I'm talking about Jim Meservy, who operated the station, first as a Standard Oil employee and then as a Chevron lessee, for 36 years, and who for six decades has been one of Tracy's most active community volunteers.
And just about the time we came across the photo of the station as it appeared in 1950, we in Tracy — and there are many of us still around — are saying goodbye to Jim.
"I'm heading up the hill to Soulsbyville, near Sonora," he told me this week. "I've been in the process of moving for several months, but next week will be it."
Jim said that a chance to buy a house near where his daughter, Crystal, lives provided the incentive for him and his wife, Maureen, to move there.
"Yes, of course, I'll miss Tracy," he said. "I have so many memories of Tracy and many friends still here."
If Jim will miss Tracy, people all over our town will miss him. For one reason, they used to buy gas and have their cars serviced at the Standard (later Chevron) station, which had a loyal local clientele and was also at one time one of the busiest of more than two dozen gas stations when 11th Street was Highway 50.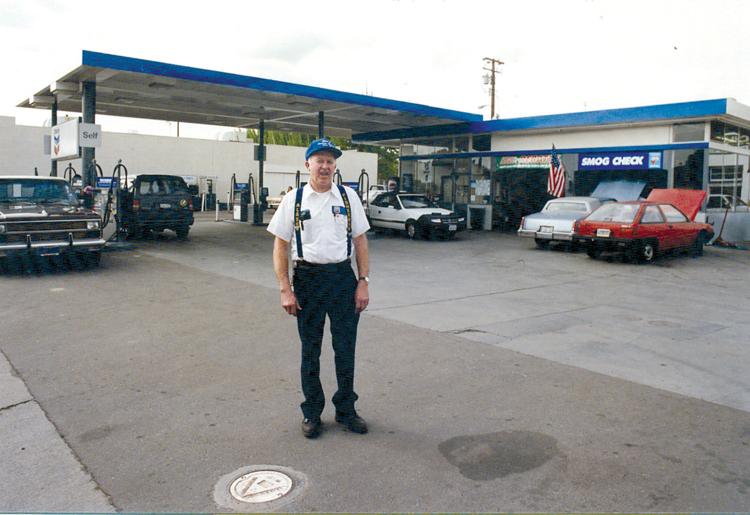 "For years, it was a full-service station, where you bought gas, had your car's windshield cleaned and had oil changed and brake lining replaced," he said. "That kind of service ended a long time ago."
Jim, now 88, is a native of Salmon, Idaho, who came to Tracy in 1953 after returning from a brief stay in Connecticut and joining Standard Oil as an employee in Stockton.
He first managed a Standard station at 11th and Tracy Boulevard and then moved in 1957 to what over the years became known as "Meservy's Station" at 11th and Adam streets. The station, opened in 1930, was remodeled and enlarged in 1961.
In 1970, Jim leased the station from Chevron and continued operating it until 1993.
"That year, the Chevron people wanted to be rid of the station and offered to sell it to me," he said. "But that would have required a substantial investment to install two double-lined gas tanks, and that didn't make sense to me, so it was closed."
He was involved in several stations and repair shops on Grant Line Road before leaving the field. For the past 17 years, he has been a driver for Enterprise car rentals. His last day is today.
Besides operating a service station, he did a lot for Tracy as a community volunteer — in a number of ways — not least of which was as chief barbecuer for the Tracy Breakfast Lions Club in fundraising events and at Tracy High football games.
Along the way, he was charter member and president of Breakfast Lions, president of the Tracy Chamber of Commerce, exalted ruler of Elks (where he was also a longtime chef), and captain of the Tracy Police Reserves and the San Joaquin County Sheriff's Reserve and Air Patrol.
For Jim Meservy, volunteer service to the community started with duty as a member of the Tracy Police Reserves and continued for a half-centur…
In 2011, he was named Tracy Citizen of the Year along with Darlene Quinn of Tracy Interfaith Ministries.
And Jim was known to sip a cup of coffee or two with friends each day, first as a charter sipper of what was known as the Joe Wilson coffee hour at the Tracy Inn, where flipping coins to see who would be "the stuckee" to buy the coffee was a daily ritual. That ritual has continued to this day for Jim and friends at the Four Corners south of town.
In Tuolumne County, he doesn't plan to be as active, but I wouldn't bet on it. And he promises to return to Tracy now and then to attend a meeting of the Breakfast Lions, who have made him a lifetime member.
Next time you drive by the corner of 11th and Adam streets and see the fenced-off vacant lot, you'll know it once was a busy, well-known Tracy fixture — "Jim Meservy's Station."