Until 32 years after Tracy was founded in 1878, the growing railroad-farming town had no banks.
Then, within a two-year period, two banks burst onto the Tracy scene when the Bank of Tracy was opened in 1910 and the West Side Bank of Tracy followed a year later in 1911.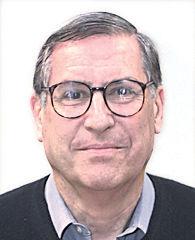 The two locally owned banks pitted Tracy's two financial heavyweights against each other. John Droge was president of the Bank of Tracy, and Abe Grunauer headed the West Side Bank of Tracy. Both were natives of Germany who were astute businessmen.
Droge, a loner bachelor, mostly bought and sold real estate, around Tracy and throughout Northern California.
Grunauer, Tracy's first mayor who was active in many community projects and activities, operated Tracy's main department store, the Fabian-Grunauer Co., at Front (Sixth) Street and Central Avenue. The firm also financed farmers growing barley and wheat, Tracy's main agricultural products in the days before irrigation, and then bought and sold the harvested grain.
In 1910, Droge and investors opened the Bank of Tracy in a building he had constructed in 1909 that included his small grocery store at the northwest corner of Seventh Street and Central Avenue.
A year later, in 1911, Grunauer and other West Side Bank investors built the stately bank building that still stands on West Sixth Street.
During the two banks' first decade, Tracy was experiencing a spurt of growth. It was a new Southern Pacific division point where train crews were changed and also a town that saw irrigation districts formed and a sugar mill opened. And, too, the city was incorporated in 1910, and a high school was founded in 1912.
As all this was going on, the banks each built their assets to close to $1 million by 1919. This was the year their owners decided they needed room to expand, and no doubt also wanted to create a greater bank-like presence in Tracy.
It was a century ago, in 1919, that two new bank buildings were under construction — two structures that survive to this day as landmarks of that era on Central Avenue.
Granauer's West Side Bank of Tracy was first to act in 1919, getting a jump on its rival by announcing early in the year that it would leave its small Sixth Street building and construct a new bank building at the southeast corner of Seventh and Central. The realization that Front Street was losing out to Central Avenue as Tracy's main business street no doubt had something to do with the decision.
The handsome two-story brick building at Seventh and Central with high arching windows on the north side had a ground floor and full basement. Cost: $70,000.
Two weeks before its weeklong open house was scheduled in July 1919, the bank's directors announced they were changing its name to American Bank of Tracy.
Not to be outgunned, the Bank of Tracy board quickly reported it would finance construction of a two-story brick building at the northwest corner of Eighth and Central where G.A.D. Buschke had earlier operated a harness shop.
The second floor would have 34 rooms, all but those facing Central Avenue serving as lodging. A single-story wing would hold four businesses.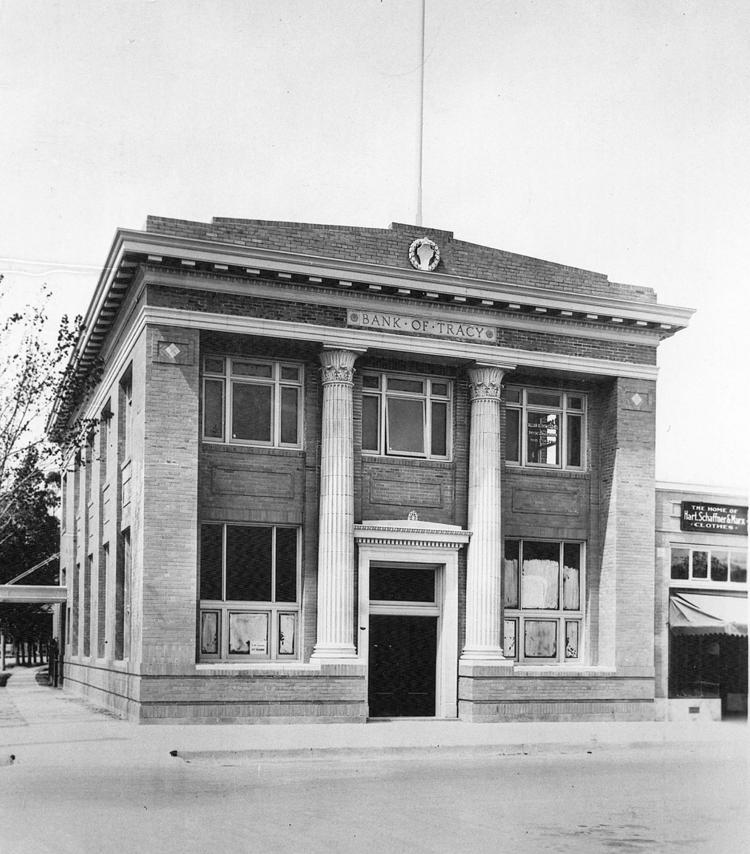 The new Bank of Tracy building, completed in 1920, was designed by architect William H. Weeks to look exactly as a bank should in those days with two prominent columns framing its main entrance.
The following year, rival American Bank of Tracy was sold to the Bank of Italy as A.P. Giannini was creating the nation's first system of branch banking.
It wasn't long after that, in 1923, that the Bank of Tracy was also sold, to the American Bank of Oakland, which later became the American Trust Co.
The two bank buildings served their new owners into the 1940s, but the center of business was again moving north on Central Avenue after World War II, and it was time for another move by the two banks, whose rivalry continued unabated.
In 1947, the American Trust Co. (later Wells Fargo) moved its Tracy branch north to the building at 1035 Central, where Schack & Co. is now located.
The Bank of Italy — since 1930 named the Bank of America — was right behind, moving a year later in 1948 to new digs across Central Avenue at 1034 Central Ave., where the Oak Valley Community Bank is now located with entry off the parking lot.
By this time, Abe Grunauer and John Droge were gone from the Tracy scene. Grunauer and his family moved to San Francisco in 1926 when the Fabian-Grunauer store was closed. He died in 1948 at the age of 82. Droge, who built the Grand Theatre in 1923, died in 1933 at the age of 92, alone in his apartment in the American Hotel, which fronted the Grand on Central Avenue.
As the banks moved north, the original Central Avenue bank buildings went into decline, becoming vacant for a number of years and serving uses far less distinguished than originally intended.
What became known as the Bank of Italy Building, and is now named the Kagehiro Building by its owners, at Seventh and Central has been home to a parade of uses before and after improvements and restoration by Don Cose and Dan Schack, including a Mexican restaurant, a pool hall, remodeled offices of a wind-turbine firm, a pizza franchise headquarters, county district attorney offices and now a firm that places foster children.
Except for sporadic second-floor office use, the Bank of Tracy building (the name is still spelled out in concrete over the door) remained vacant for some 30 years before developer Art Sasser restored the two-story bank portion and adjacent single-story businesses in 1978.
The bank section then became home of the Tracy Chamber of Commerce and Tracy Board of Realtors for several years before a number of businesses moved in and out. Today, it holds a business featuring traditional Mexican goods.
Bank of America remained on Central Avenue until 1970, when it moved its downtown office to its current location at West 10th and B streets.
The name West Side Bank was rekindled in 1981 when a new entity with the same name was organized by one-time B of A manager Hank Foster and local investors. The bank, on West 10th Street where the Keller Williams Real Estate office is now, was later acquired by a Bay Area financial holding company and merged into U.S. Bank.
Tracy Savings and Loan Association, opened in 1983 by another group of local investors, morphed into Tracy Community Bank and later became part of Community Banks of Colorado.
Yes, banks in Tracy have had a way of changing owners and names — and moving around — but the two classic bank buildings that came to life a century ago are still standing. Although they no longer serve their intended purposes as homes of Tracy financial pillars of their day, they remain Central Avenue architectural anchors for a reviving downtown historic district — and, too, they can remind us of the impacts that two German immigrants, Abe Grunauer and John Droge, made on the development of our town.