For 24 years, former San Francisco 49ers linebacker Keena Turner has invited his former teammates to the Tracy Boys & Girls Clubs' biggest annual fundraiser.
On Monday, as they prepared to tee off for the 24th annual Keena Turner Golf Tournament at Ruby Hill Country Club in Pleasanton, Turner said that as long as the Boys & Girls Clubs need the help, he and a host of other sports celebrities will lend their support.
Turner figures the city of Tracy has easily doubled in size since he and his wife, Linda, hosted the first tournament at Tracy Golf and Country Club. At the time, he didn't how many years the tradition would last.
"It's a lot more than I probably envisioned when we first started out, but the folks at the club are wonderful to support, and the town has been amazing, and my teammates and friends that have participated have been consistently here for us," said Turner, now the 49ers' vice president and senior advisor to the general manager. "It seems like the club is still in need and the town keeps growing. The kids are there and we want to just keep supporting them. As long as we keep getting support, we'll do the best we can."
The tournament drew 127 golfers, joined by 18 sports celebrities for a round of golf at Ruby Hill. The club's executive director, Kelly Wilson, said she expected the tournament would raise about $250,000, $50,000 more than last year, through registration fees and the live and silent auctions, where folks bid on sports memorabilia and autographed 49ers gear.
The revenue is a big part of the club's $2.3 million annual budget. Wilson said it supports after-school programs for about 800 kids in town at the main clubhouse next to Monte Vista Middle School and six satellite clubhouses at McKinley, Central, North, Jacobson, Villalovoz and South/West Park schools. The club also maintains waiting lists for each of the sites.
The tournament earnings aren't enough to make up for the federal funding the club lost last year when the California Department of Education did not renew the club's $500,000 annual grant from the U.S. Department of Education's 21st Century Community Learning Centers Program.
"With the loss of the federal funding from last year, that's not coming back, so we have a new normal now of trying to be sustainable," Wilson said. "Really the summer program is the big part of what that money funded, so anything above and beyond we can do with the golf tournament, and the more money we raise with this event, will go straight to helping support the kids during the summer months."
Wilson noted that about 500 kids attend the summer program, where four of the clubhouses are open from 8:30 a.m. to 5 p.m. Monday through Friday. They serve free breakfasts and lunches every day, and the "Summer Brain Gain" program keeps kids prepared for their return to the classroom in August.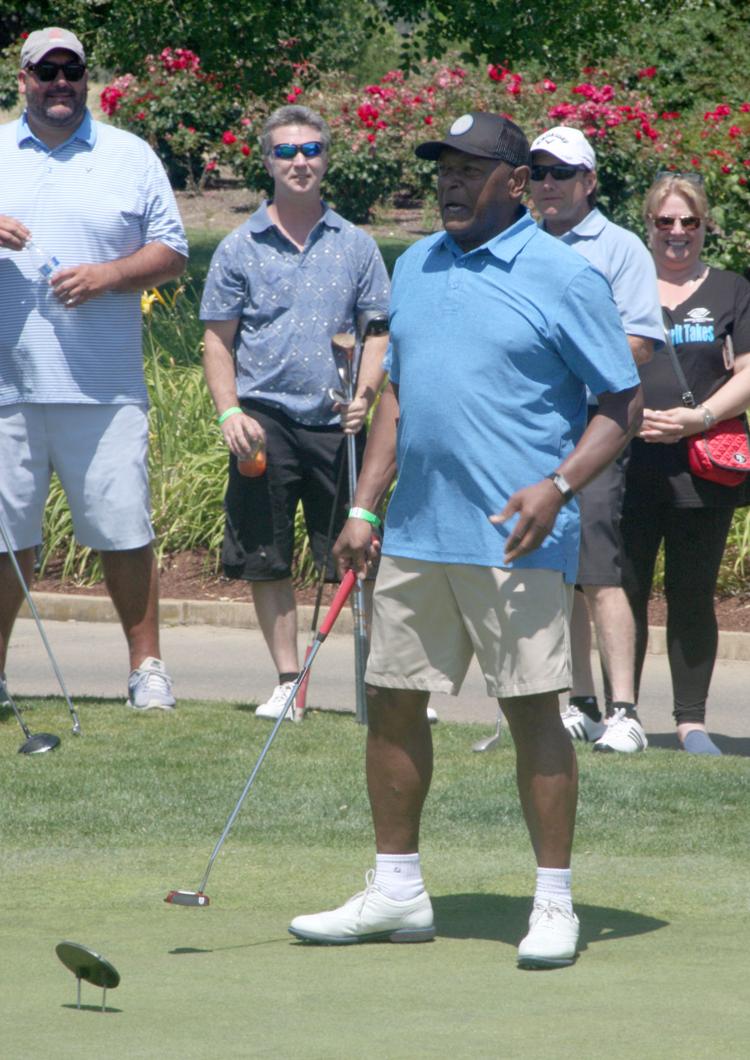 The sport celebrities, including former Oakland A's and San Francisco Giants all-star pitcher Vida Blue, said they could relate to the cause that Turner supports.
"I grew up in a somewhat depressed, suppressed environment in Louisiana, a small town in Louisiana, so I know what it means to get that support from the community," Blue said. "I'm in a position to do that and use my name and my platform as a way to give back, so I do it."
Blue, who has been to five of the fundraiser tournaments, started participating after Turner learned that he is a fellow Tracy resident.
"I'm always anxious to participate and give back to the local community and a lot of folks didn't realize that I live in Tracy. I've been out there for 10 years," he said. "Any time you can give back to the community, especially locally for our community in Tracy, it's always fun."
Ron Ferrari, who played linebacker alongside Turner from 1982 to 1987, figures he's been to most of the tournaments and said that all it took was a phone call from Turner to get him to participate.
"He's a good friend and I'm happy to support what he does for this charity. It's just amazing. What's most amazing is how many years in a row he's been doing it," Ferrari said. "It takes a lot of work sometimes to catch up and stay in touch with all of your players, and he does that. The whole community loves him, the players love him, the 49ers love him. He's one of those guys."