Wednesday was the first day for high school senior student-athletes to sign letters of intent affirming that they will accept university athletic scholarships and continue competing at the next level. 
Signing ceremonies were held Wednesday at Tracy and Kimball high schools.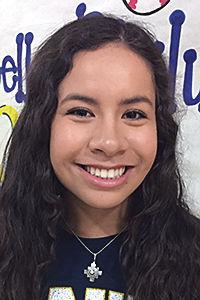 University of California, Davis
Big West Conference, NCAA Division 1
Isabella Pahulu connected with U.C. Davis early on as a player with All American Sports Academy.
"I first got on their radar when I was in eighth grade, so it started really early for me. I maintained communication with them all through my high school career and committed last December," she said.
She plans to continue playing infield, mostly third base, while studying human development with a goal of moving on to nursing school.
"What I like about Davis is that it's a big campus, but it still has a small-town feel to it, and that's something that I really wanted, and it's close to home," she said.
She said her freshman year at Tracy helped her learn to value the skills of teammates and respect opponents and inspired her to work hard.
"The next year we won the section championship," she said. "That was a really great moment for us."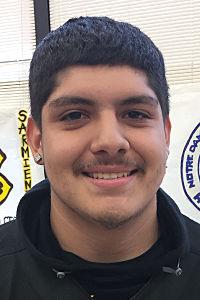 California State University, Long Beach
Big West Conference, NCAA Division 1
Jon Sarmiento had already picked the college, St. Mary's in Moraga, where he wanted to continue playing baseball as a pitcher and first baseman. Then the coach who recruited him, Eric Valenzuela, got a new job.
"With the departure of Coach V and the rest of the coaching staff, he asked me to go with them to Long Beach," said Sarmiento, who agreed and will study kinesiology in addition to playing Division 1 baseball.
"I love the coaching staff," he added. "The team is unbelievable. When I got there for my official visit, it felt like home. A lot of the work ethic they have is how I want to be."
Sarmiento, a player on the Kimball varsity team since his freshman year, values his experience as a Jaguar.
"Going here has really changed me, and helped me become the person I am," he said. "I love all the teachers. All the staff has been really helpful, really supportive, throughout my whole journey."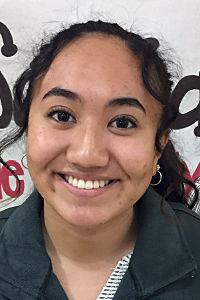 Seattle University, Seattle
Western Athletic Conference, NCAA Division 1
Leila Sardinha met Seattle University coaches James Finley and Cheri Lindsay as they made the rounds of club tournaments seeking new recruits. Sardinha responded to the opportunity they presented.
"They have a great coaching style and I love the team. When I went to go on my official visit there, I just meshed with them and it was perfect for me," she said.
She plans to study kinesiology or sports and exercise science while playing Division 1 volleyball.
"I think it's a good environment for me to grow in and get my degree in," she said.
Part of her growth at Tracy High has been developing self-confidence, a lesson she learned from former teammate Hannah Presley, who was a senior when Sardinha was a freshman.
"It was one day that I was freaking out on the court, and she told me, 'You belong on the team for a reason. You belong on this court. You earned it.' That has kept with me all my life."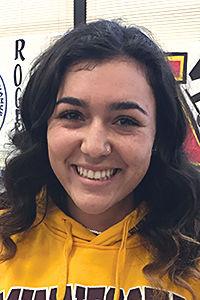 University of Minnesota, Minneapolis, Minnesota
Big 10 Conference, NCAA Division 1
Rylie Costa has been a varsity softball player at Kimball High since her freshman year, playing as an infielder and pitcher, and she has also played club ball for the LPG Lions and All American Sports Academy.
She got the attention of the University of Minnesota recruiters while playing at a showcase tournament at the ESPN center at Disney World in Florida two years ago.
"It was pouring rain in the middle of the game, and my coach told me they were watching me," Costa said. "That was back in 2017, and they've been following me, and in December 2017 I committed to them."
She plans to study kinesiology and sports medicine and expects to be a utility player, most likely at third base, and looks forward to being part of the school's athletic program.
"They're an awesome program for all sports," she said.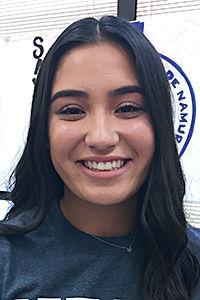 Notre Dame de Namur University, Belmont
Pac West Conference, NCAA Division 2
When Savannah Rogers was engaged in her search for a college where she could continue playing softball, the head coach from Notre Dame de Namur, Katlin Olesky, showed interest right away.
"She responded instantly to me and we created the relationship. It just went from there," Rogers said.
She expects to be part of a new team at the Bay Area college.
"This year, she brought in a lot of new freshmen," she said. "I'm hoping to be part of the change to the program."
Rogers expects to play shortstop and outfield, as she has for the past two years at Kimball High, while studying business. Her career goal is to work in financing.
She has experience on club teams such as West Coast Wolverines, All American Sports Academy and Bat Busters, and the Kimball team has also provided valuable experience.
"We have been to playoffs a couple times while I've been on varsity," she said. "It's really fun to be around the people I go to school with."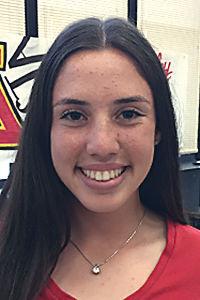 California State University, East Bay, Hayward
California Collegiate Athletic Association, NCAA Division 2
Danya Gonzalez has been a key player for the Jaguars varsity team since her freshman year. When the coaches from CSU East Bay saw her at a showcase tournament this summer, her talent was obvious.
"They watched me the first day and they liked me, so they watched me the second and third day too, so they got in contact with me," Gonzalez said.
She looks forward to playing soccer and studying kinesiology at the East Bay campus.
"The way the team is, the way the coaches coach, and I just like how positive and encouraging and how focused the environment is," she said.
She added that environment at Kimball High had been ideal to help her grow as an athlete.
"I think it's one of the closest teams I've ever been on," she said, "and I know every day when we go to practice out on that field, those girls make me love the sport more than I already do."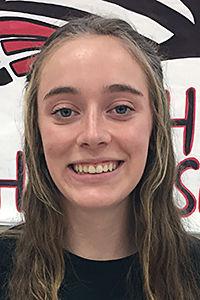 Southern Oregon University, Ashland, Oregon
Cascade Collegiate Conference, NAIA
Fayth Hinojosa has been in Tracy for only a couple of years, but she quickly bonded with the Kimball team.
"We all played as a team and helped build leadership, and that helped me get to where I'm at," she said.
She also plays for West Coast Soccer.
Though she's not sure what she will major in, she wanted to go to college in a state where she will enjoy living.
"I really like the Oregon area. I went there for a vacation, and I really like the area," she said.
Southern Oregon University came up as a preferred destination and she began an email correspondence with the coaches.
"Then I started going to their camps and we started talking," she said, adding that once she met the team, she was ready to commit. "They all get along really well. The coach is really involved with the girls. They're basically like a family, and I really like that."