Editor's note: Please see below for correction.
Safe Kids Stanislaus held the annual Patterson Car Seat event on Saturday August 17, in memory of CSO Raschel Johnson, who passed away in 2017. Johnson was extremely active in the community, and a passionate advocate for car seat safety in Stanislaus County.
The event was held in the McDonald's parking lot on Sperry Avenue. McDonald's owners Teri and Arnold Regalado helped sponsor the event, and "picked up the tab" on 55 car seats made available free of charge to the community.
Parents and expectant mothers were encouraged to drive down and visit with one of the many nationally-certified technicians on site that were ready to inspect car seats to see if they needed to be replaced due to damage, expiration, a recall, or simply being the wrong size for the children they are being used for.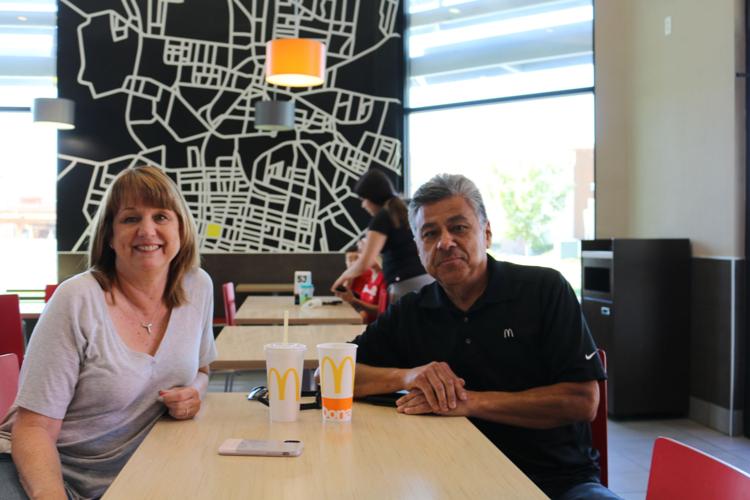 Both convertible car and booster seats were made available to those who needed them, and education on the differences, and proper installation and use of the seats and boosters were provided.
According to event coordinator Rena Lepard of Safe Kids Stanislaus, understanding the differences in car seats plays a crucial role in ensuring a child's safety.
A convertible car seat starts out rear-facing, usually for newborn babies weighing in around the five-pound range, and converts to forward-facing when the child is around three to four years old.
Although California laws require rear-facing car seats up until the age of two, it is recommended for safety that children be kept rear-facing as long as the harness allows. Most of the convertible harnesses allow for up to 40 pounds, which a child typically reaches at around three to four years old.
From a safety perspective, according to the directions on the donated convertible car seats, once a child has reached 40 pounds they can face forward, and can continue using the seat until they are 65 pounds or 53 inches tall.
(Note: the above sentence has been corrected.)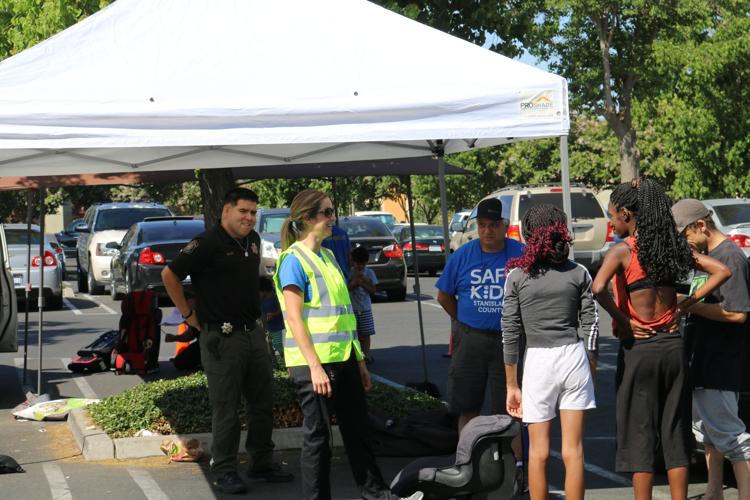 "I always say, think of a race car driver, do they have just a lap and shoulder belt? No. They are absolutely harnessed in there because they know that is totally the safest thing to do," said Lepard.
According to their Facebook page, Safe Kids Stanislaus is a non-profit organization dedicated to the prevention of unintentional injury to children through education, advocacy, enforcement and environmental changes.
Safe Kids Stanislaus provides proven and practical resources to help children avoid unintentional injury.
Kaitlyn Weiss, daughter of CSO Johnson, says that she has started volunteering for car seat events as much as possible, and has even become a licensed technician. Weiss makes it a priority to visit the Patterson event annually in honor of her mother, because she served as CSO here for five years.
"I got involved with car seat checks when my mom was a technician; before she passed I would go out and volunteer. Once she passed I felt like it was my job to keep her car seat legacy going, so I became a technician in November of last year," said Weiss.
Doctors Medical Center is the lead agency behind Safe Kids Stanislaus, and the Stanislaus County Police Activities League serves as their co-agency. According to Lepard, there are many other agencies throughout the county that work together to help prevent child injuries.
"Government agencies, businesses, hospitals and health service agencies all come together, with their jobs or on their own personal time, to come check out the car seats and make sure they are safe," said Lepard.
California Highway Patrol Officer Public Information Officer Tom Olsen was also at the event on Saturday, and said that when he first started volunteering there were about four to five car seat events a year, and now they are being held at least once a month.
"What's great about Safe Kids Stanislaus is that it's a collection of agencies," said Olsen. "We have people coming to us like the Police Department, California Highway Patrol, the Sheriff's Department, Ceres Fire Department. It's not just a collection of first responders, but community organizations. It's a great partnership we have here in the community, and because of that we get to reach a broad spectrum of people. We are fortunate; the people here in Stanislaus County are definitely getting service that most counties don't get."