Editor's note: This is an updated version of this story. It has been edited for clarity and content.
Adrian Pena doesn't remember collapsing at the gym after working out on Thursday, August 15. He doesn't remember hitting his head as he fell. And he doesn't remember two young men responding to help, but they did. And, doctors told the family, they saved his life.
Angel Alva was working at Planet Fitness in Turlock when it happened. Pena, 45, was picking up his keys from the rack, preparing to leave. "I wasn't looking that way," Alva said, "but I heard a loud bang, and I turned around right away, and I seen that he was on the floor. I thought he had fainted at first." Alva has seen that occur before, and has experienced it himself, he said, so when he went to help, he told Pena not to try to get up.
Pena was bleeding from a gash on the forehead.  Alva ran to the gym's equipment room and grabbed a rag to try and stop it.
At that point, 2016 PHS grad Francisco Lagarde, who happened to be working out at the gym, stepped in to help. While Lagarde called 911, Pena stopped breathing. The Irrigator was unable to reach Lagarde for this story.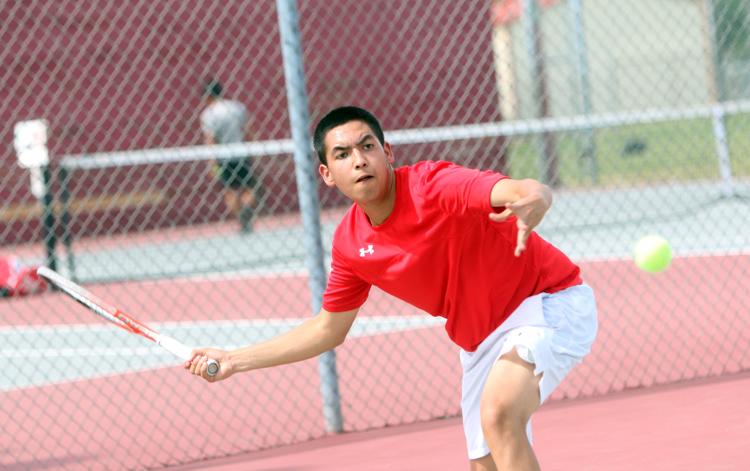 When Pena stopped breathing, Alva said, the 911 dispatcher talked them through administering CPR. "They told us to flip him over, and use the defibrillator," Alva said. After using the defibrillator, Alva and Lagarde continued CPR until paramedics arrived.
It was the first time Alva, who, like his coworkers, is CPR-certified, has been called upon to use those skills – on the job or otherwise. Asked what was going through his mind at the time, he said, "At the moment, it was just, trying to make sure he didn't move. Like I said, I've encountered it before, so at first, it wasn't that scary, but once I flipped him over, his face was purple. So I think that's when it scared me the most.
But throughout the whole thing, while Francisco was on the phone, they were telling us what to do. Probably the scariest part was between that time when his face was purple and we were talking to the dispatcher. Once the ambulance and paramedics got here, it was a little easier, but yeah, it was pretty scary."
The incident affected Alva. "The whole shift, I still did most of my tasks I had to complete for work, but the whole time…" Alva pauses, visibly affected. "I'm going through personal things, so when this happened, I was just appreciative more of life. I felt like death was around the corner for me. It kind of scared me, but, I kind of appreciate life more, you know. And," he added, "it's good to see that he's a lot better."
Alva also said the experience has changed him. "I'm just taking everything day-by-day. I started… just forgiving people a lot easier, and trying to live what the young generation call a "salty" life – just appreciate people more, and just forgive, and move on, try to be patient, kind of, with everybody."
"For some reason," Pena's wife, Jessica said to Alva, "it was meant to be, for you."  
"Maybe that's why it happened to me, dude, for you," Pena joked, "'cuz I didn't need it for me."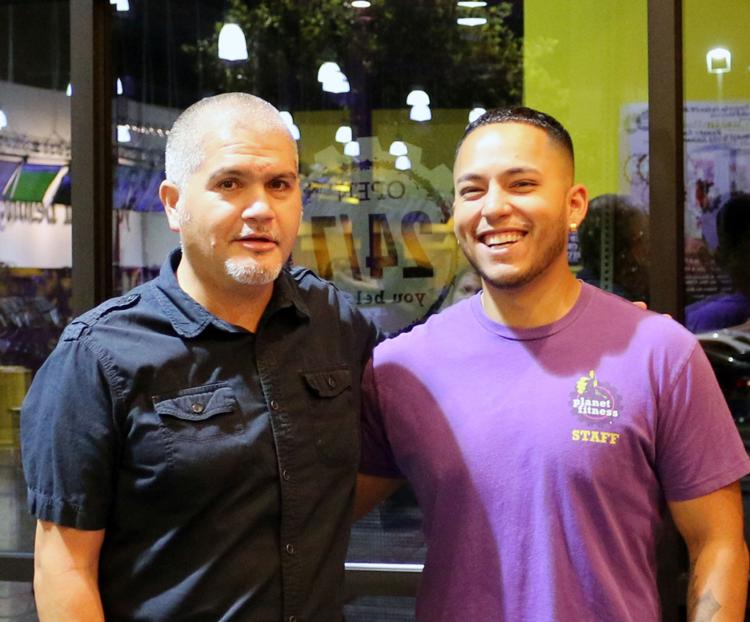 Pena was in a medically-induced coma for a week – a rough time for the family, Jessica said in an earlier interview. The Pena family is from Patterson – both Jessica and Adrian graduated from PHS. The couple has two daughters, Julissa, 18, and Camille, 15.
"We weren't sure if he would wake up," Jessica said. They also didn't know if there had been a lack of oxygen to the brain during episode. "Little by little, he started waking up. We weren't sure how alert he would be."
When Pena opened his eyes, "it was very emotional," Jessica said. "At first he wasn't wiggling his fingers or toes; then he started, little by little." Pena spent a month in the hospital, she said, and had experienced "a little lack of oxygen," resulting in an anoxic brain injury, which has caused short-term memory loss.
(Editor's note: Although every patient is different, short-term memory loss caused by such an injury can improve over time, as the brain heals and works to "rewire" the injured areas.)  
"I'm so grateful that it happened there at the gym, with someone who knew what to do," Jessica said. "Doctors said he would not have survived this – it was sudden. There is a six or eight percent chance of survival outside of a hospital."
Sudden cardiac arrest is "very common," she said, "but it's very rare to survive."
Playing on Alva's name, the family semi-jokingly referred to him as "their angel."
"Nothing can equal the amount of gratitude that I have (to Angel)," Jessica said. "He saved my husband, and my kids' dad. It's just wonderful that he did that for us," she said.
Adrian and Jessica have both lost parents over the past several years, and the experience kind of brought back some of those memories. "We've seen so many paramedics… sometimes they can't bring 'em back, and it's scary," Pena said, "so they had to go through that – my kids, and my wife. I don't remember nothing."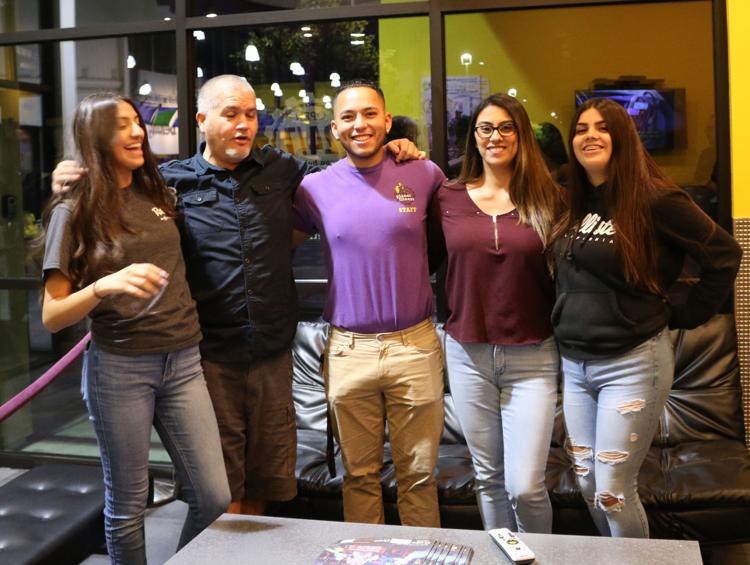 "It was very scary," Jessica said.
Pena has a family history of heart disease, but he's never had any indication of an issue – no chest pains, or any other symptoms.
"Everybody was so shocked with him, because he's so healthy, and active… he's always at the gym." Jessica said. "You just never know," she added.
Pena's doctors told him he was extremely lucky the incident occurred where it did – his odds of survival without immediate intervention would have been six to eight percent. "Doctors say if he was outside, in the car, driving, he would not have survived it," Jessica said.
"Just 'cuz nobody would have seen me," Pena added.
Changed perspective
Like Alva, the Pena family's outlook on life has changed since the incident.
"Be happy with yourself," Jessica said, "be a good person. Even me, being through all this experience in our own family, like, why waste time being upset over stupid little things."
"I can only control what I can control," Adrian said. "I've been living like that for the last three or four years, and I'm fine with that, you know. Whatever happens someday, it happens. You just enjoy your life to the fullest. I'm thankful for Angel, that he was here, and for Francisco, the gentleman that was here; he helped him."
As our conversation comes to a close, Adrian said, "If you're gonna put it in the paper, that's great, because, a lot of times, we younger people, we think "older people" – we think of people in their 60s, that die of heart attacks. But any age."
"It can happen to anyone," Jessica said, adding that "he was just at the right place, with the right people… all the doctors are like, 'wow, you are very lucky.'"
Heart attack symptoms: Men
Pressure, tightness, pain or a squeezing or aching sensation in chest or arms that may spread to neck, jaw or back
Nausea, indigestion, heartburn or abdominal pain
Shortness of breath
Cold sweat
Fatigue
Lightheadedness or sudden dizziness
Heart attack symptoms: Women
Pressure, squeezing, fullness or pain in the center of the chest
Pain or discomfort in one or both arms, the back, neck, jaw or stomach
Shortness of breath, with or without chest discomfort
Cold sweat, nausea, dizziness, lightheadedness, extreme fatigue
CPR classes, $50 discount
CPR Saturdays (3rd Saturday of each month)
$35 for American Heart Association Heartsaver CPR, which includes adult, child, and infant CPR, how to use an AED, and some basic first-aid. People working at k-12 schools - teachers, aides, admin staff, janitors can take advantage of an AHA offered savings of $10 so actual cost is only $25. Class runs 8 – 2 p.m., and is held at Fire Station 2. Call Patterson District Ambulance at 892-2618 for info.