It's been a long time coming, and it's taken a lot of support from many different corners, but Naomi's House, the women's shelter being built next door to H.O.S.T. House, is almost done!
There will be a Ribbon Cutting and Grand Opening on Tuesday, Nov. 17.
While shelter and services have been available to local homeless men for a number of years, there has never been a safe place for the 20-plus homeless women in the community to stay.
But Naomi's House will be much more than safe lodgings for the ladies. For Restart program participants, it represents an opportunity to create a better life. The shelter will have space for 15 women in the program, and another 10 overnight guests.
Our goal in setting up the facility is to make it as welcoming as possible, while offering space for as many women as feasible.
Handmade quilt gift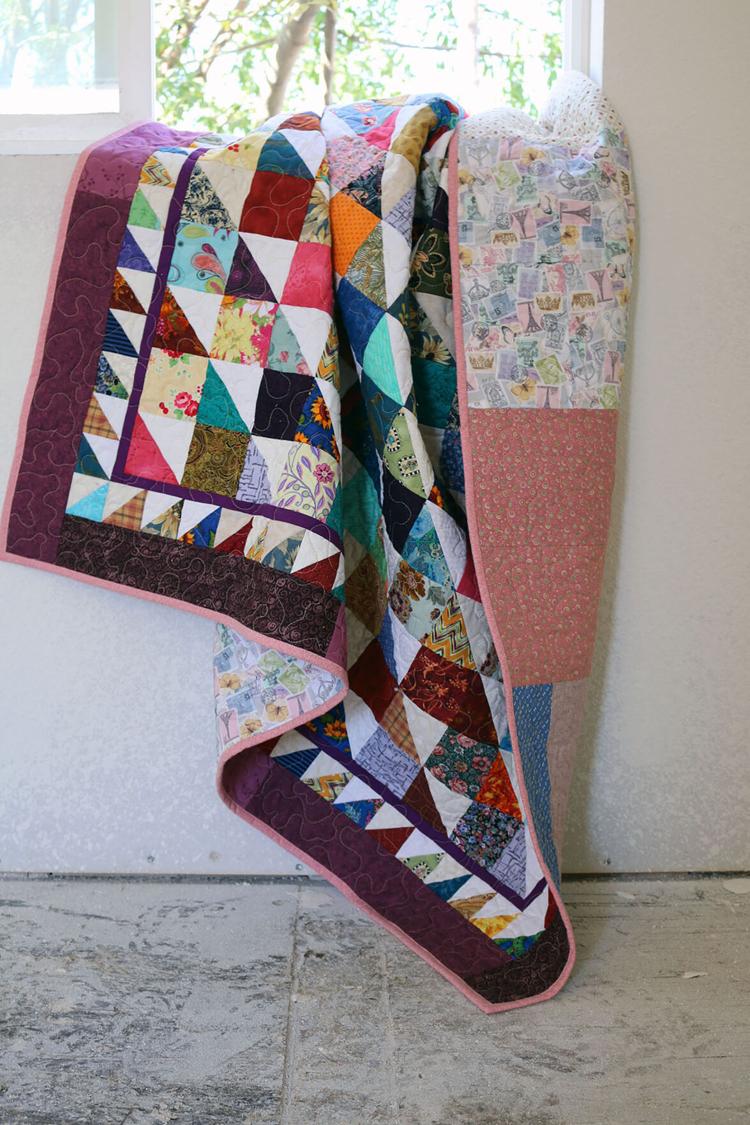 Thanks to the generosity of community members and service clubs, shelter-grade bunkbeds and mattresses will be delivered soon.
To cover them, we have been very blessed by the remarkable generosity of local fabric artist Debra Heltzel, who is making 25 quilts for the facility! Each one will be a work of art, and they will go a long way toward making the bedrooms feel homey for the ladies who will live or stay in them. Heltzel, who prefers to work in silk these days, crafts "charity quilts" from her collection of cotton fabric; most recently for victims of the wildfires up north. She brought a completed quilt to Naomi's House on Monday.
Heltzel said she was inspired to make quilts for the facility after seeing an article about Naomi's House in the Irrigator. "People that come from almost nothing, and such a hard life; I just thought they would like something pretty," she said. The sample she brought certainly is.
Construction challenges
The buildings themselves have also turned out to be works of art. Retired contractor Bill Goss, who has volunteered his time and applied considerable mental and physical energy to the project, has lived and breathed Naomi's House construction for most of this year – sometimes waking up in the middle of the night thinking about some aspect of the project.
An example of the thought Goss has put into the project is a door being made for the central area of the main building, which houses the office, a classroom and the kitchen. To accommodate the varying traffic flows, the door will swing both inward and outward.
Building the project using recycled shipping containers created plenty of unexpected challenges, Goss said. "Of all the years of being a building contractor, and what I've seen on tv about these shipping containers, I had no idea we'd run into what we've run into," he said at the site on Monday.
A major unanticipated challenge has been finding volunteers. "Things have been so busy in the housing market that I cannot hardly find anybody to help me out," Goss said. For the most part, he said, since work began on the project in March, "it's been me and Josh (Lucero) and Camilo (Lopez)… I could not hire anybody, because they were all busy."
When Goss volunteered to take the project on at the end of 2019, he said, a lot of people in the industry offered to help. But things changed, and people got busy, and Goss, Lucero and Lopez ended up doing virtually all of the work on the project. "No one has come forward," Goss said. "Nobody. Nobody."  The lack of volunteer labor has meant Goss "not only had to pay for help; I had to find it. That's why it's taken so long."
The project is currently about three months past when Goss expected to be finished, with work left to do. They are now working furiously to have the facility ready by the event on Nov. 17.
Lucero, contacted at the site on Monday, said there was "a definite learning curve going on," during the construction process on the metal containers, "but I think we're right on point with it," he said. "Actually," he added, "these are pretty cool."
Of working with them, and putting on the finishing touches, Lucero said, "You've already got this solid, strong box. Now it's just that twist to make it look like a home."
Lucero has told a lot of people about working on the project. "I'm proud of it," he said.
Painting parties
The building exteriors are being professionally painted, and a series of painting parties are planned for the interiors of all four buildings. The ladies have volunteered to help, and any community members who'd like to give us a hand will gladly be welcomed. The first event will be held today, Thursday, October 22, from 1 to 5 p.m. The painting events will continue on Thursdays, Fridays and possibly Saturdays, until painting is complete.
To participate, please contact Jenifer West at 209 857-0066, on Messenger via the Naomi's House Facebook page, or simply show up anytime from 1 – 5 on Thursday. The facility is next door to H.O.S.T. House, which is located at 405 South Fourth Street. Masks and social distancing required.
Restart student to lay flooring
We are very pleased that Corey Bernard, a recent Restart Program participant who has a small flooring business, will be installing the flooring in all four buildings. Bernard also supervised the flooring project at The Gathering at PCC church earlier this year, doing a good chunk of the work himself.
Work remaining
Once the painting and flooring are done, some electrical, water and sewer work are scheduled. Some concrete work, including placing a beautiful fountain, will also be done.
Walmart registry
The community support the Naomi's House project has received means a lot to everyone involved, especially the ladies. Now that we are gearing up to open, there are some specific items we could really use. We are hoping the community will continue to show love and support for our ladies by donating items that are new, or very gently used. We are setting up a "Registry for Good" with Walmart, for linens and kitchen items, which will be accessible next week.
Storage containers needed
The facility has been designed to maximize space available for the ladies to sleep, as well as for classes; there is very little room for storage. So we'd also be very grateful for the donation of storage buildings:
A 20' x 24,' to house donated clothing, as well as equipment, materials and supplies for small businesses the ladies will be developing
Smaller, "Tuff Shed"-style, for landscaping equipment for the site
How to contribute
Contributions toward any of the items needed would also be gratefully accepted. To donate online, please visit www.cambridge.org and click on the "More" tab, upper right, then the "Donate" button. Checks should be made out to Cambridge Academies, with "Naomi's House," and the type of item you're donating toward noted on the "Memo" line of the check.
We are very grateful for all of the support we've received so far, and hope we can count on the community to help us get to and across the finish line. All are welcome to help paint and with other upcoming projects, and we hope to see everyone at our ribbon cutting and open house next month!