Patterson Police Services provided the following data confirming the fears of many that social distancing guidelines and the government-mandated economic shutdown would put more families at greater risk of abuse.
Domestic violence is not an uncommon experience in America, and the community of Patterson is not immune.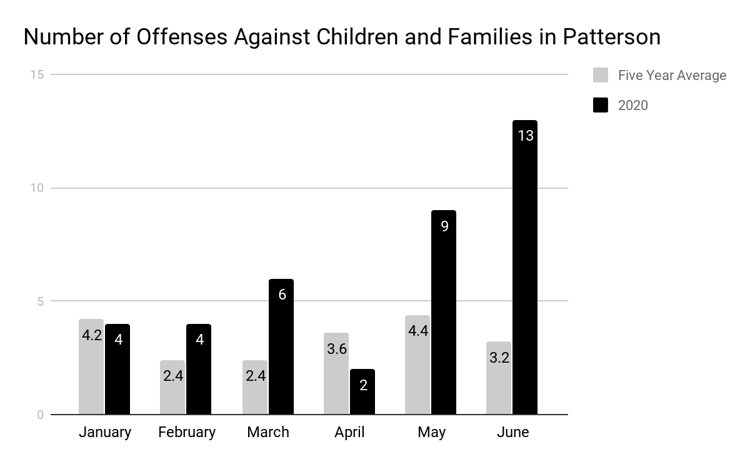 COVID-19 pandemic has had a negative impact on the community's health and safety outside of illness and death caused by the virus.
Stephanie Barraza of Haven Women's Center of Stanislaus concurred. The Center's data shows an increase of crisis assistance calls from Patterson that averages about 75 more per month from March through August.
County-wide, more women are seeking emergency shelter for themselves and their children. There are around 70 adults and children currently being served by the Center's emergency shelter assistance.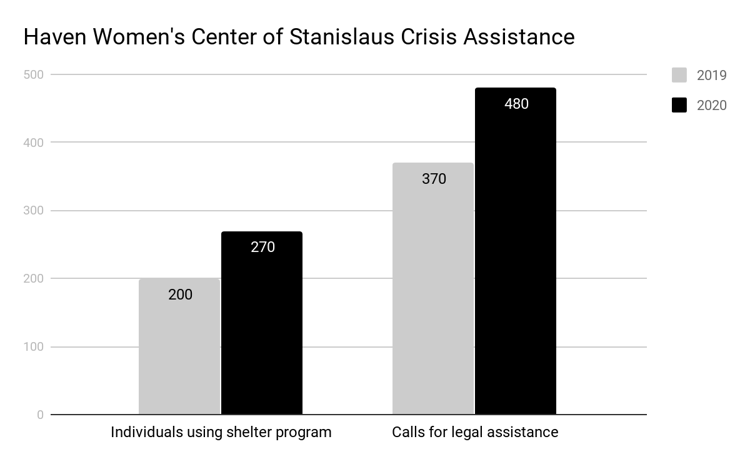 More women have sought legal assistance, as well. Helping to prepare restraining orders is just one of Haven's services, and Barraza said that they are receiving over 100 calls above their monthly average.
The National Domestic Violence Hotline data that represents California contacts shows a similar trend.
Historically, instances of violence against families and children have increased during times of economic instability. However, data collected for 2020 has recorded a significant increase in family violence month over month. A phenomenon that professionals are attributing to shelter in place orders and social distancing guidelines.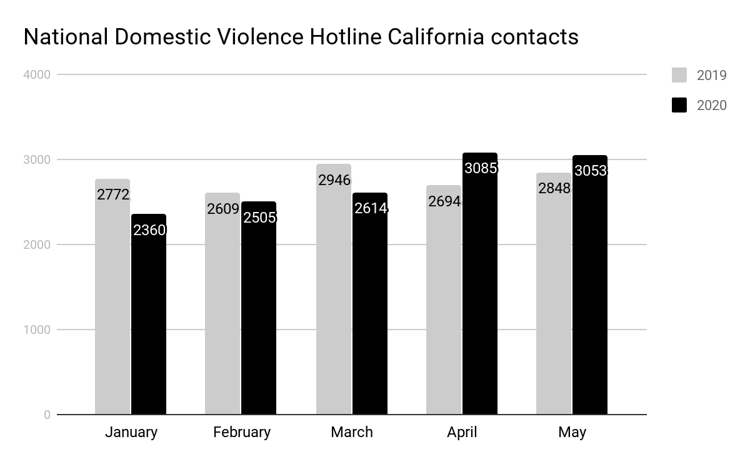 According to the National Domestic Violence Hotline, "IPV (intimate partner violence) alone affects more than 12 million people each year," that averages to about 24 people per minute in the United States. "1 in 15 children are exposed to intimate partner violence each year, and 90% of these children are eyewitnesses to this violence."
Socio-economic status, education level, and untreated mental health disorders contribute to an increased risk of abuse. High-stress levels, such as being unemployed or fearing unemployment, are also statistically linked to increased abuse risk.
These proven risk factors, combined with anecdotal evidence produced over the last six months, lead to an unconfirmed conclusion that the increase in family violence correlates directly with the social measures taken to slow the virus's spread.
Victims of abuse often suffer in silence. The lack of healthy support systems, feelings of shame, and violence threats keep these traumas hidden. Domestic violence can affect anyone. Although women and children are more commonly victimized by intimate partners and family violence, men also suffer. One in seven men over 18 has been the victim of severe physical violence by an intimate partner.
Regardless of race, gender, socio-economic status, and education, everyone is a potential victim of domestic violence.
Current trends suggest that even as instances of domestic and intimate partner violence increase, the number of victims seeking medical care related to these incidences is down. Barraza of Haven Women's Center (HWC), noted that she has seen a dramatic decrease in reports of sexual assault. As the point person for the sexual assault response team, Barraza said that victims are foregoing trips to the emergency room out of fear of contracting COVID-19. The reports may have decreased, but she said, "I don't think fewer people are being assaulted, they're just afraid to go to the hospital."
Long term effects of violence are found to include increased instances of communicable diseases like HIV, as well as stress-related health concerns like hypertension. A study titled, "Prevalence and Characteristics of Sexual Violence, Stalking, and Intimate Partner Violence Victimization - National Intimate Partner and Sexual Violence Survey," published in part by the Centers for Disease Control and Prevention (CDC) in 2011 states, "Because of the broad range of short- and long-term consequences known to be associated with these forms of violence, the public health burden of sexual violence, stalking, and intimate partner violence is substantial. Results suggest that these forms of violence are frequently experienced at an early age because most victims experienced their first victimization before age 25, with a substantial proportion experiencing victimization in childhood or adolescence." Further stating, "Because a substantial proportion of sexual violence, stalking, and intimate partner violence is experienced at a young age, primary prevention of these forms of violence must begin early."
The cycle of abuse theory is well documented. Research suggests that children who experience abuse or witness abuse are more likely to repeat those behaviors—leading to generational emotional and physical trauma. Early promotion and modeling of healthy behaviors and relationships are the best defense against the perpetration of abuse later in life.
Although this data is incomplete as the end of the pandemic is still out of sight, the stark reality is that communities are in danger. And that danger doesn't only come from a virus that's invisible to the naked eye. While domestic violence usually happens behind closed doors, there are many visible warning signs. Domestic violence often looks less like a black eye and more like a sudden change in demeanor.
These are some warning signs of family/domestic violence from the NDVH:
Their partner/parent puts them down in front of other people.
They are constantly worried about making their partner/parent angry.
They make excuses for their partner's/parent's behavior.
Their partner is extremely jealous or possessive.
They have unexplained marks or injuries.
They've stopped spending time with friends and family.
They are depressed or anxious, or you notice changes in their personality.
Children in abusive environments often show signs and symptoms of anxiety and depression.
They may be volatile, reacting out of proportion to the situation.
They may often complain of stomach or headaches.
They have excessive absences from school.
They have difficulty paying attention, grades suffer.
They may run away from home, begin to use drugs and alcohol, or partake in other high-risk behaviors.
If you or someone you know is experiencing abuse or family violence, call 911 for emergency help. Dispatchers are trained to recognize calls related to domestic and family violence and ask "yes" or "no" questions to assist the caller safely.
The National Domestic Violence Hotline can be reached at 1-800-799-7233 for confidential support and assistance. Counselors are also available to chat at www.thehotline.org.