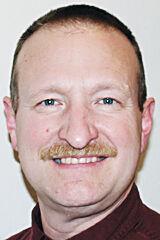 Hey neighbors! The last time I was writing this column, I was jetting along over New Mexico. This time, I am sitting at my desk right here in Patterson breathing valley air.
For many, 2021 cannot come quickly enough. No one could have predicted the shear weirdness and even pain 2020 would bring. Whether or not you or a family member has been sick from COVID-19, your life has changed in many ways. There are masks to wear, work and school at home and so many businesses closed.
Just for a little while, I would like to forget 2020 and go back in time once again. Hopefully, this will help you remember good times in the past.
As a child, our family did not make a big deal of staying up for the New Year. Some will remember I grew up just ten houses from my paternal grandmother who we called "Gram." New Year's Eve, like most other special days, would center around time at Gram's.
Dinner would be later than normal, starting around seven. We always had ham, deviled eggs (a personal favorite!), chips and dip, potato salad, dollar rolls, and red Hawaiian punch. Gram would freeze cherries in the ice cubes and have orange slices floating in the punch. It was a special occasion, don't you know.
The fancy glass punch bowel made its annual appearance New Year's Eve. I truly do not remember seeing that lovely set other than at New Year's. The little glasses were heavy and made me a little nervous. I feared I would drop and break one. That fear served me well as I was always careful as I went back for seconds and more. I really like red Hawaiian punch.
It was one of the few times I remember my Dad playing the pinball machine and the shuffleboard bowling game in the basement with my brother and I. Dad would get the jukebox going, as he knew all the secrets to getting it playing and bubbling. It was an old Wurlitzer filled with old 78-rpm records. Each side played one song.
My favorite record was "Shake, rattle and roll" by Bill Haley and His Comets. Once I learned how to fire up the old jukebox, I would listen to that song about every third record. The pinball machine, bowling machine and jukebox were from just before and after World War II. By the way, we still have them all.
Now back to the storyline. Mom and Dad would run out of steam around ten or eleven o'clock, meaning it was time to walk home. That meant saying good night to Gram and good-bye to the only color television in the family which was at Gram's house.
My parents and younger brother would head for bed, but something drew me to stay up and watch our sad little black and white TV. Something inside of me said, "Hey this is special, and you need to be a part of it by watching." From age nine or so, I would stay up and watch the ball drop happen in Times Square, usually twice. They would show it LIVE at midnight Eastern Time which was eleven in St. Louis. Then repeat it at midnight our time.
It always seemed strange to me my parents and brother showed no interest in ushering in the New Year. My Gram always stayed up to watch as she never went to bed before one in the morning or so. That is a story for another time.
Once we moved to our new house in the western suburbs, I still went back to Gram's. First with my brother and my first girlfriend named Sue ("old Sue" when storytelling) in December 1976. We would play the board game Risk while we waited for the ball drop. That continued when I started dating Susan who is now my wife in 1978.
Gram still made those foods after we moved her to the new house on Hasekamp Hill in the fall of 1980. Her oldest grandson (me!) would not be attending the party any longer. In October 1979, I became the youth minister of the Gateway Christian Church in St. Louis. Instead of going to Gram's, I helped host what would become an epic New Year's Eve overnighter for up to five-hundred youth of the St. Louis area.
There is a degree of regret I never got back to spending New Year's Eve with my Gram and family. Susan and I still stay up late to usher in the New Year. When our boys were home, we would have lots of food, eating all evening. Then moments after midnight, Susan and I would kiss, tell each other of our love, then go to each of our boys to repeat.
Now it is just the two of us and has been since 2014, the last time our sons were home with us for Christmas and New Year's. We still stay up, sometimes struggling to stay awake. Age will do that to you, you know. Moments after midnight, we still kiss, embrace a little longer than we used to when the kids were here while sharing our love for each other verbally. It is still a special time I look forward to and cherish.
Thanks for reading this neighbor. I hope you managed to make some special memories Christmas 2020. Have a blessed New Year in 2021. Enjoy the day!