By Erick Torres
Patterson Irrigator
Cal Fire Santa Clara Unit reports state that officials expect full containment of the SCU Lightning Complex Fire by Thursday, Sept. 19. Reports on Monday reflected 98% containment totaling 396,624 acres of damage since the blazes began due to lightning strikes on Aug. 16.
This ranks the wildfire as the third-largest in California history according to data released by Cal Fire.
It ranks behind the August Complex Fire that hit Tehama County in the Elk Creek and Stonyford area of the Mendocino National Forest that began on Aug. 17 and is still spreading. The August Complex Fire is already the largest in state history, with 788,880 acres burned, yet it is only 30% contained as of Sept. 14. One fatality has been associated with the August Complex Fire.
The second-largest fire in California history occurred in July of 2018 during the Mendocino Complex Fire that destroyed 459,123 acres of land and 280 structures with one death.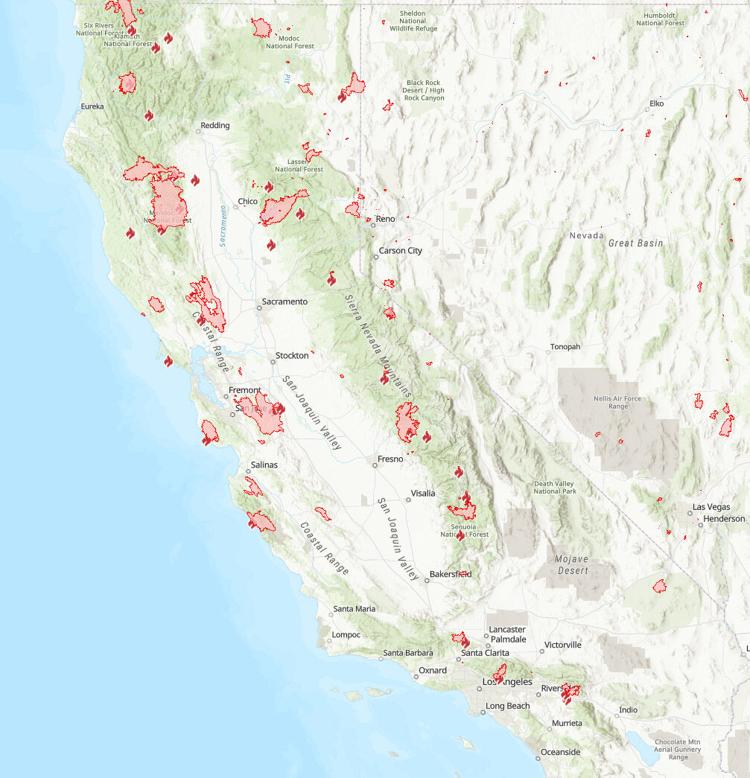 This has been a historic year for wildfires in the Golden State. Three of the top five largest wildfires in recorded history have occurred in the last month. Five of the top 20 overall have since August.
A total of approximately 16,500 firefighters are working to contain 28 major wildfires currently burning across California. The fires have collectively burned over 3.2 million acres since the beginning of the year, which equals an area larger than the state of Connecticut, according to Cal Fire reports.
Over 24 fatalities have been associated with the fires, with over 4,200 structures destroyed in the state since Aug. 15.
Elevated fire weather conditions are expected in portions of Central and Southern California due to very warm and dry conditions, and smokey conditions will persist in much of the valley areas throughout the state leading to poor air quality conditions for millions of California residents.
Patterson had an unhealthy air quality rating of 181 AQI, according to airnow.gov, on Monday. Residents with heart or lung disease, older adults, children and teens are advised to avoid strenuous outdoor activities and consider moving physical activities indoors or rescheduling them.
Healthy residents should choose less strenuous activities and shorten the amount of time they are active outdoors and wait for better air quality before resuming activities.