Officials reassured residents they are doing everything they can to protect populated areas and get residents that have been evacuated back to their homes during a press conference update on the SCU Lightning Complex Fires on Aug. 24. 
"We're working diligently to put folks back in these areas," Operations Chief Tim Ernst said during the press conference. "Please be aware that it is a priority for us to get people back in those neighborhoods." 
Ernst shared that lightning strikes Sunday evening caused only one fire that responders were able to contain to a few acres limiting the potential hazard that the lightning strikes posed.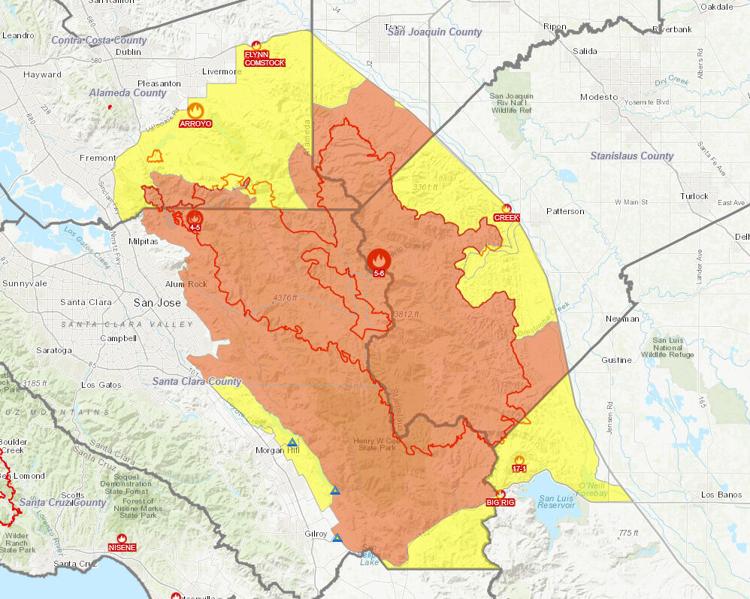 Del Puerto Canyon Road was closed since the mandatory evacuation on Aug. 17.
The Diablo Grande community area remains on alert with an evacuation warning still in place. Diablo Grande was put on a mandatory evacuation on Aug. 19, but residents were permitted to return to their homes by Aug. 20.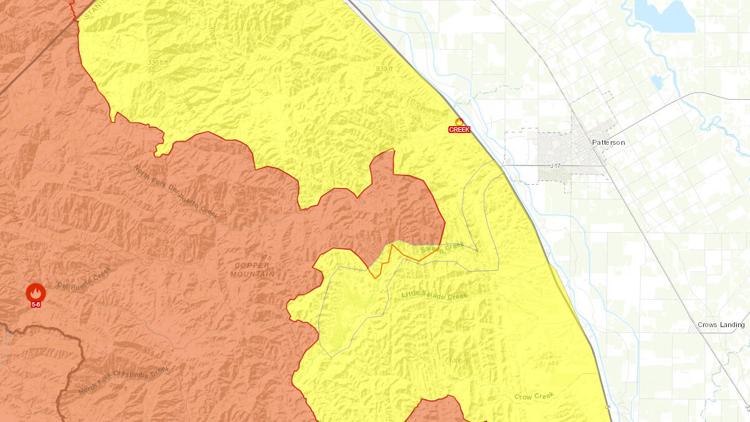 An official press release posted to the Cal Fire SCU Twitter page at 5 p.m. stated that areas North of Orestimba Road and Orestimba Creek between Interstate 5 and the fire perimeter to the Stanislaus/San Joaquin County Line were downgraded to a warning. The area south of the Stanislaus/San Joaquin County line between Interstate 5 and the fire perimeter to Orestimba Road and Orestimba Creek was also classified as a warning along with West of Interstate 5 between Stanislaus/San Joaquin County Line and Orestimba Road.
A total of seven counties have been involved in the response requiring a coordinated effort by the multitude of agencies involved. 
Cal Fire Santa Clara Unit Chief Jake Hess encouraged residents that live in the evacuated areas to attend a cooperators meeting held daily at 10 a.m. at the Farmhouse located at the Alameda Fairgrounds in Pleasanton.
"I want to assure these folks that we have a cooperators meeting to ensure that your issues are our issues," Hess said on Monday. He encouraged residents to visit readyforwildfire.com to receive tips and resource tools on how to prepare and react to wildfires in their areas.
Hess characterized the response as a "marathon" stating that "we are living in a mega-fire era" where California residents have grown accustomed to massive fires throughout the state the last several years. 
The SCU Lightning Complex fire has caused residents' lives to be displaced, and Hess asked for the public's patience as Cal Fire coordinates responses to prevent the fire from spreading and protecting residents. 
"The number one priority for us is life safety. Our room for error is zero," Hess said regarding the continually changing widespread evacuations orders and warnings being placed iterating that the evacuation protocols will be "early and more often."
Hess encouraged California residents to register for cell phone updates at https://incidents.readyforwildfire.org/ to receive incident alerts. 
"Lots of things the public can do in advance of the next fire," Hess said. 
The fire has grown to destroy 347,196 acres with 10 percent containment as of Monday morning reports from Cal Fire.
Official reports revealed three first responder injuries and two civilian injuries with 12 structures and 12 minor structures destroyed. Some 20,065 structures remain threatened due to the ongoing fires. 
During the press conference on Monday, Ernst stated that the northern and eastern areas of the fire, including the Deer Zone, have been contained and that Cal Fire is feeling "confident" in these areas. The aim for responders is to contain the southern movement of fire and to protect population and infrastructure areas along the western front by slowing, stopping and flanking the fire to push it away from population areas. What started as numerous fires has now grown to become two large fires in the Calaveras and Canyon Fire Zone areas.