Saturday evening at City Hall was a somber one. Members of the Patterson community attended to remember the life of Felix Mapanda Jr. and show support for the Mapanda family during a difficult time for those that knew Felix.
"The support does not stop here. This is a long road for the family," organizer Diana Ortiz Barba said Saturday evening to a crowd of residents there to honor Felix. "Tonight, we want to pray for the family and lift them up."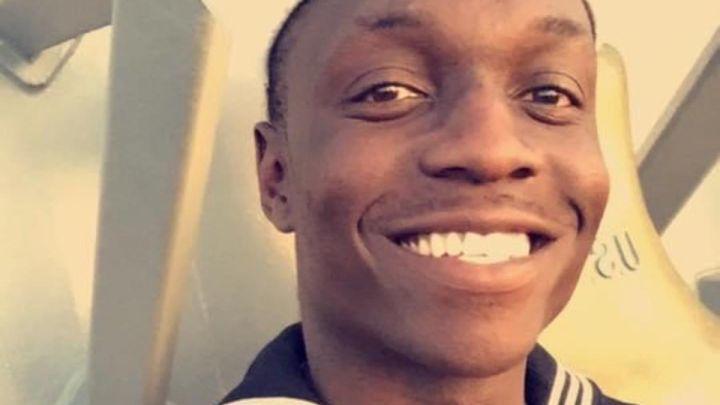 The vigil began at 8 p.m. at the steps of City Hall. A poem was read, and candles were lit before family, friends, and community members were given the opportunity to share their memories.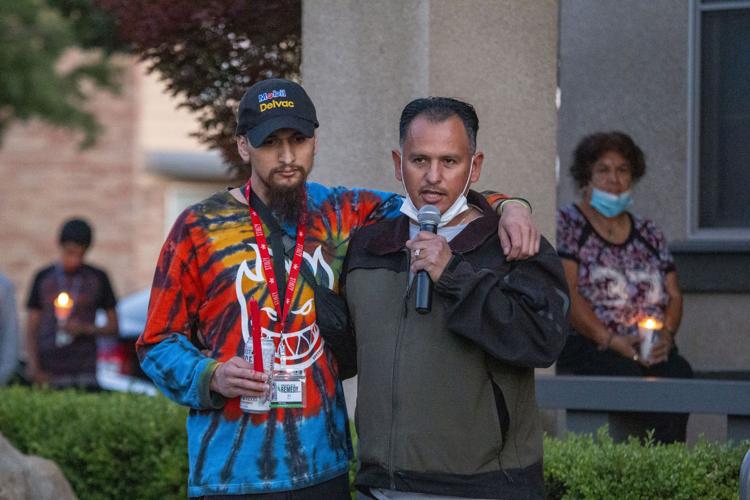 "Most of all, he touched our hearts. He touched our lives. He pushed everybody," said Patterson resident Birdie Rodriguez. Rodriguez used to coach Felix and many others in the community over the years. "To the Mapanda family, it was a privilege to know your son."
Many knew Felix through the sport of basketball. Mapanda was an athletic standout at Patterson High and was part of the 2008 Western Athletic Conference championship team. He was the first Patterson player to be nominated as a McDonald's All-American. Felix then moved on to play basketball at Fresno City College, helping the Rams win their 10th straight Central Valley Conference championship before accepting an opportunity to play at CSU East Bay. He then joined the Navy for four years.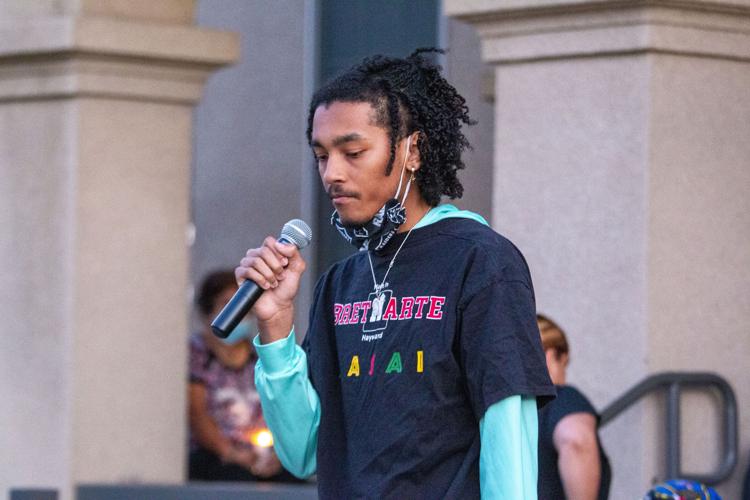 Patterson High graduate and former basketball player Jerome Hughes described the impact Mapanda had not only his approach to basketball but life. He shared a story about Felix trying to motivate him to keep pushing harder. Hughes talked about how Felix once told him a quote that would stick with him and helped shape the person he is today.
"The day you put the work in, that's when your dreams will start to show," Hughes said Felix told him as advice. Hughes stated he looked up to Felix and that he will be missed.
Hughes joined many others that shared their stories of playing basketball with Felix. His passion for the sport was almost as memorable as his smile, according to his friends and family.
"Thank you so much to everybody in the community," said Felix's mother Beatrice Mapanda. "Since he stepped on the basketball court, he found a passion and a love. He really loved this community. This community really welcomed him." She thanked everyone for attending and asked that they "remember him for the sweetheart he always was."
A parent's worst fear
Felix Mapanda Jr's mother last saw her son on March 12, 2020. He was on his way to Modesto Junior College.
Initially, Mapanda's family thought he was with another family member and were unconcerned by his absence.
On March 15, when the realization that he had not been seen by anyone in the family set in, his sister sent him a text message. Mapanda responded, apologizing for not having informed his family previously that he was at a friend's house in Oakdale. That would be the last time his family would hear from him.
Unable to make contact with Felix for several days after that and concerned about his whereabouts, Mapanda's father filed a missing person's report on March 29.
Mapanda continued to be active on social media and had even been seen in Patterson by people that knew him.
The Mapanda family was able to obtain a frequently contacted phone number for an unidentified person through their phone records.
A person or persons, unidentified to the Patterson Irrigator, confirmed to the Mapanda family that Felix was living with them in Diablo Grande and that he was well.
Final hours   
His family, although confused by his behavior, assumed that he had chosen to move out.
The Mapanda family continued to attempt to contact Felix but had no direct contact with him.
Mapanda was reported to have left his house in Diablo Grande sometime between 9:30 and 10:30 p.m. on June 2. The Irrigator previously reported that Mapanda had spoken to his sister by phone on June 2. That information was incorrect, and The Irrigator apologizes for the inaccuracy.  
His car was found abandoned, facing east in the eastbound lane of Sperry Avenue near the California Aqueduct when it collided with another car.
The driver door of the car was closed, the engine was running, and the transmission was in reverse, causing it to slowly roll into the other vehicle, the driver then called 911.
The California Highway Patrol received a call and responded to the scene. Patterson Police Services received a call to assist at 10:43 p.m. and were on the scene within 12 minutes.
Mapanda's phone and other belongings were undisturbed in the vehicle. He and his wallet were unaccounted.
After confirming the car belonged to Felix Mapanda Jr. and with no information on his location, PPS made contact with the Mapanda family at approximately 11:30 p.m. on June 2. The Irrigator previously reported that CHP made contact with the family. That information was incorrect.
His family was allowed to take possession of his car and other property in the Jack In the Box parking lot. A responding CHP officer relocated the car to the parking area due to the traffic hazard the collision had created.
The report written by the responding California Highway Patrol includes statements from two witnesses that revealed no evidence that Mapanda had gone into the water. The driver of the car that made the 911 call reported the vehicle doors were closed and that he never saw them open or close. He reported that he never saw a person. A second witness who was fishing nearby reported seeing Mapanda's car stop on the bridge. He saw the driver door open and close but did not see a person exit or enter the vehicle. The second witness reports that he heard no sounds of splashing nor did he see anything or anyone in the water.
California Aqueduct and Delta-Mendota Canal controllers were notified at 11:15 p.m. that first responders were searching the area for a missing person. By 11:30 p.m. Stanislaus County Sheriff's Department had an air unit utilizing FLIR (Forward Looking Infrared) along the aqueduct and Sperry Avenue to Oak Flat Road. Patterson Fire Department searched along the banks of the aqueduct with a handheld thermal device. Neither was successful in locating Mapanda. A minimum of three police units are reported to have patrolled the aqueduct and continued their search for Mapanda as they were available through the night.
Although there was no evidence that Mapanda had gone into the water, California Aqueduct and Delta-Mendota Canal controllers were notified at 11:15 p.m. that first responders were searching the area for a missing person.
The search continued
Mapanda's family and close friends began searching for him on the morning of June 3.
The community of Patterson was made aware of Mapanda's missing status on June 3 when Jennifer Polizzi Martes posted to the local neighborhood watch groups on Facebook at approximately 11:30 a.m.
Her post described Felix as a U.S. Navy veteran who had been missing since the night before.    
Multiple volunteer search parties mobilized and searched for him.
People walked the banks of the Delta-Mendota Canal, the California Aqueduct, and searched fields and abandoned buildings all over the Westside.
Law enforcement performed multiple aerial searches along the waterways and in the canyon areas. Because there was no evidence of Mapanda entering the water and due to the dangers associated with searching the aqueduct such as no or low visibility, underwater debris, currents and undertow divers were not used to search the water. On June 4 California Aqueduct controllers informed PPS that the gates that allow flow had been opened and closed seven times since searches had begun.
Investigators checked surveillance cameras at businesses located in the area of Rogers Road and Sperry Avenue, but no sightings of Felix were made.
Video footage from the Diablo Grande community gate was also checked, it too was unhelpful as the angle of the camera prevents an area of the exit from being recorded.
Extra resources that were on hand for the peaceful protest that was to take place at Plaza Circle June 4 were redirected to assist in search efforts after the protest was canceled by the organizer.
Many units from the Stanislaus County Sheriff's Department were seen patrolling citywide.
Still, Felix Mapanda Jr. remained missing.
The search ends
Volunteers organized to begin searching at 7 a.m. on June 5.
At 9:50 a.m. on June 5, California Highway Patrol dispatchers received a 911 call. Officers were directed to the California Aqueduct near Sperry Avenue. The call was dispatched as a possible drowning.
With many friends and family members searching for him nearby, it wasn't long before word spread through town that a body had been found in the water.
Patterson Fire Department and West Stanislaus Fire Protection District combined their efforts to recover the body of an unidentified person from the aqueduct at approximately 11:25 a.m.
After being transported to the Stanislaus County Coroner's Office, the decedent was identified as Felix Mapanda Jr.
Mapanda's wallet was later discovered in the area and is in the custody of the county coroner.
Police and coroner's reports have yet to be finalized. The coroner will officially determine the manner and cause of death.
GoFundMe
A GoFundMe has been recently started to help raise money for the family to support funeral costs.
The page can be found at https://www.gofundme.com/f/bb4u4u-funeral-and-other-expenses