Fire conditions have not improved near the Diablo Grande community leading to Stanislaus County Sheriff's Office announcing that the evacuation for residents living in the area is now mandatory. 
An American Red Cross Evacuation Center has been established at Creekside Middle School located at 535 Peregrine Drive in Patterson.
Residents can contact Cal Fire at (669) 247-7431 for more information.
Stanislaus County Sheriff's Office released a statement Wednesday evening on their Facebook page stating that deputies will conduct extra patrols in areas subject to the mandatory fire evacuation orders to protect evacuated areas from looting or theft and offer aid.
Cal Fire SCU reported that Incident Management Team Six was in the process of treating and evacuating civilians injured in the Canyon Zone area at Mile Marker 11 on Del Puerto Canyon Road at 5:45 p.m. At least five injured civilians were transferred to medical facilities by ambulance.
Diablo Grande residents had been stuck in limbo regarding the threat of the fire spreading to their homes. Volunteers from West Stanislaus Fire Protection District have been monitoring the situation in the canyon community. A voluntary evacuation order was initially given for residents at Diablo Grande by Stanislaus County Sheriff's Office on Monday.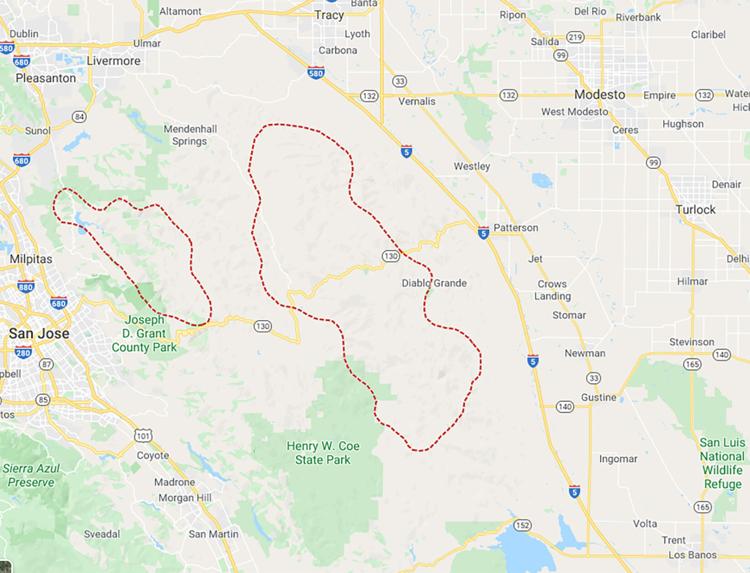 There are approximately 20 separate wildfires burning over 102,000 acres of land at various locations throughout the Del Puerto Canyon region, according to reports by Cal Fire Santa Clara Unit (SCU) as of Wednesday evening.
The locations encompass Stanislaus County, San Joaquin County, Santa Clara County, Alameda County and Contra Costa County.
Gov. Gavin Newsom declared a statewide emergency due to the fires burning across the state on Tuesday.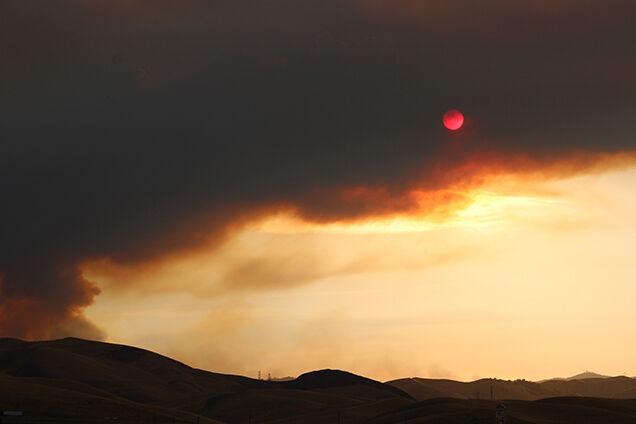 Various pockets of residents' lives were disrupted due to mandatory evacuations, including residents on Del Puerto Canyon Road.
Cal Fire classified the various fires into three zones labeled the Canyon Zone, Calaveras Zone and Deer Zone.
The cause of the wildland fires is still under investigation. Cal Fire reports Wednesday afternoon measured the fires at just 5% contained. An estimated 1,403 structures are threatened due to fire activity.
The fires continued to burn in steep inaccessible terrain influenced by low relative humidity and high daytime temperatures according to the statement. Challenges that firefighters faced include an alarming rate of spread and medium-range spotting. Active winds have exacerbated the spread creating further challenges for firefighters.
The closest zone to Patterson residents is labeled as the Canyon Zone. This zone is located in Stanislaus and San Joaquin County and comprises four fires titled the Peg Leg Fire, Terraville Fire, Del Puerto Fire and Peach Fire.
Del Puerto Canyon Road between Mines Road and Diablo Grande Parkway is closed to traffic.
The Calaveras Zone has also touched Stanislaus County in a wide area that also includes Alameda and Santa Clara County. The six fires in this zone were named the Kilkare Fire, Arroyo Fire, Mill Creek Fire, Welch Fire, Ohlone Fire and Reservoir Fire.
The Deer Zone is located in Contra Costa County and includes the Round Fire, Palm Fire, Marsh Fire and Briones Fire.
Mandatory evacuation orders are in place on Welch Creek Road and Mines Road in Alameda County.
Mandatory evacuation orders in Santa Clara County include north of Highway 130 to Santa Clara County line, west of San Antonio Valley Road, west of Mines Road to Santa Clara County line, east of Three Springs Road and Mt. Hamilton Road south of Santa Clara County line.
Evacuation warnings are in place on Mill Creek Road in Alameda County.
Warnings are also in place in Santa Clara County, including east of Ed Levin County Park, Felter Road, Sierra Road, Toyon Avenue and Mt. Hamilton to Three Springs Road south of Santa Clara County line and west of the fire perimeter.
Marsh Creek Road between Morgan Territory Road and Deer Valley Road is closed to traffic. Highway 130 to Three Springs Road and Highway 130 to Quinby Road were also closed to traffic.
Totals released by Cal Fire SCU stated that 578 personnel and 25 engines deployed to combat the fires. Three helicopters, three water tenders, 17 hand crews and nine dozers were deployed as of Wednesday to contain the multitude of fires hitting the area.
Cooperating agencies included Pleasanton Police Department, Santa Clara Public Safety Communications, San Joaquin OES, San Joaquin Sheriff's Office, Stanislaus County Sheriff and OES, Contra Costa OES, Santa Clara Sheriff, PG&E, California Highway Patrol, Alameda County Sheriff, Henry Coe State Park Superintendent, Adobe Springs Water & Electric, West Side Conservation, Stanislaus County Fire Warden, TID Power and Santa Clara OES.
Article updated on Aug. 19 at 7:33 p.m. and 8:11 p.m.