The Rock Fire, which covered 2,422 acres and was named for the painted rock in Del Puerto Canyon known locally as "Graffiti Rock," was shown as 75 percent contained earlier today, Thursday.
As a grass fire, the incident fell under the CalFire Santa Clara unit's jurisdiction. Deputy Chief Mike Marcucci of the unit, located on Sperry Avenue, said earlier today that there were still five engines "actively engaged in reinforcing fire lines, pulling out hoses as needed and making repairs." He added that the station "will start patrol units once the fire is 100 percent contained."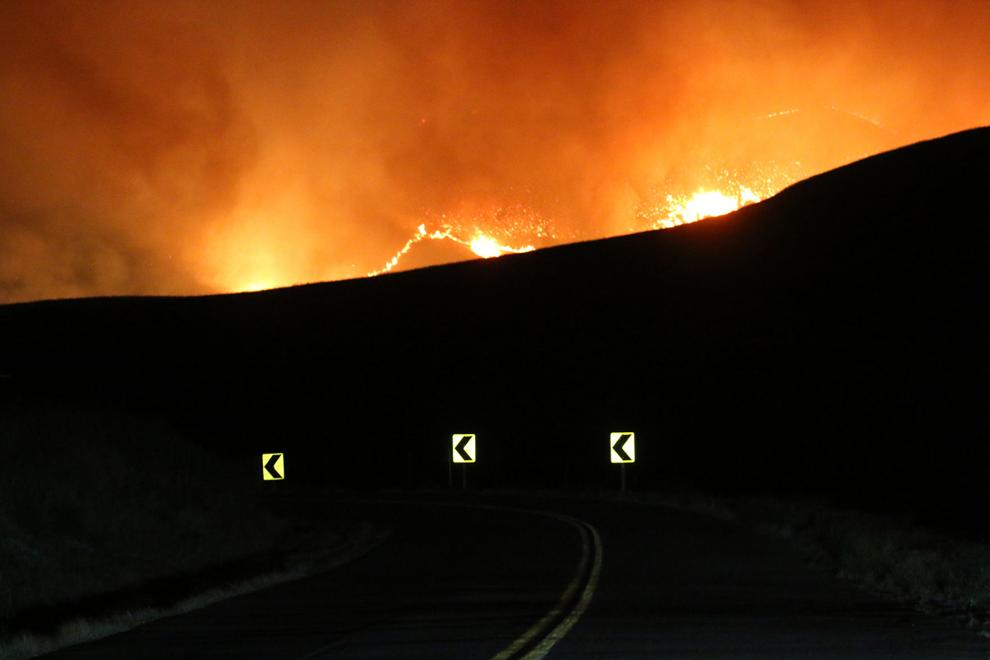 While not insignificant, the handful of engines remaining is far fewer than the 25 that were on hand at the height of the blaze. For most of the fire's duration, twenty firetrucks worked the blaze, beginning to roll in every few minutes on Tuesday night, lining up side-by-side with their full loads of water, their crews milling around, greeting one another. A larger-scale fire like this one brings them together occasionally.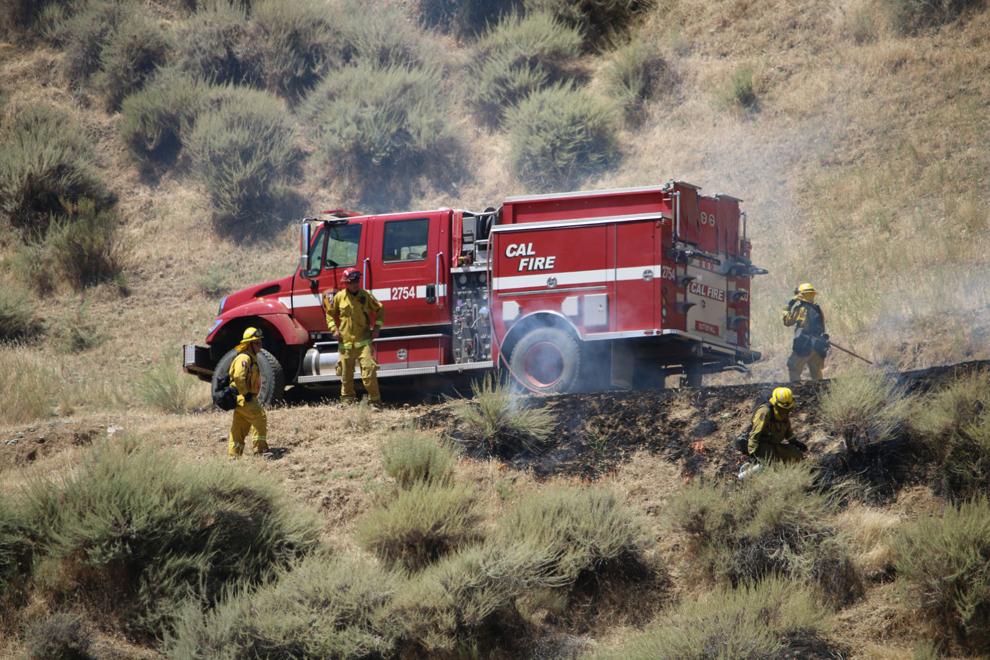 The CalFire Santa Clara unit that worked this fire included firefighters from Santa Clara County, Alameda, Contra Costa, West San Joaquin and West Stanislaus.
Fire engines also came from San Mateo, Santa Cruz, Lake Napa unit, Tuolumne county, Calaveras, El Dorado, Madera, Mariposa and Merced.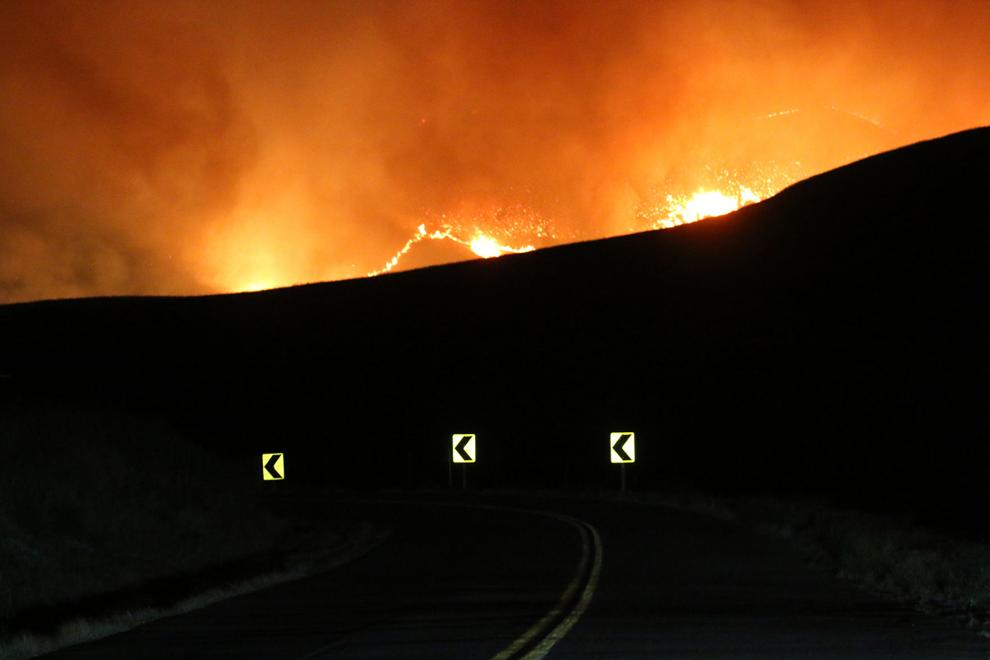 In addition to the firetrucks, five bulldozers, four water tenders, four air tankers and two helicopters worked the blaze.
A total of 160 people fought the fire, including two crews of inmates. One of those, from the Ben Lomond Camp of the Department of Corrections and Rehabilitations in Santa Cruz, arrived at around 1 a.m. on Wednesday morning, Lt. David Mendonca, camp commander, said, as his group was refueling at the Flying J before returning to Santa Cruz. The personnel also included three strike teams and a task force. Six of the 160 firefighters were pilots. Other than one firefighter who suffered a minor injury, no one was hurt in the blaze.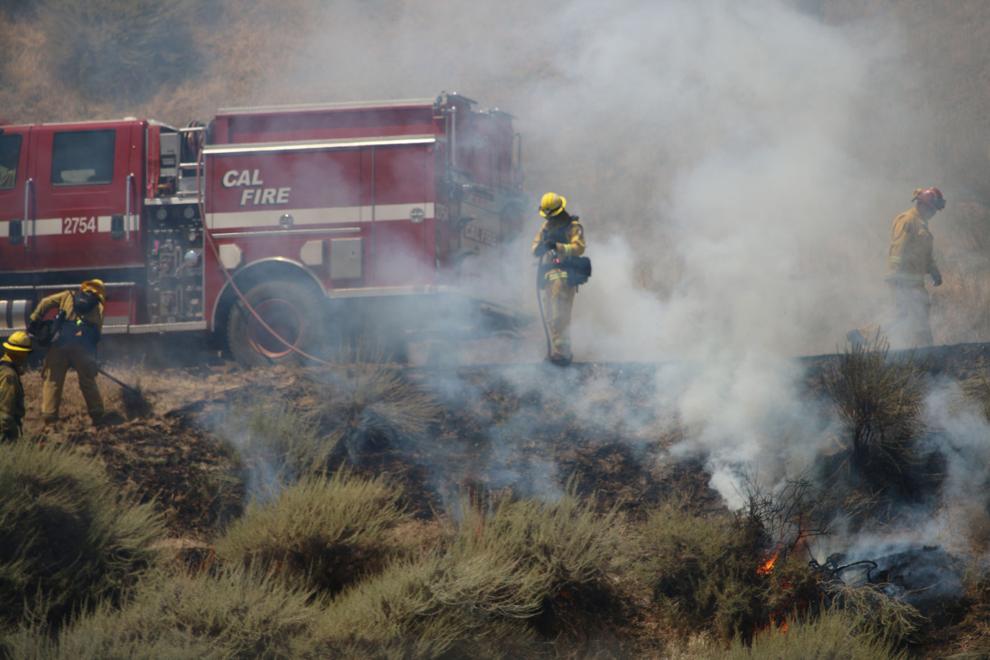 Captain Chuck Carroll of CalFire said that an air attack plane came from Hollister. Air attack pilots "observe the fire from up top," he said, and are responsible for helping to plan the strategy for fighting the fire by directing the helicopters and tankers as they drop water or fire retardant.  Carroll also added that, "initial attack fire crews were up for 30 hours on average before getting rest."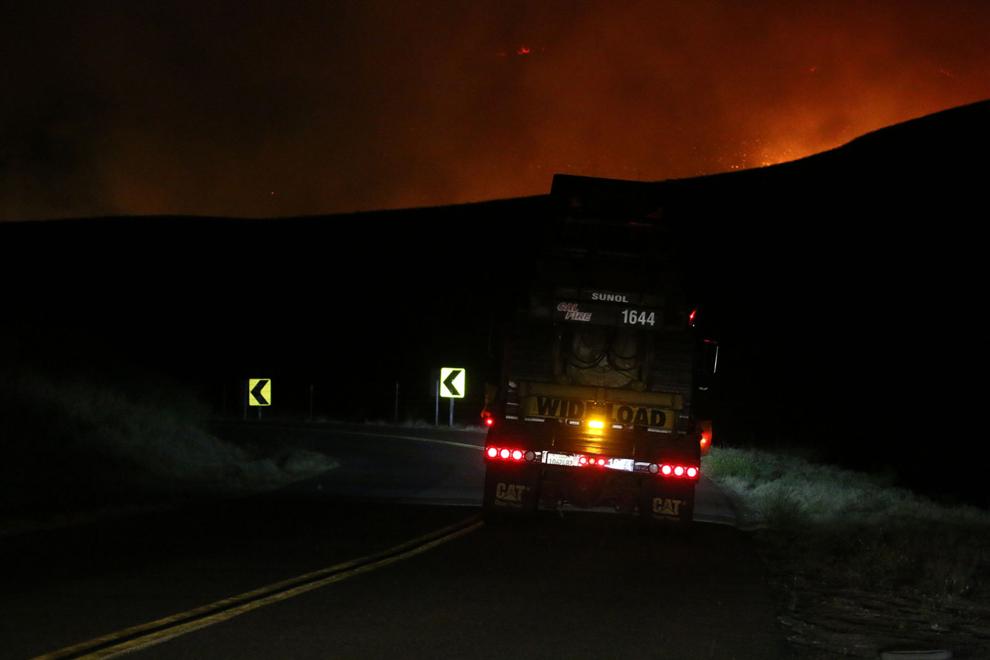 While work was going on in the air, hand crews worked on the ground, clearing vegetation and pouring water on the blaze from the firetrucks' enormous tanks. Wearing heavy protective gear and hauling tools or a firehose, they sometimes literally ran up and down the hills as they worked to put out flames and set up firebreaks. The inmates assisted the hand crews in these efforts.
The bulldozers were brought in to clear wide swaths of vegetation, simultaneously depriving the fire of fuel and creating the firebreaks needed to contain it.
Firefighters also used controlled burn techniques along North Del Puerto Canyon Road to contain the fire, Marcucci said.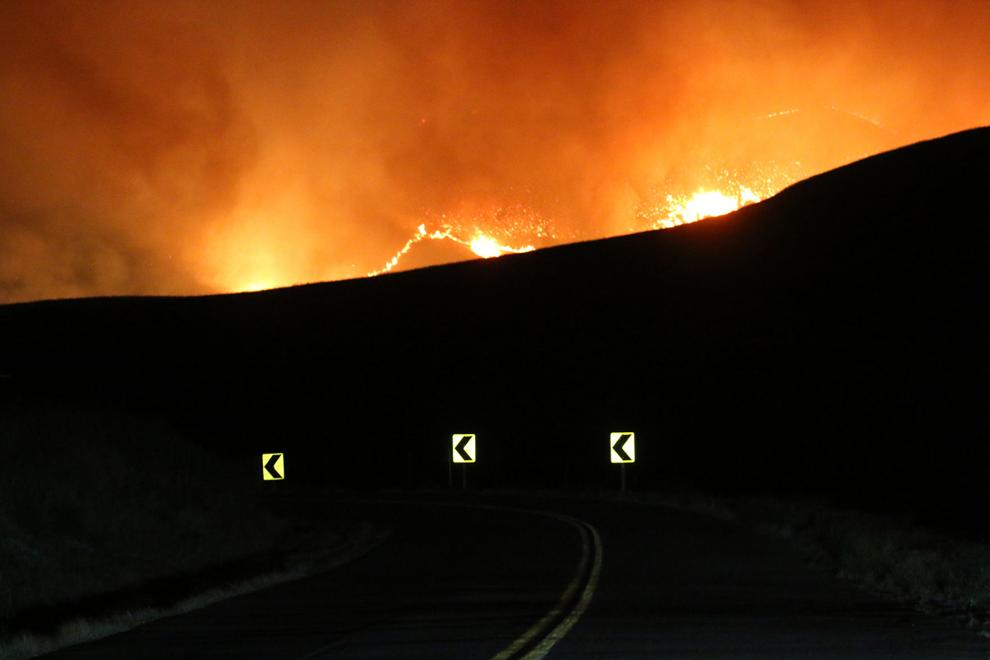 As in the 100-acre fire in the canyon in late May, the choppers dipped large, collapsible containers called Bambi buckets into the Delta Mendota and dropped the water onto the fire. The one used in May held 350 gallons. Bright-red fire retardant was dropped on the fire from the air tankers.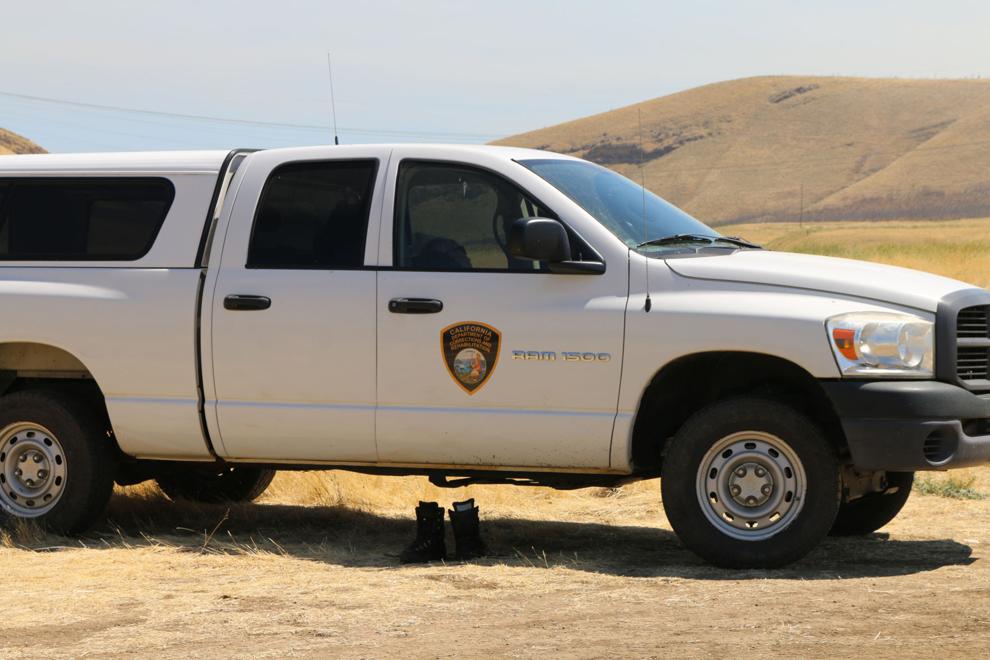 The steep terrain made it difficult for the bulldozers to cut fire lines, as well as clear the dry grass and other vegetation fueling the fire. This also made it difficult for crews to lay down the water lines, said a firefighter from the Amador-El Dorado unit.
Marcucci said that, "One of the things that made it easier for us was that we didn't have a whole lot of people living out there and infrastructure. We didn't have to evacuate the area." The hills are is mostly cattle rangeland, although there are high voltage lines in the area as well.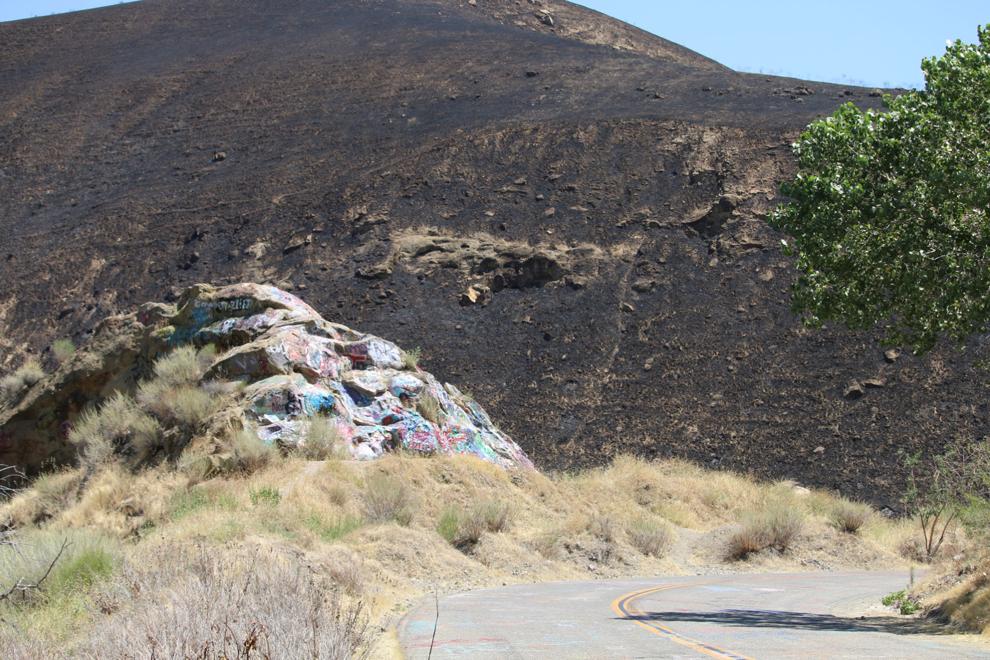 Fires in Del Puerto Canyon are "not rare," said Marcucci, "and this is probably one of the smaller ones." In 2003, he added, "lightning came through and started three or four thousand acres of fires out there all at the same time."
Marcucci said the fire should "serve as a great reminder" to citizens, especially those who live in areas vulnerable to fire, to create a "defensible space," around their homes by clearing dry brush and other possible fire fuels a minimum of 30 feet around their homes. A comprehensive guide is available from the FEMA website:https://www.fema.gov/media-library-data/20130726-1652-20490-9209/fema_p_737_fs_4.pdf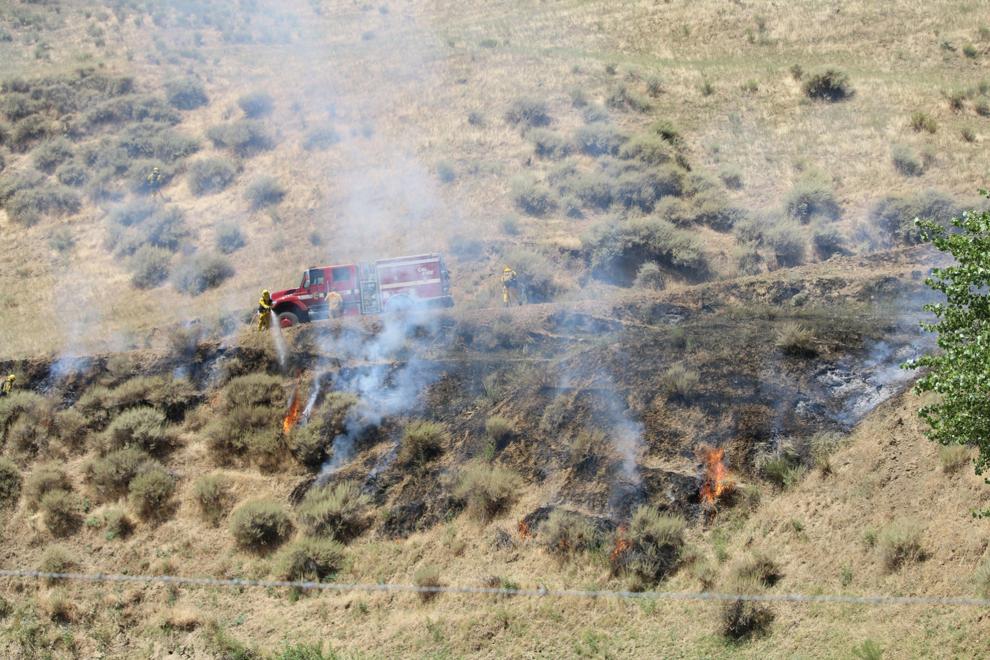 Experts now say everyone should maintain a kit with clothing, medicine and other necessities sufficient for three days, kept relatively accessible, for any kind of emergency. Pets' needs should be accounted for, as well. A quick search for "72-hour kit" will return a wealth of resources.