Superintendent Phil Alfano introduced an alternative calendar to the Patterson Joint Unified School District School Board during the July 13 meeting. The proposed academic calendar postpones the start of school until September 8. Winter break will be reduced by one week, and the school year will conclude on June 17, 2021.
The hope is that classes will resume on September 8 with a full capacity in-person schedule. However, plans are being made that include a hybrid schedule of alternating reduced capacity in-person classes combined with distance learning as well as a full distance learning schedule to prepare for all outcomes.
Pushing back the start date may give COVID-19 numbers time to improve, which could allow the school year to begin in a more traditional way, potentially affording students more face-to-face learning. The alternative calendar will allow teachers and administrators more opportunity to fine-tune distance learning plans and allow staff members who have children in other districts more time to plan for their childcare needs.
A post to the PJUSD Facebook stated that more information would be provided in a mailer to parents this weekend. The district will host a WebEx meeting for all families on Wednesday, July 22, at 6 p.m. The WebEx link and details were provided through PeachJar.
Board President Michelle Bays was in favor of the delay, stating that putting "more thought into the plan will avoid potential pitfalls [of distance learning] and give teachers the opportunity to make it successful from the go."
Board Vice President Ryan Segoviano is also in favor of the new proposed date, stating the importance of face-to-face classes for students in special education classes as well as English learners. Alfano confirms that the California Department of Public Health and the teacher's union also acknowledge that this is a good plan.
Currently, staff continues to make modifications to school grounds, installing permanent solutions such as outdoor seating and new custodial procedures to prevent and lower future disease transmission.
A special board meeting to approve the alternate academic calendar will be held Monday, July 20, at 7 a.m.
Universal Meal Program
The Board unanimously approved the district's participation in the Community Eligibility Provision in compliance with the National School Lunch Program.
All school districts that are more than 40 percent directly certified are strongly encouraged to participate. Patterson is at 54 percent.
This program affords every student in the district free breakfast and lunch. The program will also relieve families and the Nutrition Services Department of financial burdens.
Retirees Recognized
Nine staff members retired at the end of the 2019-2020 school year. A combined total of 177 years serving Patterson students, these teachers and their expertise are sure to be missed.
Retirees Craig Bettencourt, Anne Hazelton, and Marlinda Martins, spoke at the meeting. All recalled many years of friendship and a deep appreciation for Patterson students and other staff members. Discussing his retirement, Bettencourt revealed this brought an end to a long-running streak for the Bettencourt family.
"This will be the first time in 62 years that a Bettencourt won't be teaching at Patterson High School," said Bettencourt on Monday evening.
Bays recounted that she was taught by the first generation of Bettencourt teachers.
Listed below are the names of all retirees and their years of service to Patterson students:
Anne Hazelton, 30 years
Anne Lee, 19 years
Carla Wisdom, 23 years
Craig Bettencourt, 36 years
Hugh Leonard, 14 years
Karen Bailey, 14 years
Marlinda Martins, 14 years
Mary Jan Ross, 6 ½ years
Melissa Castro, 21 years
Performing arts and science building update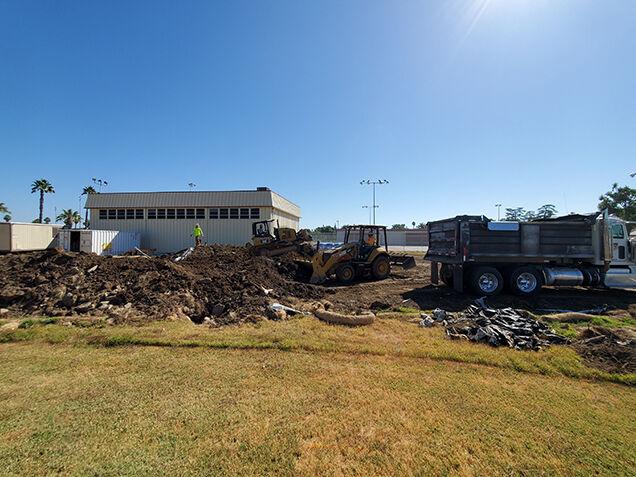 Assistant Superintendent Jeff Menge reported that all construction is on schedule and within budget. State approvals for the projects are complete, and construction of the science building is expected to begin in two weeks.
The tennis courts are undergoing renovations at the same time as the construction of the science building. Two new courts will greet students when they return.
The new courts will put Patterson's tennis program on equal footing with other schools in the conference. These new courts will allow visiting teams to play in a more efficient and timely manner by trimming down the time it takes to complete the team matches, reducing how late away teams arrive home from matches at Patterson High.