Last Thursday's game was a disappointing loss to Atwater, but the Patterson High varsity girls basketball squad got back on track with a win against Central Valley last Saturday. That momentum was stunted however, when the Tigers lost at El Capitan on Jan. 14, to drop to 3-2 in the Central California Conference.
A total of 9 games are still left before the league concludes its season. CIF Sac-Joaquin Section playoffs are scheduled to begin on Feb. 17 and 18, meaning a month is all that separates those that are looking to extend their season or pack up for spring.
Tough loss to El Capitan
While Patterson was coming off a win over Central Valley, El Capitan was looking to get back in the win column after suffering a loss to Atwater on Jan. 13, 64-34.
Patterson opened the game winning the first quarter 7-6, but would head into halftime trailing the Gauchos 16-13.
The Tigers put together an encouraging third quarter that saw Patterson win the frame 12-6 and take a 25-22 lead into the final quarter, but the Gauchos had other ideas, winning the fourth quarter 17-11, adding up to a 39-36 win for El Capitan.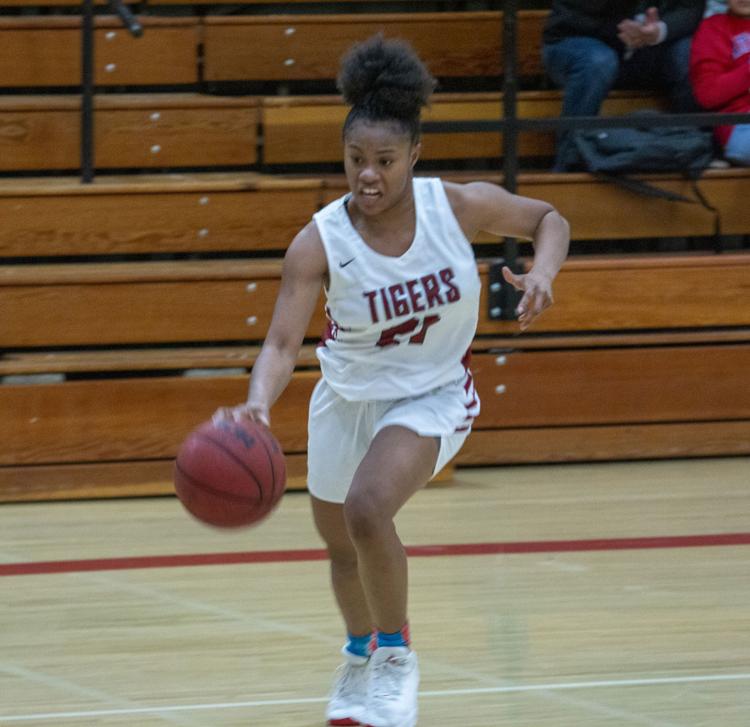 Junior Kealohilani Tufono scored 17 points with three rebounds, two steals and two assists.
Senior Kiana Kainoa finished with seven points, eight rebounds, three blocks and a steal.
Patterson's offensive woes continued against El Capitan, shooting 13-48 from the field and 7-19 from the free throw line.
Tigers rebound with win over Hawks
A resounding 58-13 win over Central Valley on Saturday, Jan. 13 certainly helped Patterson rinse some of the taste out of their mouth after suffering their first league loss.
The 13 points is the fewest allowed by the Patterson defense against any team this season, excluding an abbreviated game against Stagg High on Dec. 18 at the Lady Jaguar Annual Holiday Classic held at Kimball High. That game was played with a running clock from the opening tip due to a late start, condensing the game and putting a caveat on any scores or stats produced.
In order to find a defensive performance that is close to their dominance on Saturday, one would have to go back to last year's 2018-19 season when Patterson held Escalon to 17 points on Dec. 26, 2018.
Patterson held Central Valley to a similar score on Jan. 18, 2018 during the 2017-18 season when the Tigers held the Hawks to 14 points in the 62-14 win. Patterson went on to hold Pacheco to nine points on Jan. 25, 2018 during the same season just a week later.
First league loss this season
Atwater came out gunning against the Tigers last Thursday at Dave Klein Gymnasium. The Falcons held the Patterson offense to just five points in the opening quarter, taking a 13-5 lead into the second frame.
Atwater then put together a huge second quarter when they outscored Patterson 32-16, tallying up to a healthy 45-21 lead at halftime.
To the Tigers' credit they were able to stabilize in the second half with an 18-12 third quarter and a 13-13 final frame, but their attempts at a comeback were not successful, dropping their first league game of the season by a final of 70-52.
Patterson had trouble finding their rhythm offensively. The Tigers as a team went 19-53, for 36 percent shooting from the field. Patterson got to the free throw line plenty, but went 11-26 from the line, to compound their struggles.
Junior Kealohilani Tufono led all scorers with 20 points, five rebounds a steal and an assist.
Senior Kiana Kainoa put up 12 points, seven rebounds, a steal and five blocks.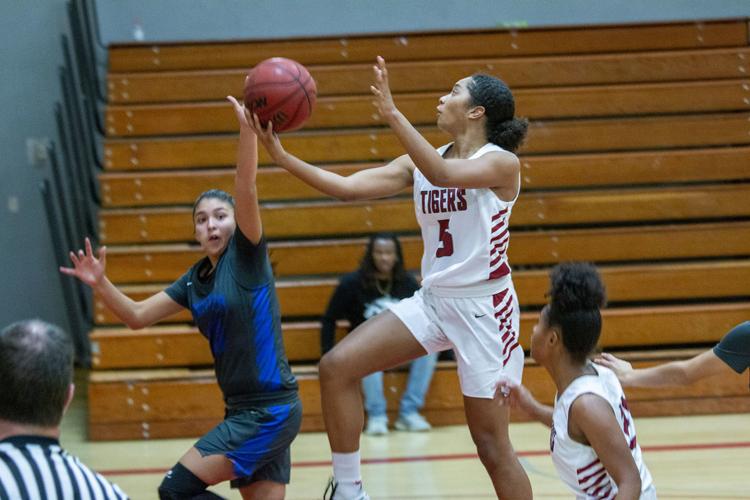 Senior Jordan Patterson finished with 11 points, six steals, an assist and a block.
Atwater's offense was led by junior Samantha Trejo. Trejo led the Falcons with 18 points. Senior Theresa Thun backed up Trejo with 12 points.