Trailing by as many as 30-15, the Tigers varsity wrestling squad had their work cut out for them if they hoped to salvage a win versus Merced High on Jan. 14 at Dave Klein Gymnasium.
Patterson had plenty of ground to make up, and their wrestlers responded with force in the final four matches of the evening.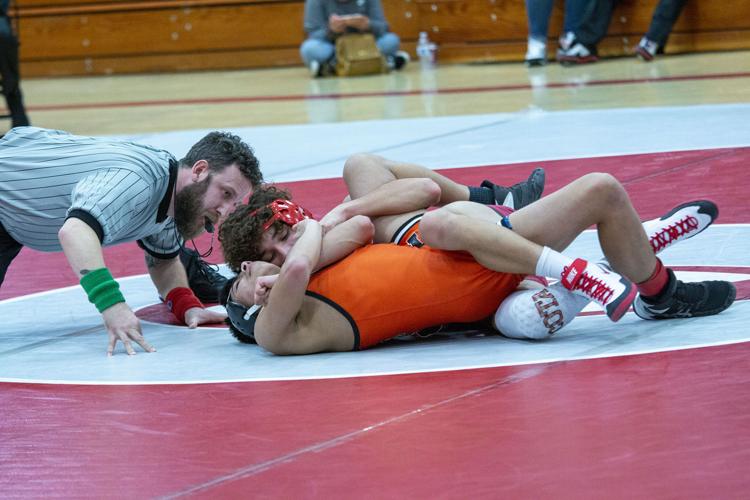 Sophomore Jesse Cota got the ball rolling with a pin in the second round of the 122-pound bout. This cascaded into pinfall victories by senior Adrian Barrera, senior Xavier Maese and junior Chase Mirelez, to end the evening with authority and the 45-36 victory.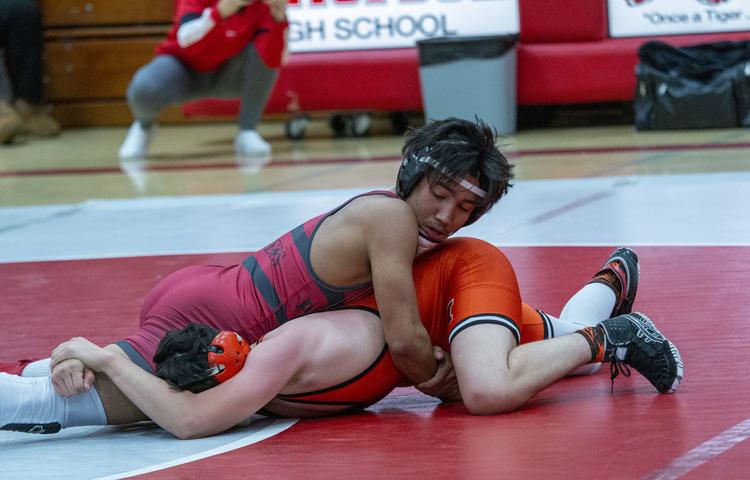 The win improved Patterson to 2-1 in Central California Conference dual meets.
All four matches were great showings for each wrestler, but none was more dramatic than Maese's match. The Tigers trailed 36-33 in the team score heading into the match with just two matches left. There were different paths to victory for the Tigers, but none of them involved enduring a loss via pin. The goal at minimum was to avoid getting pinned. Any kind of victory would at least tie the score heading into the last match.
Maese traded points with Merced's Tanner Phillips in the first round of the 134-pound match, but in the second round Phillips created separation, up 7-3 in points over Maese.
Phillips did well to stay on top, and held top position over Maese for the majority of the second round. Despite enduring plenty of punishment from Phillips, Maese hung in there, and with just seconds remaining in the round reversed the position off his back to end up on top of Phillips. The reversal transitioned directly into a pin attempt by Maese. The referee watched closely and awarded the pin a mere fraction of a second before the horn went off signaling the end of the round. Maese not only managed to win, but his pin gave Patterson a 39-36 lead heading into the final match. 
"It had us on the edge of our seats," head coach Artie Rivera said following the win. "He comes from a Greco background, so we love having his flair in the room, but he loves to put on a show. We worry sometimes because instead of wrestling to kill clock or whatever we need him to do he likes to get in there. He keeps us on our toes, but we can rely on him to come in and do what he needs to do."
Patterson has a bye before they resume their league schedule against Atwater High on Jan. 21 at Dave Klein Gymnasium.
After their match versus the Falcons, the Tigers will only have two matches remaining on the league schedule: at El Capitan High on Jan. 23 and at Central Valley on Jan. 29. The CIF Sac-Joaquin Section Team Duals Finals will be held on Feb. 1 at Lincoln High in Stockton should they qualify.
Rivera shared that there's no room to breathe in such a tough Central California Conference. He expressed plenty of respect for the competition in the league moving forward, and knows his squad will have to remain vigilant if they hope to make a run down the stretch. After losing to Golden Valley last week, the win over Merced on Tuesday keeps Patterson in the hunt.
"These teams in the CCC are tough. Last week it was a tragic loss. We had a guy get hurt and it killed our momentum. We tried to come back from that, but it wasn't happening for us," Rivera said. "To pull this off is phenomenal…These schools are tough. We can't sleep on any of them. Every corner we turn is a tough kid. All these CCC kids are nobody to sleep on. We let up a little bit, they're going to take it."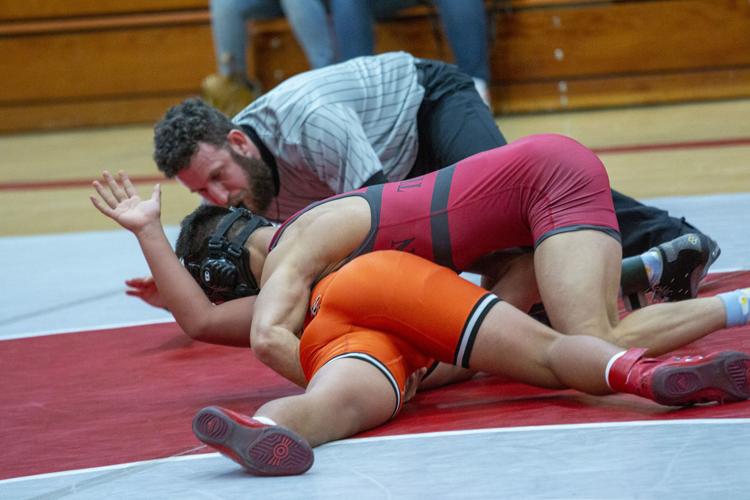 Below is a list of results from Tuesday's match:
108 Kameron Siegfried won by forfeit
115 Jeremey Hernandez lost by pin second round
122 Jesse Cota won by pin second round
128 Adrian Barrera won by pin third round
134 Xavier Maese won by pin second round
140 Chase Mirelez won by pin first round
147 Noah Cruz won be decision 3-1
154 Ben Hernandez lost by pin first round
162 Anthony Barrera lost by pin first round
172 Jaden Arredondo lost by pin first round
184 Patterson forfeit
197 Patterson forfeit
222 Aaron Botkin won by pin first round
287 Jalen Ruiz won by pin first round