The athletic landscape at Patterson High endured its fair share of changes this year. 
Plenty of milestones were recorded by athletes at Patterson High over the year, but many in the Tigers community reflected on a somber moment when longtime athletic director, coach and teacher Dave Klein passed away over the summer.
The Tigers' wait for a Central California Conference title ended this spring, when the varsity softball team handed Patterson High their first CCC title in May. 
The wrestling program sent seven wrestlers to the Masters Meet earlier this year, and standout grappler Noah Mirelez capped off his legacy at Patterson with a third straight State Championship berth. 
A batch of new coaches and programs have brought fresh opportunities to student athletes, and the Tigers celebrated their first annual PHSPYS Awards Banquet to a sellout crowd. 
Let's take a look at the athletic moments that defined Patterson High sports in 2019. 
Legend passes away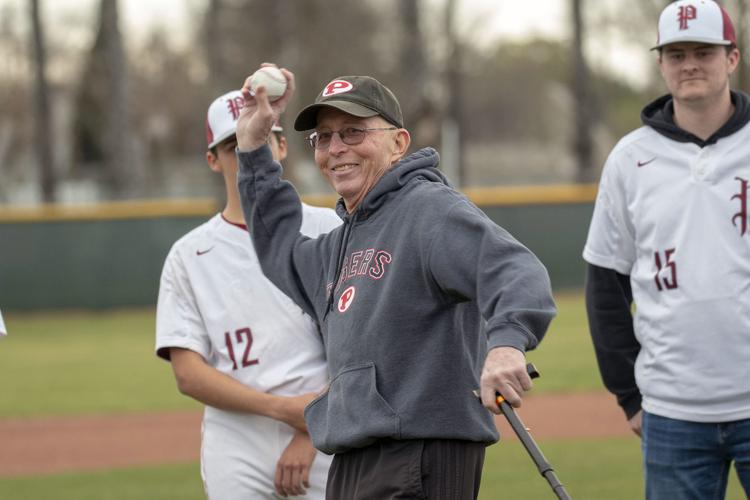 The Patterson High community lost one of its most treasured members this year. After a battle with cancer, David Klein passed away on July 29, 2019. He left behind a legacy of love for Patterson High athletics. 
Klein was the PHS athletic director for 24 years, after beginning his career with the school district in 1975. 
His body of work at Patterson High earned him exalted status. His name was memorialized in 2016, when the district approved a resolution to change the name of the gym to Dave Klein Gymnasium. Although the late Klein was hesitant to accept the honor, he eventually agreed, and in 2017 a ceremony was held, during which Klein was celebrated by a packed house of Tigers faithful. 
A memorial was held on Aug. 17, 2019 at the gym named after him. Many in the community attended to pay their respects to a man that dedicated much of his life to Tigers athletics. 
Softball wins league crown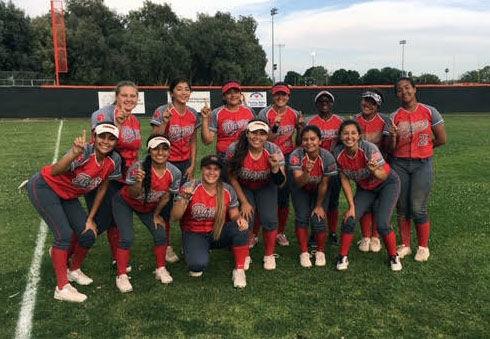 Patterson High joined the Central California Conference in the fall of 2018, but it took until the spring of 2019 for PHS to get its first league title. 
The varsity softball squad had a great season with a 10-2 record in the CCC, to tie with Golden Valley for a share of the league title under the guidance of Jennifer Hamm. 
Overall the softball squad put together a 16-9 record, punching their ticket to a CIF Sac-Joaquin Section Division III playoff berth. 
Patterson defeated Kimball 5-3 in the opening round but lost to number two seed Del Campo High in the second round, to be eliminated from section championship contention. 
Danielle Wera Torres led the team in hitting, with a .489 average during her spring campaign. She had a team-high 23 hits in 47 plate appearances, putting up a .564 on base percentage in that time. 
Carli Medina led the team with 18 runs scored. She put together a .302 average at the plate with one home run, 13 hits, eight RBIs in 43 at bats.
Senior Carolyn Dallimore had yet another outstanding season for the Tigers in her final year. Dallimore put up a .458 average while bopping 22 hits, including five home runs. She was a run-producing machine for the Tigers, with 22 RBIs in 56 plate appearances, and had the second-highest runs scored with 17. 
Teammate Delihla Garcia tied Dallimore for the home run lead, with five round trippers during a season that saw her bat .429 with 21 hits, 19 RBIs and 12 runs. 
Aubrey Garcia finished with a .378 average with 14 hits, three home runs, 12 runs scored and 16 RBIs in 37 opportunities. 
Longtime pitching ace Alexis Zavala was invaluable for the Tigers on the mound. She worked hard, pitching 64.1 of the 88.2 total innings pitched for the Tigers this spring. Her effort yielded a 9-2 record and a 3.26 ERA on the mound. In 13 appearances she scattered 74 hits, 17 walks, three home runs and 45 strikeouts. 
Wrestling program excels once again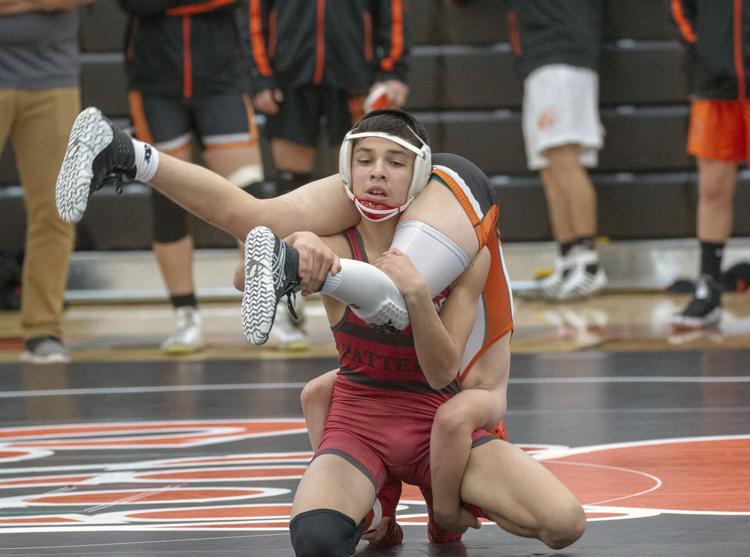 While Oregon State-bound Noah Mirelez grabbed most of the headlines with his third straight CIF State Wrestling Championship berth, the Patterson High wrestling program had yet another great year on the mat. 
In total, the Tigers sent seven wrestlers (Brisa Salas, Aaron Botkin, Jesse Cota, Noah Mirelez, Chase Mirelez, Mokbel Obeid and Adrian Barrera) to the Masters Meet earlier this year.
Patterson produced four medalists at the meet, held at the Stockton Arena. Those medalists just missed the cut to a state championship berth.
Obeid began with back-to-back wins over Max McCarver of Oak Ridge and Juan Garica of Livingston, but a loss to Carson Prim of Grace Davis put Obeid in jeopardy. He rebounded with a win over Gustavo Bonilla of Turlock, but a loss to Dylan Duncan of Vista del Lago meant Obeid would be unable to finish in a top-six spot and qualify for state. Overall, Obeid finished in seventh place.
Chase Mirelez won his first match of the meet against Julius Serrano of Lincoln, but lost to Edison Alanis of Franklin in his second match, to be put into limbo. Chase responded with three straight victories to give himself a chance at a state finals berth, but a loss to Conner Shirar of Vacaville ended his pursuit. He finished eighth place overall.
Barrera tallied a win over Jackson Calvert of Franklin, before losing to Tony Yuke of McClatchy in his second match. He then racked up wins over Silverio Godina, Broc Perry and Eric Almarinez to stay alive, but a loss to Oakdale's Michael Torres meant Barrera would not capture a finals spot. A loss to Tyler Maples of Bella Vista resulted in an eighth-place finish. 
Cota nearly had a state qualification in his freshman year. He lost to Dylan Maples of Bella Vista in his first match, but despite the rough start Cota went on a winning streak, defeating Byron Moore, Colby Cerros, Talan Nimi and Jack James. His win streak was broken when he lost to Salahdin Farukh of Valley High, eliminating Cota from state contention. His 7-0 decision victory over Desizion Costa of Turlock earned him a seventh-place finish. 
Noah Mirelez wrapped up his awesome wrestling career at Patterson High with a third straight state championship berth. He opened his state championship run with a pair of victories over Steven Kroessen of Laguna Hills and Isaac Kephart of Arroyo Grande, but suffered losses to Logan Gioffre of Buchanon and Cade Lucio of Bakersfield, and was eliminated.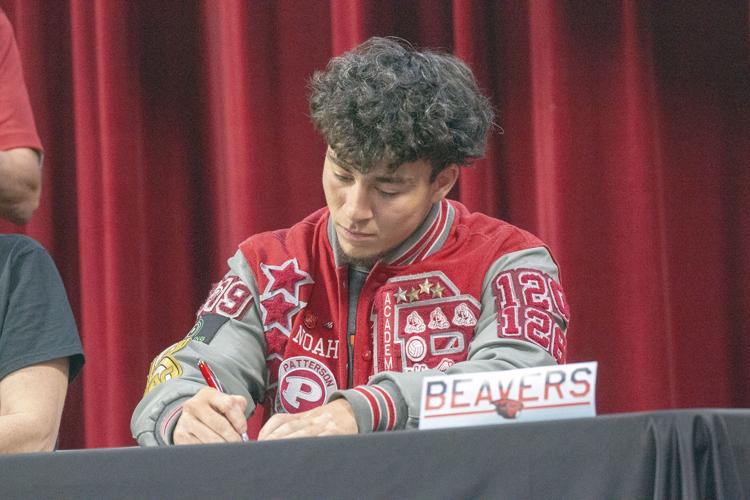 Noah later announced his intention to attend Oregon State University and wrestle for the Division I program. He is joining a program with a long history. Established in 1909, the program is currently led by coach Jim Zalesky. Zalesky has helped the Beavers amass a 139-69-2 dual meet record and seven Pac-12 championships. A total of 12 All-Americans have been produced during Zalesky's tenure. 
First annual PHSPYS Awards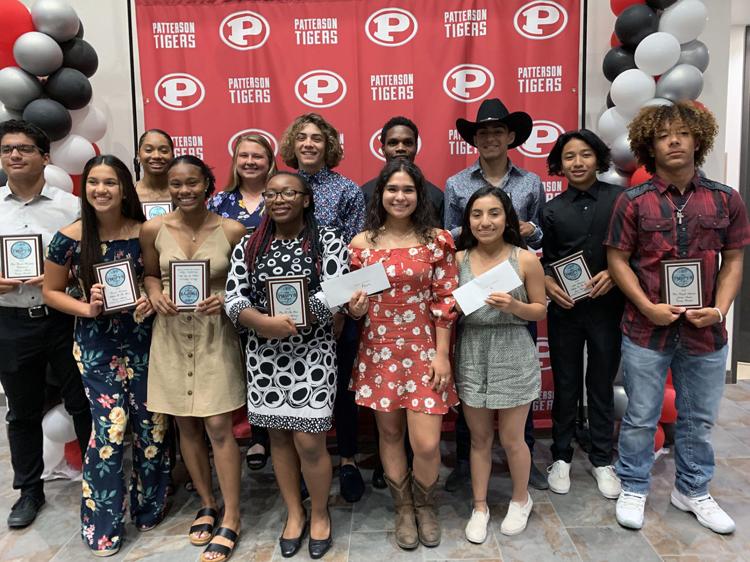 The Lopes Orchards De Paul center was the setting for the first annual Patterson High School Excellence in Sports Performance Yearly Awards in June. The awards were inspired by the ESPY awards presented on American Broadcast Television Network (ABC). 
The Patterson version honored local athletes. Booster Club president Elisa Medina shared that the club teamed up with the Lions Club to help put together the event. 
Award winners for the event included 2019 Team of the Year presented to Varsity Softball Coach, Jennifer Hamm; Female Junior Athlete of the Year, Jordan Patterson; Male Sophomore Athlete of the Year, Logan McCleery; 2019 Play of the Year, Breanna Murray; Male Junior Athlete of the Year, Favour Nnaji; Overall Female Athlete of the Year, Caroyln Dallimore; and Overall Male Athlete of the Year, Noah Mirelez. 
Guests to the banquet were treated to a dinner prepared by the Patterson Lions Club. Patrons were also welcome to enjoy an open bar serving cocktails. A mini-dessert auction took place, with the proceeds going to the Patterson High Athletics Department. 
Following the awards presentation, additional auctions were held that featured items such as autographed jerseys signed by Stephen Curry, Madison Bumgarner and Buster Posey. All proceeds went towards purchasing sports equipment for PHS.
Rugby comes to PHS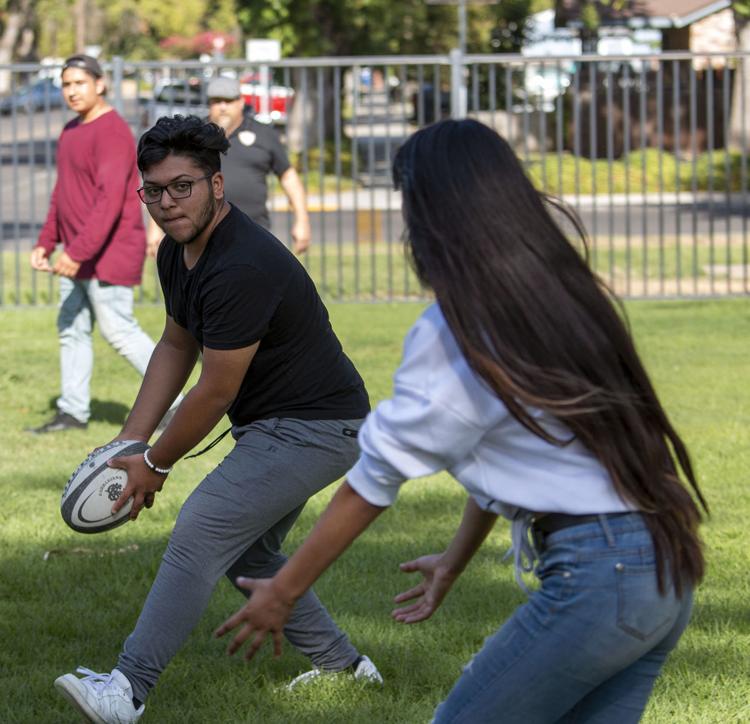 As late summer receded to fall, Patterson High welcomed a new sports program to the ranks. Spearheaded by former varsity girls soccer coach head coach Cade Tomasegovich, the sport of rugby was established at PHS. He played all four years during his time as a student at Del Campo High School, and dabbled in playing the sport at Sacramento State.
The program was recognized as a club through ASB. Tomasegovich made strides to become certified as an established coach through USA Rugby, which has been the national governing body for the sport since 1975.
The Patterson club was accepted into Rugby NorCal, a sanctioned youth organization that was founded in 2010. NorCal Rugby features approximately 65 clubs and 5,000 players throughout the state, with players ranging from 8-18 years old. 
The program hopes to put together a squad in time for the spring season in 2020. 
Mountain Biking team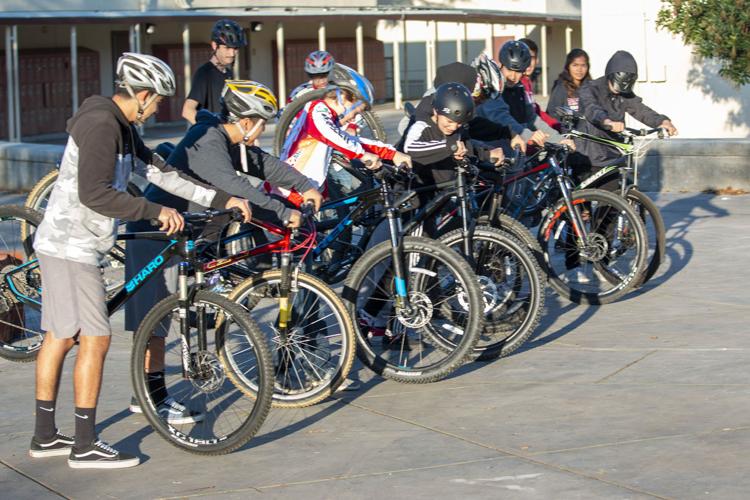 Rugby wasn't the only new sport to establish itself at Patterson High. Former golf head coach George Crawford has been cycling for 25 years, and felt the time was right to try and gauge the local interest in forming a competitive mountain biking team. It didn't take long for word to spread, and Crawford had the enlistment of 15 kids. 
The Tigers began the establishment process by joining the National Interscholastic Cycling Association (NICA). NICA was founded in 2009 and represents 31 states across the country. California is divided into two leagues: NorCal High School League and SoCal High School Cycling League. The two leagues were one of the original three leagues that helped form NICA in 2009, along with Colorado. 
The NorCal High School Cycling League is further divided into a North and South group, due to the volume of participants. Patterson will join the South group in Division II. 
Much like the rugby program, the early practices included learning the basics. Crawford hopes to keep expanding their regiment as they gear up for their first race on March 8 in Redding. The Tigers are then scheduled for more NorCal Cycling League races on March 22, April 15 and April 25. 
Waybright qualifies for sections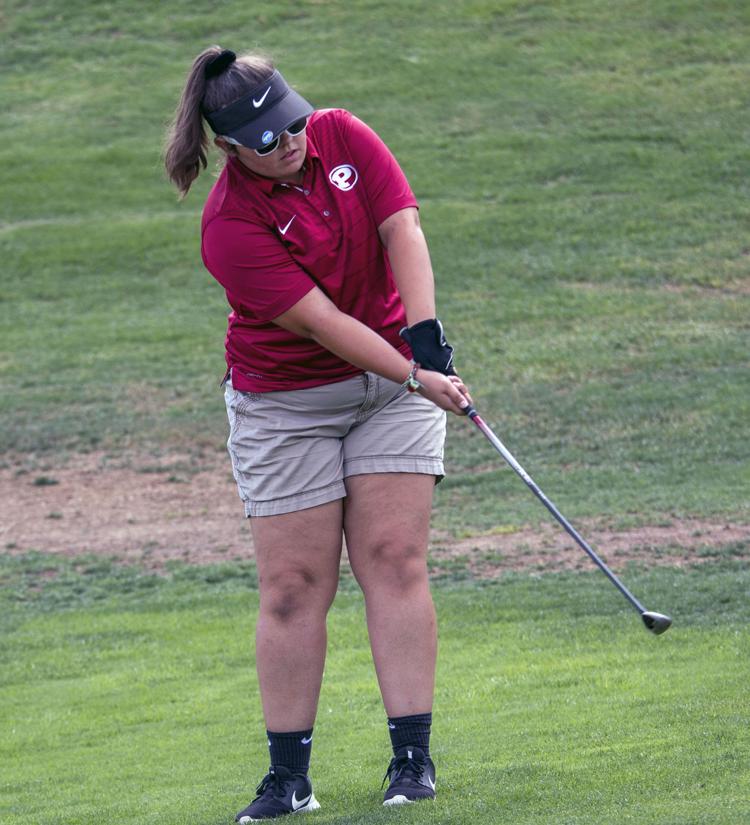 Senior Jessica Waybright had a standout season for the Patterson High girls golf team this fall. 
She made waves when she tied Lauren Pallimbo and Keahna Castillo of Merced for first place at the CCC Mid-Season Tournament earlier in the season, but she did not simply rest on that achievement. 
Waybright followed that up with a great showing at the CCC Finals when she secured a top six spot with a score of 107, to advance to the CIF Sac-Joaquin Section Division III Finals. The Division III finals were held at The Ridge Golf Club in Auburn on Oct. 21. 
Waybright shot a 119 at the Division III finals, but it was not enough to advance to the 2019 Masters Tournament. 
Football makes it to quarterfinals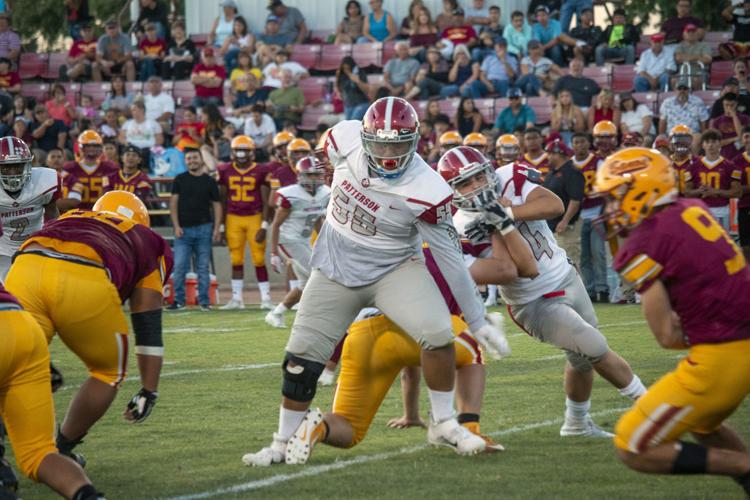 The Patterson High varsity football team had yet another admirable showing in 2019. Although the Tigers did not capture a league title, their 7-5 record overall earned them a shot at a CIF Sac-Joaquin Section Division IV title when they hosted Del Campo High in the first round. 
The Tigers 37-28 win over Del Campo meant they would travel to face familiar foe Oakdale High in the quarterfinals. 
The road ended at The Corral once again when Patterson lost to Oakdale 67-21, to bow out of the playoffs. 
Senior Logan Foumai earned recognition as the CCC Defensive Lineman of the Year. 
Winning CCC Specialist of the Year was kicker Adrian Melesio. Melesio was 14-20 on field goal attempts this fall, and was perfect on extra point attempts with 57-straight makes following a touchdown this season. 
Senior Jordan Jacob won All-CCC Sportsmanship team recognition. 
Patterson also had five players receive first team all-league selections (Logan McCleery, Davante Imhoff, AJ Polk, Boss Foumai and Omar Ortega). 
Senior Obadiah Godbolt was selected to second team all-league. Jacob and Javier Huizar were given honorable mentions. 
Track team sends 12 to Division III Finals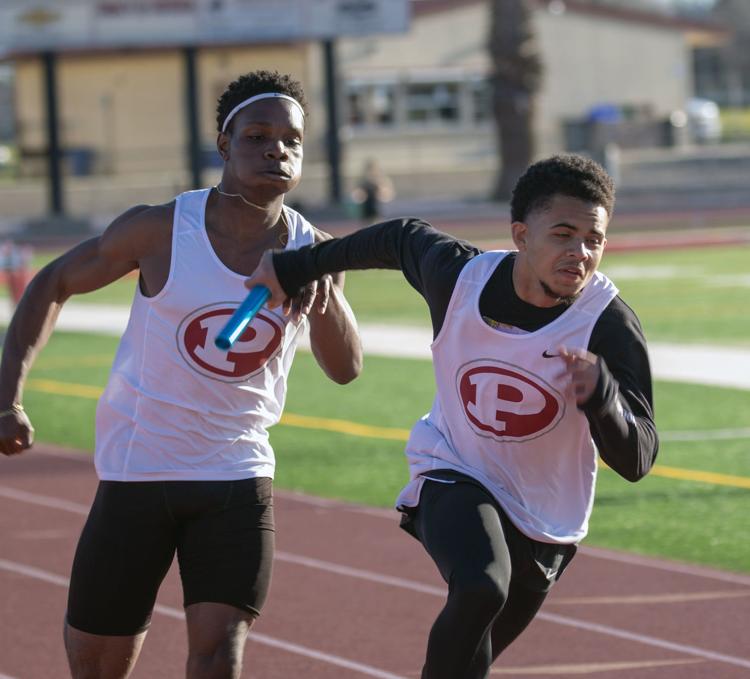 The top four of each event were permitted to advance from the CCC Championships held on May 1 to the Sac-Joaquin Section Division III Track and Field Championships held on May 7 at Golden Valley High School. 
Patterson had 12 athletes qualify for the Division III Finals.
Favour Nnaji's first-place finish and Obadiah Godbolt's third-place finish in the 100 meter event qualified both athletes. Favour would also qualify in the 200 meter race with a fourth-place finish, while Godbolt did the same with a third-place result. 
Senior Francisco Duran set a personal record in the 800 meter race, for a first-place finish in the event.
Senior Mokbel Obeid advanced with a first-place finish in the pole vault event, while Kahlya Brambila's second-place finish in the girls pole vault event permitted her to also advance.
The boys 4X100 relay team of Godbolt, Duran Favour and Precious Nnaji took second place in the race, to qualify for the Division III Championship. 
The girls 4X100 relay team of Angeline Dauz, Natalie Cuevas Arevalo, Trista Cherry and Ada Jack earned a third-place finish to advance. 
Jack also had a silver finish in the 800 meter race, while Dauz took fourth in the 400 meter and Arevalo took fourth in the 1600 meter race. 
JT Kuderca's fourth-place finish in the boys triple jump event and Jordan Patterson's personal record effort in the girls triple jump permitted both to advance.
Coaching changes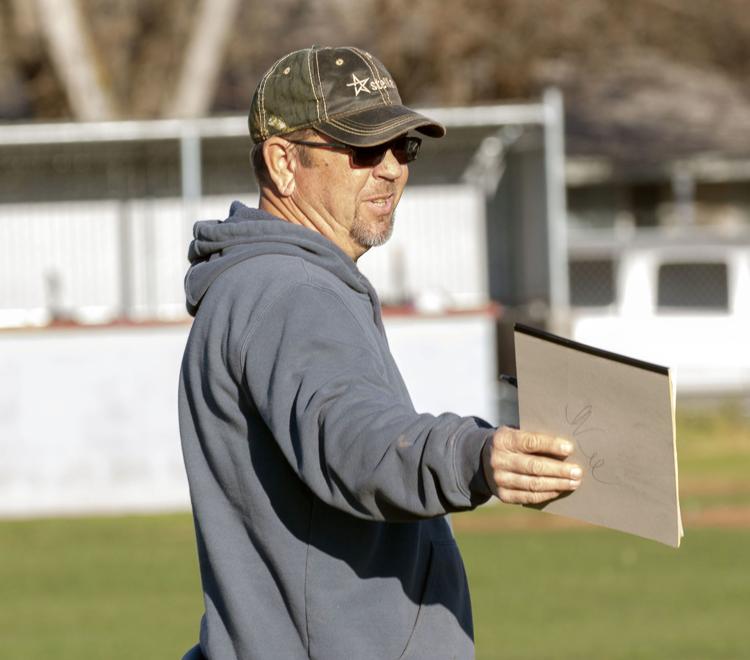 Longtime junior varsity football and softball coach Harley Parson departed as coach for both of the programs. Leaving both those programs was not the end for Parson however, as he took over as head skipper of the Patterson High varsity baseball program this spring. 
Parson has been a coach at Patterson High in one capacity or another since 1988. 
Taking over the varsity girls soccer program was Sheila Ludwig. Ludwig had coached the junior varsity program for 11 years, but this was the first time in her coaching career to take on the role of varsity head coach. Ludwig has been coaching for 38 years overall, beginning with coaching for the California Youth Soccer Association at the Division I competitive level. She coached at Livermore, Santa Rosa, Sebastopol and then Patterson during that time. 
The varsity volleyball program received their fifth new coach in six years, when Dana Williams was announced as the head coach of the program in the late summer. 
Williams was the former Creekside Middle School volleyball coach before taking the job at the PHS varsity level. She shared that volleyball has been a huge part of her family life since childhood, and playing the sport is a family tradition.