The young man has done it. After just narrowly missing the cut as a freshman, sophomore Jesse Cota has pierced through the ceiling with a 2020 CIF State Wrestling Championships qualification in year two of grappling at the high school level.
This season has been a year of growth for Cota. Not only did he sprout and added a couple of inches to his height, but he also moved up from 106-pounds to 113-pounds this season.
All these changes came amidst dealing with the reality that he knew he was so close to a state berth last season. Cota shared his mentality heading into this winter's campaign.
"I was still mad from last year, so I had to bring that back into play this year," Cota shared. "Now it feels really good to make state."
Cota's success makes him the third wrestler (Cota, Mokbel Obied and Noah Mirelez) in the last four years to qualify for a State Championship from Patterson High.
"It's spectacular. It's a good feeling to see that our program is blossoming, and we look forward to all the incoming kids that can help us achieve these goals," head coach Artie Rivera. "Jesse wanted it this year and here is going for his first run, which we are excited about. We are just going to get out there and see how far we can take it. It's going to be a tough battle. This is the best in California. We are hoping to go out there and wrestle with those guys. Jesse has the experience. He has talent. We are going to see how far we can get him. To get on that podium would be a major goal for him, his family, for our program and our school."
Cota will do so coming off a fifth-place finish in the 113-pound weight class at the 2020 Masters Meet held at the Stockton Arena.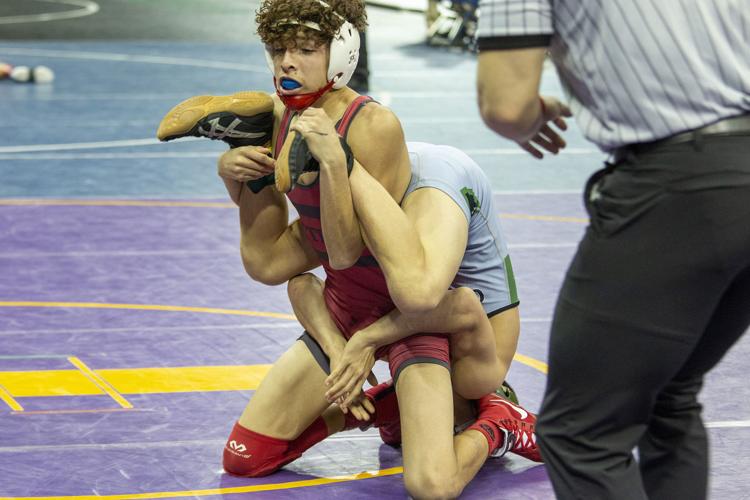 He ensured he would at least have a spot at the table by winning his first three matches. All the wrestlers in attendance knew if you win the first three then you're in. With each consecutive victory, the tension builds and with that tension, the competition itself only gets tougher the deeper you make a run.
His tournament run began with a pinfall victory over sophomore Jeremy Lapham of Bear Creek in the first round.
Cota then pinned sophomore Talon Niimi of Granite Bay in the second round to advance to the quarterfinal round, setting up a match against freshman Dustin Merlos of Modesto Christian.
Cota got the best of the encounter with yet another pinfall victory. These three wins meant Cota was at least guaranteed a top-six spot in the division, therefore qualifying him for a State Championship berth.
Cota was not alone in celebrating. Along with fellow coaches and wrestlers, his family was in attendance like they have been for every event all season. Whenever Cota was competing on the mat, his family was somewhere to be found in the stands rooting him every step of the way.
"I was just so happy and couldn't wait to talk to my dad and my brother," Cota said. "When I went up there, they were just hugging me and lifting me up. They were really proud of me."
Like many wrestlers in the grappling community, this moment was not only a proud moment for Jesse but the entire Cota family.
His older brother Daniel Cota wrestled for Patterson High for four years. During that span, Daniel qualified for Masters three times. Wrestling for Modesto Junior College in 2018, Daniel placed third at the CCCAA Wrestling State Championships. It's safe to say wrestling is in the blood.
Jesse will now add to that and begin to build his legacy in his own right and just may own the ever-important upper hand when it comes to brotherly banter and bragging rights.
Jesse shared his brother has been supportive by helping to coach him and offering advice and encouragement. His qualifying for state was truly a moment both could share.
"My brother was like I knew you could make it and he was very happy I made it," Cota said.
Jesse finished off his tournament by taking on junior Salahdin Farukh of Valley High School in the semifinal round. Farukh won the match via decision sending Cota to a rematch with Niimi. Niimi got the upper hand in the second bout with a 6-4 decision victory.
Cota took on senior Michael Mallot of Union Mine High in a fifth-place match where Cota regained momentum by ending his tournament run on a win.
The State Championship berth only reinforced what was already a great season from Jesse. After a strong showing at the James Riddle Memorial tournament back in December, Cota took first place at the Los Banos Morning Star and Rumble in the Jungle tournaments.
He was dominant at the CCC Championships taking first, and went undefeated at the Division III tournament, before losing only to Oakdale's Brayden Abell in the finals. Abell is a fellow State Championship qualifier and has consistently ranked in the top 10 of The California Wrestler state rankings this season. Abell took first place at the Masters Meet over the weekend.
Cota will be joining nothing but the elite grapplers the state of California has to offer at the high school level.
He will begin his State Championship with a match versus 15th ranked sophomore Devin Avedission of Temecula Valley High School. The winner will earn the right to face Josh Acala of Frontier High School in the next round. The top eight spots earn a medal.
Cota shared what he hopes to get out of his first State Championship visit.
"Hopefully a couple wins but have fun most of all. See where I can get better for next year."
The 2020 State Championship is scheduled to be held from Feb. 27-29 at Mechanics Bank Arena (formerly known as Rabobank Arena) in Bakersfield.
The boys championship tournament is scheduled to begin on Feb. 27 at 1 p.m.
The consolation round begins on Feb. 28 at 9 a.m. The quarterfinal round is scheduled for 3:45 p.m. later that day.
Semifinal and championship matches will take place on Feb. 29. The championship matches are slotted for 6 p.m. that evening.