Just a tick over six seconds remained in regulation in a game that saw the Patterson High boys varsity squad with possession and trailing visiting Atwater 49-48. To even get to this point, plenty of turbulence preceded this moment. Let's rewind.
Patterson had to fight back. After trailing 20-13 after the first quarter, they went on to win the second and third quarter, leading to a tie through three frames.
During all this, adjustments to the rotation had to be made late.
The Tigers' primary point guard JT Kuderca was sidelined late in the second half due to an injury, leading to heavier minutes from junior Cris Delgado and sophomore Kwame Appiah down the stretch.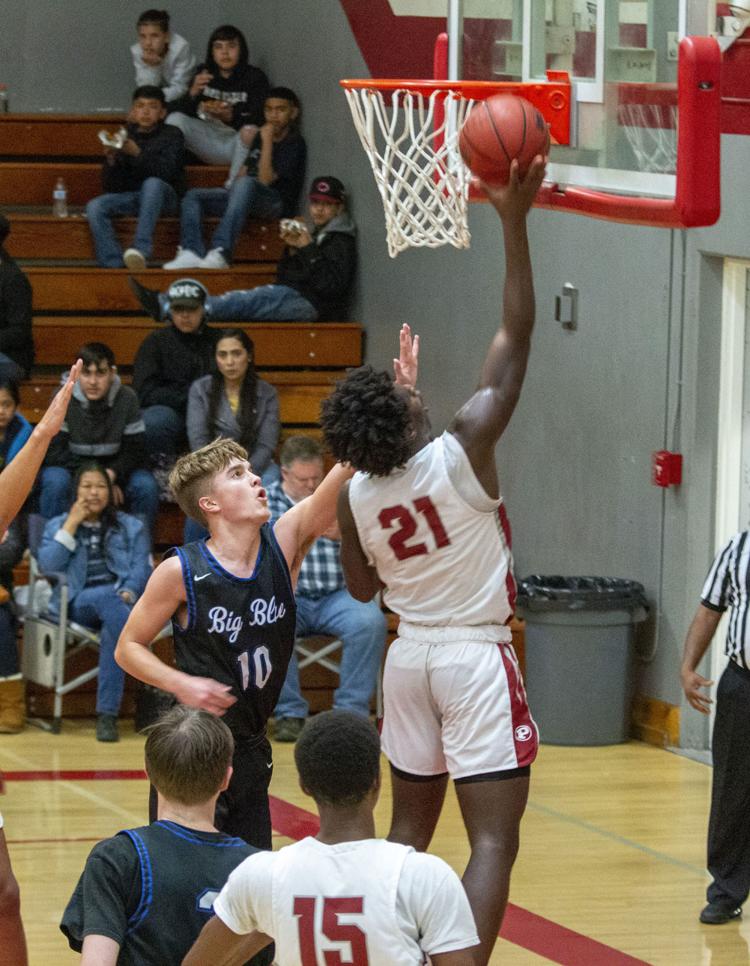 Sophomore Precious Nnaji had been huge for Patterson throughout the game and led the team in scoring with 14 points, five rebounds, one assist, one block. His effort through the first three quarters was critical to the Tigers, going blow for blow with Atwater. Yet Nnaji was forced to sit out and watch the resolution due to fouling out of the game late in the fourth quarter, resulting in an opportunity for senior Carmichael Jones in the waning moments of regulation.
The first seven minutes of the final frame did not produce a decisive advantage. With 2:42 remaining in the fourth quarter, a three from sophomore Jeremiah Turner tied the game back up at 42-42.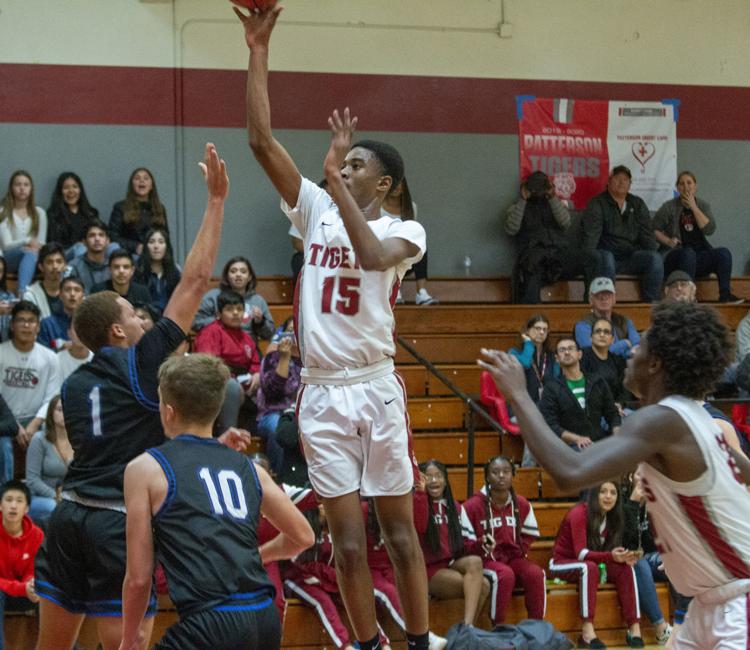 With 1:34 left in the game it was tied 44-44. With 37.7 remaining it was even at 46-46, when junior Yannick Andzouana came up with a made shot to knot it up. Andzouana finished with 10 points, seven rebounds, three blocks and an assist.
Patterson then took a heavy punch from Atwater senior Jordan Williams, who hit what felt like a dagger three-point shot, giving the Falcons a 49-46 lead with just 11 seconds left on the clock.
After drawing up the play that led to Williams' shot just moments before, Atwater head coach Kanoa Smith then adeptly told his team to foul Patterson on the inbound while up three points.
This led to Appiah heading to the line. Appiah calmly made both free throws to trim the deficit to 49-48. Patterson then returned the favor by fouling freshman Colton Dukes on the inbound, sending Atwater's leading scorer this season to the line. Dukes stunningly missed both free throws to a raucous reaction from the homecoming crowd.
Despite all the setbacks. Despite giving up a three-point shot late. The Tigers were still breathing, and with six seconds left had a chance to redefine their 2019-20 season.
Head coach Jason McCleeery said the decision to have Appiah go for both free throws and then foul Atwater on the inbound was not a given.
"My initial reaction was if Kwame makes the first then have him try to miss the second and go for the rebound because I felt we had Yannick and Carmichael that can get up, but Chris and James, my assistants, said no let's just play it out. We can knock it down. Let's just foul quick and then see if we can get one with five or six seconds left. They were right. That's what assistants are for," McCleery said with a chuckle.
All this was par for the course for a final three minutes of the game that produced four lead changes. Of course, Patterson would have a chance to win with six seconds. Of course, this was all happening on homecoming night in front of a lively crowd, and of course it had to end in dramatic fashion.
On the final play of the game junior Logan McCleery inbounded the ball to Andzouana.
Andzouana quickly glided down the court and found an open Turner near the left arc of the three-point line. Turner did not take a jumper, but instead with no hesitation saw an open lane and drove straight through the paint and offered up a layup. The buzzer signaled the expiration of regulation as the ball went through the net.
The tension had been released. The crowd rushed from the stands and thronged their homecoming heroes. Inside the confines of Dave Klein Gymnasium was a spectacle.
"Basically, we were looking to give it to my teammate Yannick. He was going to dribble it down and look for an open teammate or just take it down the lane," Turner said following the late heroics. "Coach told me if it was there just take it. I saw the open lane. My opponent was slacking off on me, so I just took it and laid it up. It felt amazing. This was an important game. It was our next step to try and make it to playoffs."
McCleery weighed in on Turner's shot.
"I am so proud of him for doing what he did and going right to the rim and not settling for anything. It just all worked out perfectly."
The team's winning effort against Atwater has made it three wins in the last four games for the Tigers. After starting off 0-3 in the Central California Conference, Patterson now owns a 4-5 record in league play. This change in the script has boosted them to fourth place after Friday night's round of games in the standings.
Buhach Colony sits at 4-4 in third place, meaning there is a narrow separation between the two teams for the third and final playoff spot in the CCC.
"I just challenged the kids at the halfway point. I said look we're 2-4. If we can get to 6-6 there's an opportunity for us to make playoffs. Let's just put our work in," McCleery said. "They're realizing how good they can be. They're playing unselfish, and defensively, they're locking it up and starting to understand that they have to help one another and guard the basketball, not just stay on their man. I think all those things are just kind of snowballing into what we are seeing right now, which is really good basketball."
Three league games remain to see if Patterson can accomplish the turnaround they desire.
They played Central Valley (1-8) on Wednesday, Feb. 5 for senior night at Dave Klein Gymnasium after press time. The Tigers will then travel to one of the league leaders in El Capitan (8-1) on Feb. 7 before wrapping up their campaign at Merced (2-6) on Feb. 12.