It is officially out of their control now.
With their 53-35 loss to Merced on Tuesday, the varsity girls basketball team can now only sit and await their fate in regards to playoff ambitions.
The loss meant Patterson could no longer capture the third and final playoff spot in the Central California Conference.
Yet all hope is not lost for the Tigers. Patterson can still make it into playoffs as an at-large qualifier. Unfortunately, with a bye in the final round of games on Thursday, the Tigers can only ponder what will be.
"It's literally a waiting game now. We have to see how other teams do to see if we even have a chance to get in. We won't find out until seeding is done on Saturday to find an answer," head coach Elizabeth Tolleson said following the loss. "We're finally making the strides we want to make. Unfortunately, it's a little too late, but hopefully playoffs will be our second chance."
The CIF Sac-Joaquin Section playoffs are scheduled to begin on Feb. 17 should Patterson qualify.
Merced, on the other hand, captured their 11th win in the CCC with their victory on Tuesday. The Bears will go into their final game against Golden Valley on Thursday as CCC Champions, and will be playing to preserve an undefeated season in league play.
The Bears grinded their way to an early lead against Patterson on Tuesday. Neither team was able to buy a basket the first three minutes of the game, but Merced finally broke the scoreless streak at the 4:45 mark in the first quarter.
Points were hard to come by, but it was especially a struggle for Patterson in the opening frame. By the end of the first quarter the Tigers were blanked 11-0.
The team showed some fight in the second quarter, trimming the lead down to 15-11 with 3:05 left in the second, but an 8-4 run by the Bears resulted in a 23-15 deficit at halftime for Patterson.
The third quarter began well, with the Tigers cutting the lead down to 23-20 in the opening minute, but Merced regained their composure. Minutes later the lead ballooned up to 39-25, and Merced never looked back.
Merced senior Sierra Smith led all scorers with 15 points. Senior Kaitlynn Perez had 13 points and senior Khya Martin finished with 11 in the win.
Patterson was led in scoring by senior Kiana Kainoa with 12 points. Senior Jordan Patterson and sophomore Kealohilani Tufono chipped in with seven points each.
Senior Night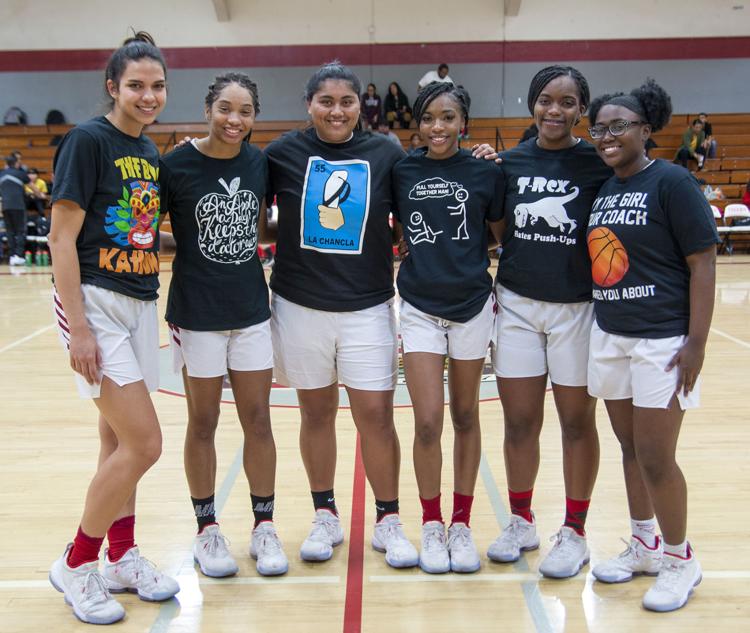 Six seniors played for what will likely be their final time at Dave Klein Gymnasium on Tuesday. The seniors were honored with a presentation before the game, and the gym was decorated with photos of the seniors ranging from their childhood to their tenure at Patterson High.
The seniors honored were Shaila Chowdaury, Jordan Patterson, Aniyah Thomas, Amirah Okitukunda, Kiana Kainoa and Jacinta Ayo.
Patterson wins by the skin of their teeth against El Capitan
The Tigers were fighting for their playoff lives. After a 3-2 start in the Central California Conference, the Patterson High varsity girls basketball team hit a slump, losing five straight that had the team searching for answers.
Patterson stopped the bleeding on Feb. 4 with a win over Central Valley, getting the Tigers an important win.
Last Thursday was yet another chance to climb their way up the standings, when they hosted fourth-place El Capitan on Feb. 6 at Dave Klein Gymnasium.
It was close, but the Tigers staved off a comeback attempt from the Gauchos to win 45-43. The win tied Patterson and El Capitan for fourth place at the time. The top three teams advance to playoffs. Patterson could also still qualify for playoffs as an at-large qualifier. In order to do so the Tigers need to maintain a top 15 ranking in the maxpreps.com Sac-Joaquin Section Division III girls basketball rankings. Patterson is ranked 14th after Tuesday's loss to Merced. Rankings will be updated Friday.
Head coach Elizabeth Tolleson explained that last Thursday's win was more than just about the playoff picture.
"I think it's more than just the standings. I think it's us. We wanted this game more than anything and we deserve this game. We knew last time we went to El Capitan that we deserved to win. We just couldn't do a couple things to pull that off, so now we want to prove to ourselves that we are a much better team than our record shows," Tolleson said. "It lifted the morale up for the team because everybody started to hang their heads in there...Finally they're getting the outcome they deserve because they're playing well poised basketball."
Defeating El Capitan last Thursday proved to be no easy task.
Patterson went into the final frame up 28-25 after El Capitan went on a 4-0 run to close out the third quarter.
The Tigers built a 38-33 lead with 3:38 left in the game, but less than a minute later that lead was shaved down to 40-38. El Capitan tied it up at 40-40, but back-to-back made free throws from Kealohilani Tufono restored that two-point lead with 2:01 left.
El Capitan countered with an impressive deep three from senior Daniela Belmonte to give the Gauchos a 43-42 lead, but on the next possession Patterson senior Amirah Okitukunda was fouled on a shot attempt. Okitukunda sank both free throws, moving the score to 44-43.
Tufono then came up with a steal on the Gauchos' responding possession and took the ball herself all the way to the paint and was fouled on a shot attempt. Tufono split the free throws and with just only 0:21.2 seconds left the Tigers held a 45-43 lead. With how well El Capitan shot from the outside, it was a precarious position for the Tigers.
El Capitan brought the ball to the Patterson defensive zone, then head coach Tyler Rogers called a timeout. Tufono pressured the inbound pass and forced a turnover, but unfortunately for the Tigers they were unable to do anything with the possession, turning it over themselves, giving El Capitan one final shot with just over seven seconds left in regulation.
Junior Harmonie Farr went for a half-court heave, but the ball was tipped by the Tigers and bounced underneath the hoop for a final Gauchos inbound play with a little under two seconds remaining.
El Capitan managed to get an open look for Farr, but her corner three attempt hit the top of the rim and rolled off, giving the Tigers much needed 45-43 win.
Senior Jordan Patterson led the team with 14 points, two rebounds and a steal.
Sophomore Emma Medina and Tufono finished with nine points. Medina had six rebounds, one steal and one assist to go with her nine points. Tufono tallied two rebounds and one steal.
El Capitan senior Caly Curran, Belmonte and Farr all finished with nine points each.