When push came to shove, the heavyweight match between Patterson senior Aaron Botkin and Buhach Colony's Joel Lara would decide who went home with the win or loss during their first dual meet of the 2020 Central California Conference season.
Patterson went into the final match trailing 39-35 against the Thunder. This meant that the Tigers not only needed a win from Botkin but needed to specifically win via either pin or technical fall to snag the points needed to leapfrog over the Thunder and take home the win.
Lara came out gunning and attempted to blitz Botkin early, but Botkin weathered the storm and caused quite a ruckus at Dave Klein Gymnasium when he slipped behind his opponent's back before dragged his opponent to the mat and pinned him just inside the first minute of the round.
"We told him we really needed this one. That it all came down to him, which is not something out of the norm for him because last year and the year before he's really stepped up for us. We can always count on Aaron to come up clutch for the win," head coach Artie Rivera said visibly thrilled with the result. "Aaron stayed calm. He didn't overreact to the situation and he capitalized on his hard work. Aaron puts work in everyday and it's showing on the mat. I can't explain how excited I am for this win."
Botkin's heroics in the final match capped off a night that Patterson did not have a chance at too often last year. The squad struggled to fill a full lineup last year, and it cost the Tigers several matches due to forfeit. Although Patterson had three forfeits at 108, 184 and 197 pounds in their match versus Buhach Colony, it was a far cry from the experience the squad had to endure last season where they had to be perfect in order to overcome a slew of forfeited matches. This was not lost on Rivera.
"It feels spectacular. We did lose to these guys last year because of forfeits. This year it was exciting to fill up that lineup. It feels great to get out there and get that win and not lose because of forfeits," Rivera said.
Botkin closed the show, but that wouldn't have been the case without the matches before him creating those conditions.
Buhach Colony got on the board first with a forfeit victory at 108 pounds, but junior Jeremy Hernandez recouped those points with a pinfall victory in the first round of the 115-pound match, to tie the team score up at 6-6.
Sophomore Jesse Cota was sharp against Adam Cordiano in the 122-pound bout. Cota put together a technical fall victory to give Patterson an 11-6 lead.
Senior Adrian Barrera (128 pounds) kept it rolling with a pinfall victory in the second round to increase the lead to 17-6. 
Buhach Colony's Matthew Crespo pinned sophomore Aristote Balumbu in the first round of the 134-pound match, making the score closer at 17-12.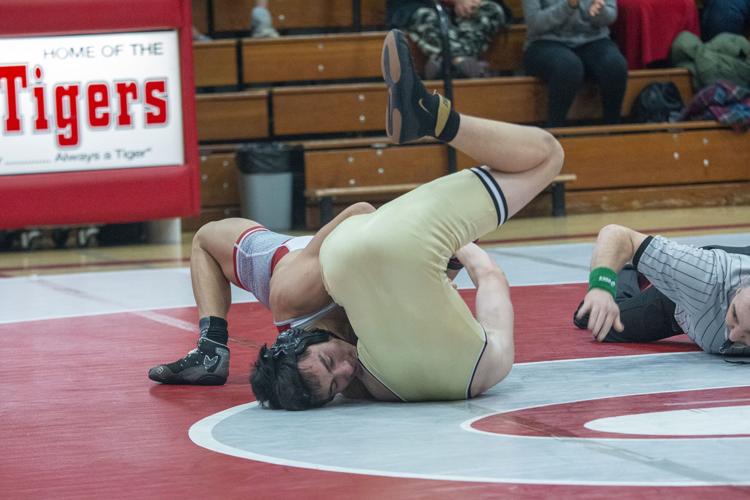 Junior Chase Mirelez and MaClain Oh engaged in a 140-pound bout that took until the third round to declare a victor. Mirelez got the nod with a pin, to push the score to 23-12.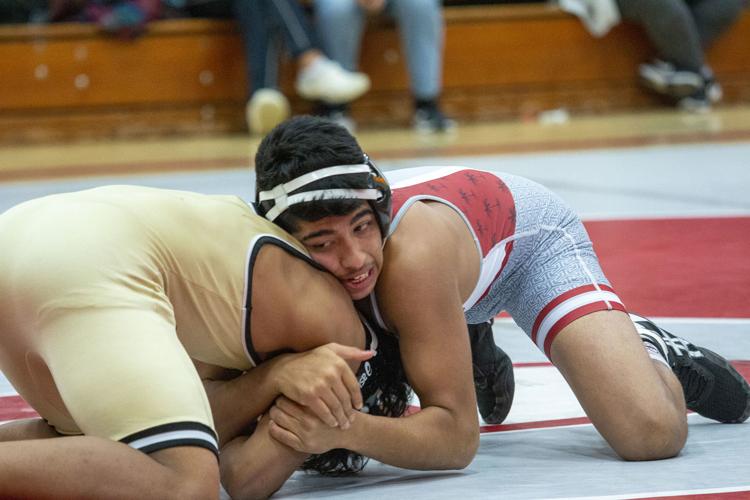 Junior Noah Cruz also won via pin in the first round of the 147-pound match, increasing Patterson's lead to 29-12.
Things were looking up for the Tigers, but Patterson would go on to drop the next five matches to make it interesting late.
Thunder's John Bruce pinned senior Ivan Valdespino in the first round, to cut the lead to 29-18.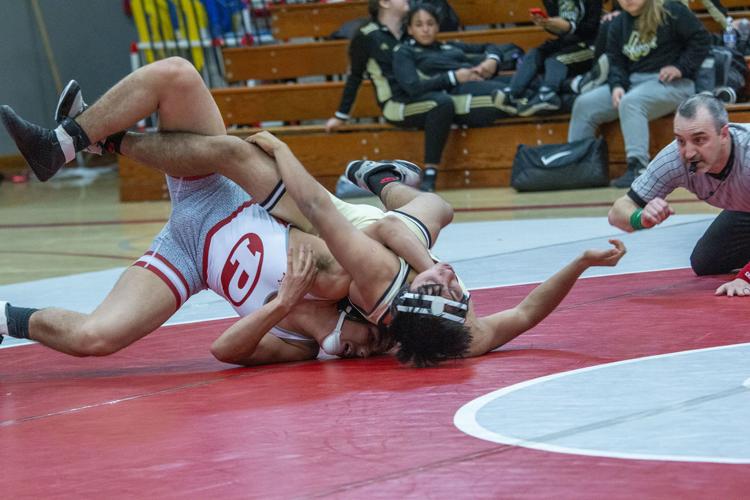 Then Buhach Colony's Arturo Elizalde won by decision over sophomore Anthony Barrera in the 162 bout, before the Thunder notched a win in the 172-pound match. Patterson then forfeited the next two matches at 184 and 197 pounds.
Buhach Colony forfeited the 222-pound match, and when the dust settled the Thunder held a tenuous 39-35 lead over the Tigers.
Botkin's pin over Lara in the heavyweight match put an end to those aspirations.
"They all did good. Even the kids that lost. A lot of new kids went out there and put up a fight. They went out there and tried to do the moves that we've been working on in the room, and that's what we're looking for, is for them to take what we show them and use it. A lot of guys go out there and do whatever comes to them," Rivera said.
Three medalists at Apple Cider Classic
Patterson took four wrestlers to the 12th annual Apple Cider Classic held on Saturday, Jan. 4, held at Watsonville High. Three of the four wrestlers put together nice runs to medal in their respective weight classes. Junior Chase Mirelez led the way with a first-place finish in the 142-pound division. Mirelez received a bye in the first round before defeating Daniel Lopez of Ann Sobarato by pinfall in the third round. Mirelez continued his success with a pinfall triumph over Keith Pelaiz of San Benito in the second round, before winning his semifinal match versus RJ Martinez of Evergreen Valley by pinning his opponent in the second round. 
The three straight wins set up a championship bout between Mirelez and Marcus Murabito of Los Gatos High. Mirelez was not able to win the match via pinfall, but outscored his opponent 7-3 to win a decision victory and claim the top spot.
Sophomore Jesse Cota put together a run 3-1 record in his four bouts, to finish in third place in the 124-pound division.
Cota was given a bye in the first round. He then took on Seth Oliver of Monte Vista Christian in the second round. Cota defeated Oliver by pinfall. He then blitzed Xander Bulatao of Fremont winning by technical fall 18-1 to advance to the semifinals match against Anthony Pavlov-Ramirez of Los Gatos. Unfortunately for Cota he suffered a technical fall loss himself, dropping the match 15-0 to Pavlov-Ramirez in the second round.
The loss meant Cota would wrestle against Kai Tengco of Sacred Heart Cathedral for a third-place match. Cota ended the tournament on a high note, defeating Tengco by pinfall in the second round.
Patterson junior Julian Castano represented the Tigers in the 224-pound weight class. Castano also received a bye in the first round before squaring off with Dominic Catuzzo of Coalinga High. Castano pinned his opponent in the first round. Castano made it two wins in a row in the quarterfinals when he pinned Cade Crowley of Aptos in the third round, to advance to a semifinal match against Msiteni Eke of Menlo Atherton. Eke got the best of Castano by securing a pinfall victory in the second round. Castano was put into a third-place match versus Robert Gulchin of Sacred Heart Cathedral but suffered an injury during the match and was unable to continue, giving Gulchin a victory by default.
Junior Noah Cruz also took the trip to Watsonville to represent the Tigers in the 149-pound weight class. His 2-2 record was not enough to place. He defeated Donnie Guttierez of San Benito due to injury but lost to Ahmed Yazadi of Evergreen Valley by a 6-0 decision, to get bumped to the consolation bracket. Cruz rebounded with a 2-0 decision over Nico Dreier of Sacred Heart Cathedral, then lost to Troy Mita of Prospect by decision.