Junior varsity and freshman programs secure CCC titles
The Patterson High varsity program will unfortunately have plenty of brood over as they head into their bye week in 2019.
Veteran's Stadium at Golden Valley High has proven to be an unfriendly setting to the Tigers. With their 54-24 loss to Merced High on Oct. 19, Patterson has now lost both games played at the aforementioned stadium this fall.
Patterson dropped to 5-4 overall and 2-3 in the Central California Conference. The 2018 CCC champion Merced High improved to 4-4 overall and 3-1 in conference play.
The Patterson offense mustered 17 points through most of the first half to stay in the fight, in a tumultuous back-and-forth affair against the Bears.
Merced stood to enter intermission with an advantageous 34-17 lead with 15 seconds left in the second quarter, after sophomore quarterback Seth Scheidt hit sophomore receiver Cameron Frazier for an 18-yard touchdown pass.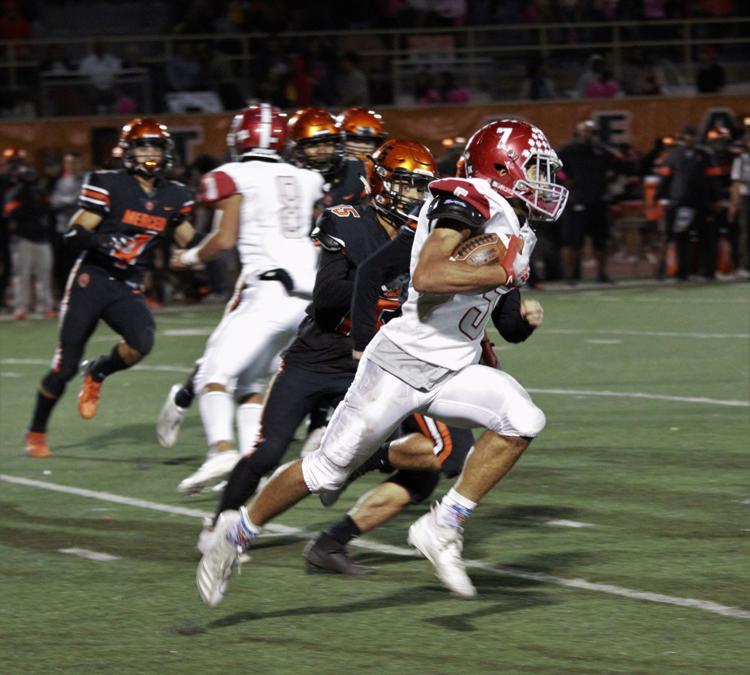 Yet the prospect of an unappealing 17-point deficit at halftime was staved off by the Patterson return team, when senior Obadiah Godbolt wiggled his way through the Merced coverage for a critical 75-yard touchdown with just two seconds remaining in the first half, to give Patterson a boost at the break down 34-24.
Patterson's fortune appeared to continue on the first play of the second half when the Merced return team failed to field the kickoff properly, causing the ball to squirt out as a fumble. Godbolt was there to lie on top of the loose ball, giving the Tigers an immediate opportunity to cut further into the lead with the ball on the Merced 37-yard line.
The offense made headway, but fatally stalled out in the red zone. With fourth down and a yard to go on the Merced five-yard line, the Tigers elected to go for it on fourth down instead of attempting a field goal, but failed to secure the first down. It turned out to be a critical juncture in the game. 
Instead of cutting into the lead, the Tigers were left empty handed.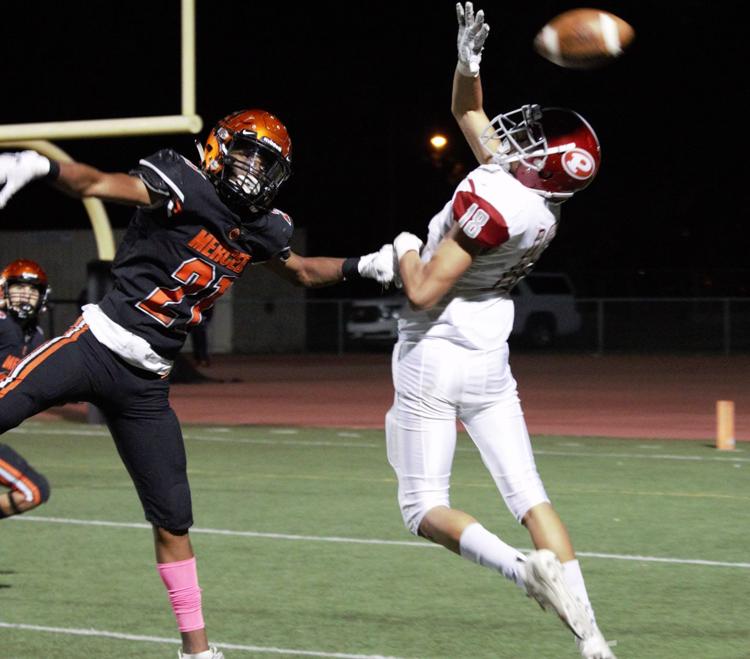 As it turned out, scoring would elude Patterson the remainder of the second half.
"We had momentum. We were down 10. It was an opportunity for us in a fourth and short situation for us to get a first down even without scoring. It would have put us in a first down and goal to go situation, and we came up short," head coach Rob Cozart said in regards to the fourth down attempt. 
Merced marched the ball into the Tigers' territory on the ensuing drive, but were stopped when senior Javier Alvarado snagged an interception off of Scheidt's throw.
Failing to seize on the turnover, the Patterson offense was unable to gain traction and was forced to punt.
Merced never looked back
Scheidt struck again with a 27-yard touchdown pass to senior Gabe Lopez.
Patterson's woes continued when McCleery threw an interception to senior Alfonso Gary on the next drive. It was Gary's third interception for the Bears' defense in the game and McCleery's fourth thrown overall.
McCleery finished the game going 19-25 for 172 yards and a touchdown.
Patterson induced a fumble and recovered for a turnover on Merced's drive, but then gave the ball right back to the Bears on the next offensive play.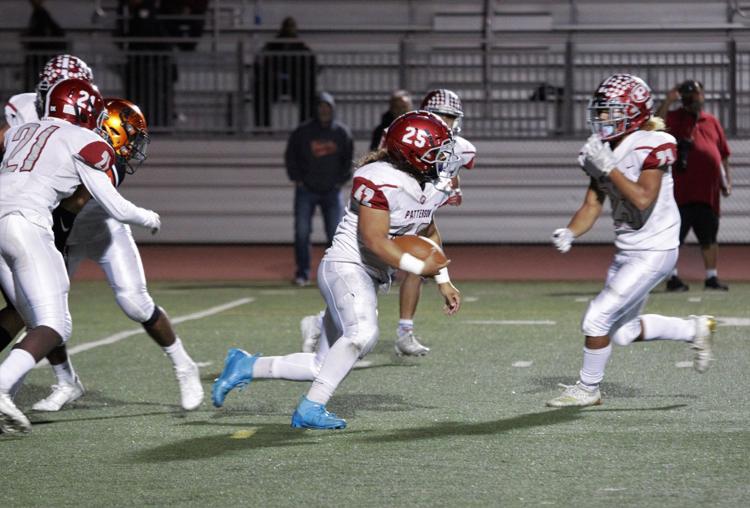 The Bears would tack on two additional touchdowns, with an 11-yard connection from Scheidt to Frazier and an 11-yard touchdown run from senior Desmond Thompson.
Scheidt was excellent for the Bears, going 20-23 for 285 yards and four touchdowns and an interception. The sophomore also had nine carries for 11 yards and a touchdown on the ground.
Scheidt's top target was senior A.J. Cheeseborough. Cheeseborough finished with five catches for 111 yards and two touchdowns.
Frazier had three catches for 50 yards and two touchdowns.
Running back Desmond Thompson had a big impact for the Bears with 22 carries for 166 yards and three touchdowns.
Senior Obadiah Godbolt had a strong game for Patterson in the loss. Godbolt put together 19 carries for 70 yards. The senior also had four catches for 73 yards and a touchdown as a receiver, and a 75-yard kickoff return for a touchdown on special teams.
Junior Miguel Mendiola had two carries for 39 yards and a touchdown.
Sophomore Javier Huizar had five catches for 46 yards for the Tigers.
Cozart stated the team will have to move on from a bitter loss as they head into the bye week.
"I felt like we had guys in position quite a bit tonight and that's the frustrating part and the embarrassing part. We had guys in position the majority of the time, but couldn't seal the deal, couldn't make the plays. We were not consistent on offense at all," Cozart said following the loss. "We had guys that gave everything physically possible," he said, but added that those performances were "overshadowed" by the nature of the loss.
With only one game left against El Capitan on Nov. 1 at Patterson Community Stadium, it will be crucial for the Tigers to win against the Gauchos.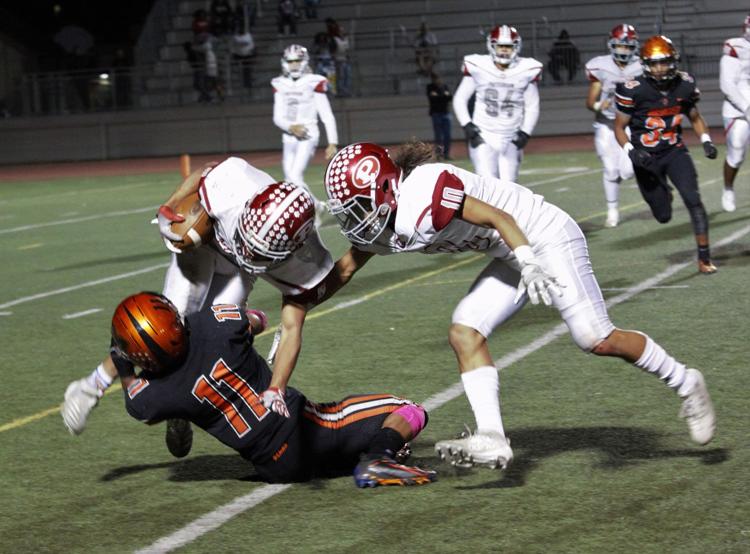 JV and freshmen are CCC champs
This week had a much more positive feel for the Patterson High junior varsity and freshman football teams.
Both teams have had impressive 2019 seasons.
Both the junior varsity and freshman squads have put together 8-1 records this fall.
Both are undefeated in the Central California Conference, and both can lay claim to league titles in only the second year since Patterson joined the CCC from the Western Athletic Conference.
JV
Coached by longtime junior varsity coach Harley Parson, the Tigers have been incredibly dominant this fall.
With a 5-0 record in league play, the Tigers have barged their way to a league crown in year two of playing in the CCC.
Their dominance has included a total of five shutouts: against Tokay (60-0), Los Banos (23-0), Modesto (24-0), Buhach Colony (55-0) and Atwater (34-0).
The junior varsity squad has obliterated their competition throughout most of the season with only 68 points allowed through nine games, while scoring 324 points on offense, for a gaudy 256-point differential over the course of the season.
Merced's 14 points scored against the junior varsity squad on Oct. 19 was the most any team had scored since their only loss (47-0) to Capital Christian on Aug. 30.
If you remove their loss to Capital Christian, the junior varsity has only conceded 29 points against all other competition. All 29 of those points came against league opponents (Golden Valley (8), Central Valley (7) and Merced). Merced and Capital Christian are the only two teams to score in double digit figures. The biggest win of the season by points came in week one, with a 60-0 rout over Tokay on Aug. 23.
Freshman
The freshman squad, coached by Sonny Aumoeualogo, has equally been impressive during their 8-1 campaign.
With 213 points scored and only 44 allowed, the Tigers produced a 169-point differential during their successful 2019 campaign.
The defense has produced five shutouts: over Tokay (38-0), Los Banos (28-0), Golden Valley (21-0), Atwater (10-0) and Central Valley (27-0).
All but two games (26-6 loss to Sutter and a 7-6 win over Buhach Colony) have been won by 10 points or more.
The Tigers biggest win by points came over Antioch High on Oct. 17, when Patterson defeated the visitors 48-6. It was their biggest win since they put together a 38-0 shutout over Tokay in the first week of the season.