A 3-3 tie against El Capitan on Tuesday may have put a slight damper on the Tigers' momentum, but a pair of wins over Golden Valley and Buhach Colony last week combined with an uncharacteristic skid from Central Valley has Patterson sitting at the top of the standings of the Central California Conference, with seven games remaining this season.
It comes at a great time for the varsity squad as they head into an important showdown against rival Central Valley this Thursday.
The margins are close, but the Tigers will carry a two-point lead over the Hawks. Patterson's 4-1-1 record is good for 13 points in the standings, while Central Valley's 3-1-2 record has yielded them 11 points.
No doubt each squad will look to assert themselves, come Thursday at Central Valley High.
"It means a lot. These boys have been waiting for this game since they lost to Central Valley here at home. They're just ready to get that rematch," head coach Luis Torres.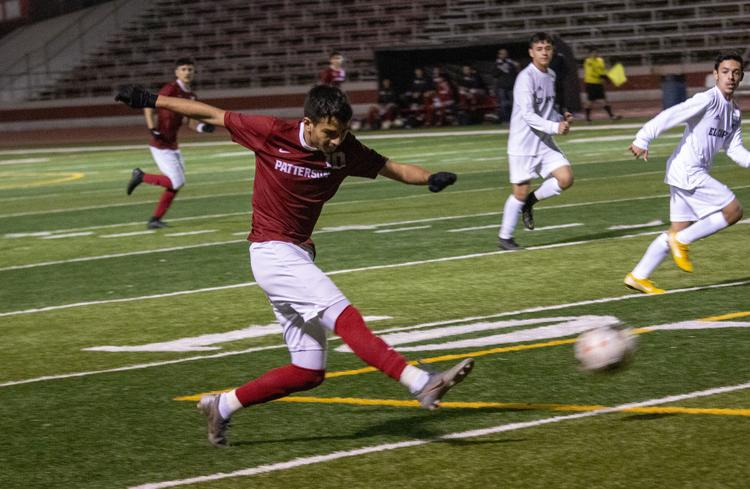 Patterson will do so with a red-hot Jonathan Gallardo helping to lead the charge. In ten games the sophomore leads the team with 10 goals, and his six assists is second only to senior Ricardo Jimenez' seven assists for the team high so far this season. 
In the last three games, Gallardo has piled up five goals and two assists for the Tigers.
"His confidence is up, especially since playing as a freshman for varsity last year. I think he realized that he was one of those players that was able to keep up with any varsity team, and I think that's showing this year," Torres said. "Before the season started, he told me 'you know what this is my year.' I said, 'okay, prove it, and back it up,' and he's been doing so. In every game he's been showing up with an assist or goal."
3-3 tie with El Capitan
Patterson was on track for a win when they went up 2-0 due to a pair of goals from Gallardo in the 22nd and 30th minutes. Gallardo was aided by assists from Jimenez on both goals.
Yet before halftime the Gauchos showed plenty of signs of life when senior Diego Hernandez found the back of the net to cut it to 2-1.
Shortly after halftime the Patterson defense was caught on their back heels, and fouled Hernandez inside the goalie box for a penalty kick. Diego Hernandez made the Tigers pay with his second goal of the night in the 50th minute, and just like that the two-goal cushion was gone.
The game was a battle of wills for the next twenty minutes, as El Capitan and Patterson took turns developing scoring opportunities.
The Gauchos broke the stalemate when David Hernandez scored in the 73rd minute. The El Capitan side celebrated, but that jubilance was short-lived. 
Just moments later the Tigers evened the score. Sophomore Alec Castorena scored his first goal of the season, and it was an important one in the 73rd minute to tie the game up at 3-3.
"We knew they were going to come in hard. They were coming off an important win against Central Valley," Torres said. "It showed in today's game. We scored two goals, but they had their chances. Miguel (Cortez) had three one-on-one saves in the first half that kept us in the driver's seat," Torres said. "We scored those two goals, and I think we got a little too confident. We kind of laid back a little bit and they ended up tying the game. I think this game had a little mix of everything."
Tigers defeat Cougars and Thunder
Patterson had a strong showing last week, outscoring their two opponents by a total of 10-3 over the course of the pair of outings.
Patterson got into a shootout with Golden Valley on Jan. 14, winning the match 5-3.
Junior Nathanael Farah had perhaps his best showing of the 2019-20 season, with a hat trick against the Cougars. Sophomore Gabriel Abellana notched a goal and an assist, while sophomore Jonathan Gallardo pitched in with a goal. Senior Ricardo Jimenez posted two assists.
Golden Valley senior Jair Hernandez also had a hat trick. Juniors Carlos Morales had one assist, and David Ledesma finished with a pair of assists.
Patterson's offensive onslaught would only continue when they bested Buhach Colony 5-0 on Jan. 16 at Patterson Community Stadium.
Farah and Gallardo continued their groove against Buhach Colony. Farah opened the scoring with a goal in the 29th minute of the match. Farah's performance last Thursday gave him four goals in two games.
Gallardo scored a pair against the Thunder, notching goals in the 36th and 56th minute mark making it three goals and two assists over the two games.
"It's great because they both play in a club together. It just makes it a little easier for us as coaches. With a little feedback and guidance, they click right away. When you have players that have been playing together for a long period of time, it takes some pressure off the coaching staff and other players. You just have to give them a little push, and they got it," head coach Luis Torres said about Farah and Gallardo.
Patterson also received scoring efforts from junior Prabnoor Singh in the 41st minute and senior Cesar Casillas in the 57th minute.
"It's a pretty good feeling. They're in such high energy because they're playing so well. Offensively we have been doing so great," Torres said about his team's offensive explosion during the pair of wins over Golden Valley and Buhach Colony.
With Central Valley finishing with back-to-back ties to Golden Valley and Buhach Colony, the Tigers' pair of wins gives them 12 points, for a one-point lead in the Central California Conference standings heading into the round of matches on Jan. 21.
Torres is just trying to keep his team focused on the moment and not get too ahead of themselves.
"I've been telling the boys one game at a time. Our staff knows we are a strong team in the midfield. That's been our strongpoint, to keep moving the ball in the middle and pushing the ball forward," Torres said. "We didn't think this team (Buhach Colony) would be as casual today. They just tied Central Valley not too long ago, and we could have been surprised, but fortunately we stayed consistent and kept moving the ball and scored."