In a span of a year, the Patterson Futbol Club has seen dramatic growth in its program size and success.
Last year, a group of 16 girls teamed up to form the first official squad of the organization, but one year later the program has grown from a meager 16 to 130 kids and eight teams.
Recently at the San Ramon FC Soccerfest tournament sanctioned by US Club Soccer, the Patterson Futbol Club left an imprint.
A total of four teams left their mark, earning top two finishes at the tournament that spanned from Aug. 25-26.
The U17, U14 and U12 boys took home first place finishes, while the U16 girls (the same squad that helped found the organization last year) took second place at San Ramon.
"It was great to see three of our four teams win championships at the tournament. We also have our U16 girls "the face and foundation of this club" come in second place against hard competition," Patterson Futbol Club president and coach Jose Rubio said of the team's success at San Ramon.
It has been a quick expansion for the still young club, but Rubio expressed a lot of positivity about the organization's' direction.
"I feel very accomplished in the mission we set for ourselves," Rubio said about the organization's success. "Amazed on how quick things moved. We grew so quickly and we are projecting about 250 kids in competitive soccer by next summer."
Rubio explained there are currently eight teams in Patterson Futbol Club currently, but hopes to continue expanding. He also shared that the club intends to apply for the NorCal Premier League, and hopes to be eligible to play league games by spring of 2019.
"One of the club's main focus is for these kids to continue their education at a college level. Soccer gives them a shot at a scholarship. We continue to work hard. All these kids put in log hours of training to reach their full potential!! These kids know sacrifice. They miss out on a lot of normal activities to be playing at his level with such high commitment they deserve all the credit," Rubio said.
U17 boys play above their age group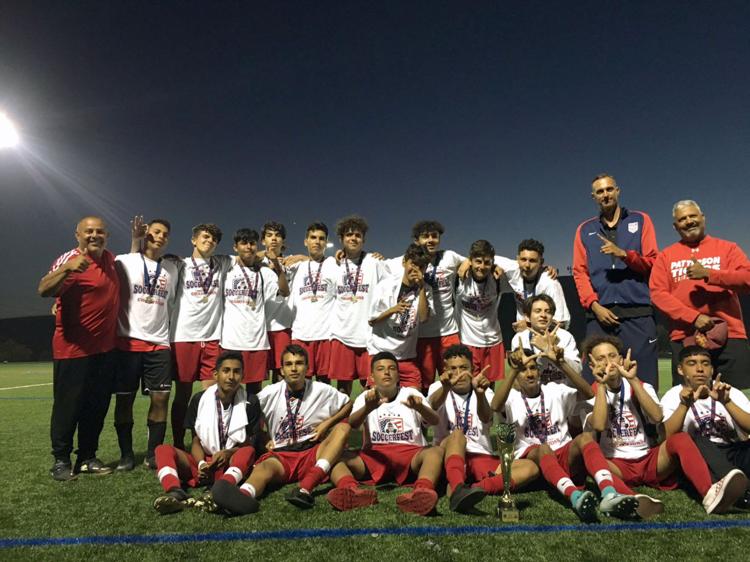 Due to a lack of teams available to play in the U17 boys group, the Patterson Futbol Club squad was forced to play in the U19 boys division instead. The squad was up to the challenge.
Patterson only trailed the Mustang SC Mustang Liverpool Revolution Club after the group stage.
Patterson finished group play with 17 points, while Mustang SC led the bracket with 20 points, setting up a finals match between the top two finishers.
In the finals, Patterson outscored Mustang SC by a score of 3-2 to win the tournament title.
The squad is coached by Patterson Futbol Club president Jose Rubio and Aaron Gentry. Team members include: Cesar Casillas, Diener Castillo Alay, Uriel Cuevas Delgado, Angel Escobar, Carlos Hermosillo, Luis Maravilla, Ivan Medina Corrales, Isael Medina-Ramirez, Juan Mora, Imanol Ramirez Perez, Stevie-Ray Rastellini, Saul Rivera Jimenez, Joshua Sierra, Prabhnoor Singh, Manuel Solorio Morales, Vidal Valencia, Ubaldo Valencia-Avalos and Johnny Gallardo.
U16 girls take second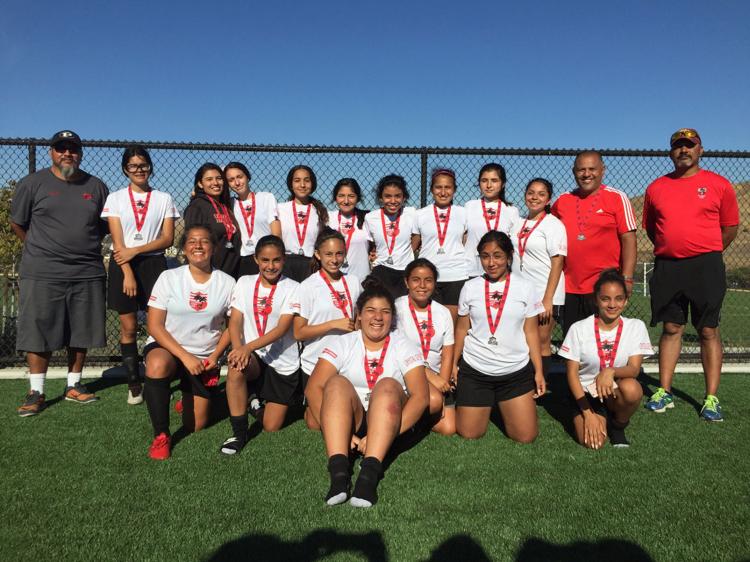 What a difference a year can make. One year ago, the Patterson Futbol Club U16 girls squad was the founding team of the organization, and hoped to build up from their humble beginnings into a competitive squad.
One year later the team has done just that.
Patterson defeated Mustang SC Mustang Riptide in the first game of the tournament before tying with Mustang SC Mustang Attack 1-1 in the second game, and East Bay Eclipse 0-0 in the third game, earning the squad a chance to replay East Bay in the finals.
East Bay won the group stage with 22 points in total, while Patterson punched their ticket to the finals racking up 16 points in group play.
In the rematch, it was East Bay that got the better of Patterson, winning 2-0 over the Strikers to earn first place. Patterson had to settle for second place.
The team was coached by Rubio, Kiernan Carter and Tony Jasso.
Members of the squad include: Fatima Alvarez Diaz, Elizabeth Arellano-Peralta, Emilia Betances, Natasha Carter, Emma Devoll, Karina Figueroa, Kahlan Gentry, Emily Jasso, Ysela Juarez, Vivana Leon, Viridiana Murillo, Isabelle Rubio, Nadia Ruiz, Yelitza Torres, Ana Torres Hernandez and Leticia Vargas.
U14 boys go undefeated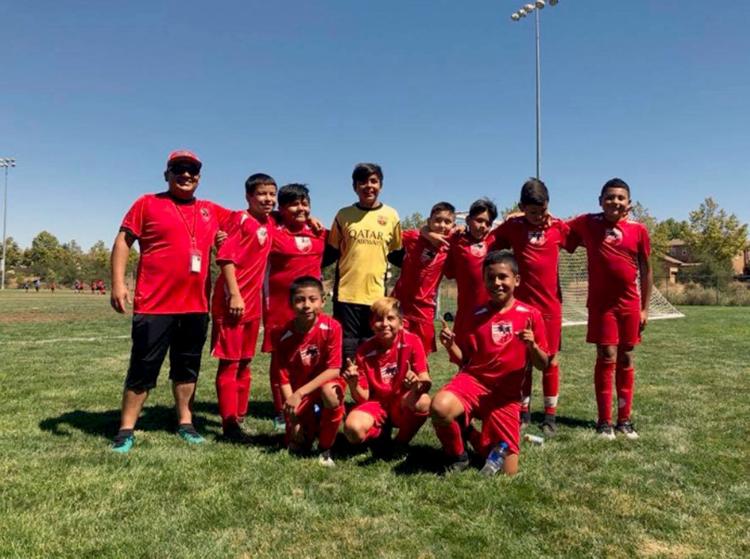 Nobody could stop Patterson in the U14 boys navy division. In the group stage, Patterson outscored their opponents 9-2, including a pair of shutouts in the first two games of the tournament. Patterson cruised through the group stage with 28, points followed by Sacramento United White in second with 20 points, setting up a finals match between the two.
Sacramento was the only squad who posed any resistance to Patterson in the group stage, losing 3-2 in the third match of group stage, but Patterson squashed any hopes of a different result in the final, defeating Sacramento by a final of 4-2 to bring home the tournament title.
The team was coached by Alex Vazquez.
Members include: Edgar Alvarez, Jose Brambila, Goel Calderon, Christian Casillas, Jose Chavez, Angel Cruz, Oscar Herrera, Luis Ocegueda, Jesus Orozco, Anthony Perez, Fernando Romero, Hugo Vazquez and Fduardo Vega.
U12 boys battle their way to first place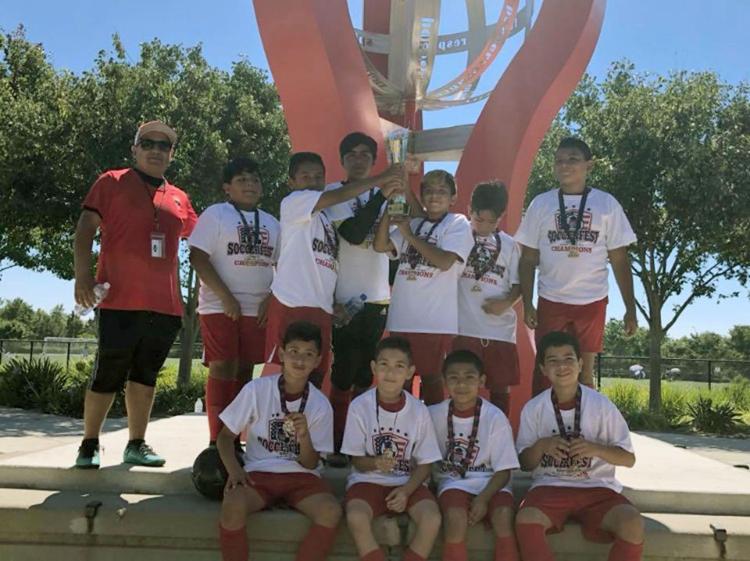 The U12 boys began their tournament with a bang, defeating Mustang SC Mustang Rangers 7-2 in the opener, but the squad had to regroup after losing to Heritage SC Black in the second match 4-2.
Patterson punched their ticket to the finals match, when they toppled Piedmont SC Highlanders Purple 2-0 to set up a rematch against Heritage SC Black.
Patterson got their revenge, shutting out their opponent 2-0 in the final, placing first in Bracket B of the U12 Boys White Division.
The squad was also coached by Alex Vazquez.
Members of the first place U12 boys team were: Edgar Alvarez, David Diaz, Milton Gonzalez, Oscar Herrera, Cristian Lemus-Lopez, Yael Mejia-Cruz, Mouso Mourtazo, Anthony Perez, Roberto Sanches, Cesar Solorio, and Cristian Vazquez.