Godbolt finishes with career high 228 yards rushing
If high scoring is what you like to see in football, then the Patterson High varsity football team's game at Atwater High last Friday, Oct. 5, was a great one to see.
A total of 95 points were scored in a high-octane, 52-43 win for the Tigers, tying the exact total points scored during their loss to Capital Christian in week two of the season on Aug. 30.
The victory came at a crucial time for Patterson, who is now 1-2 in the Central California Conference. Atwater endured only their second loss of the season, dropping to 5-2 overall and 2-1 in the CCC.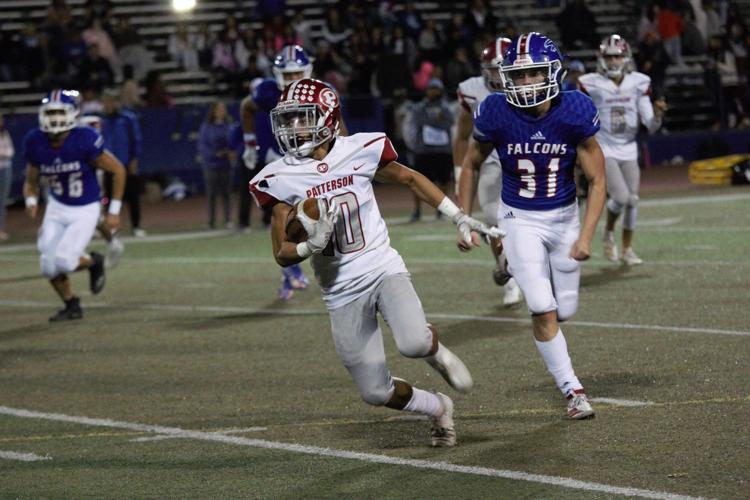 "These guys made some plays tonight and now we are starting to click," head coach Rob Cozart said of his offense, who posted 552 total yards. "It was good to see."
Senior Obadiah Godbolt was simply sensational, posting a career high 228 yards of rushing on 25 carries for two touchdowns. This brought his season total to 618 yards.
Godbolt stated despite being down early, his team kept pushing. He deferred much of his success to his teammates' effort.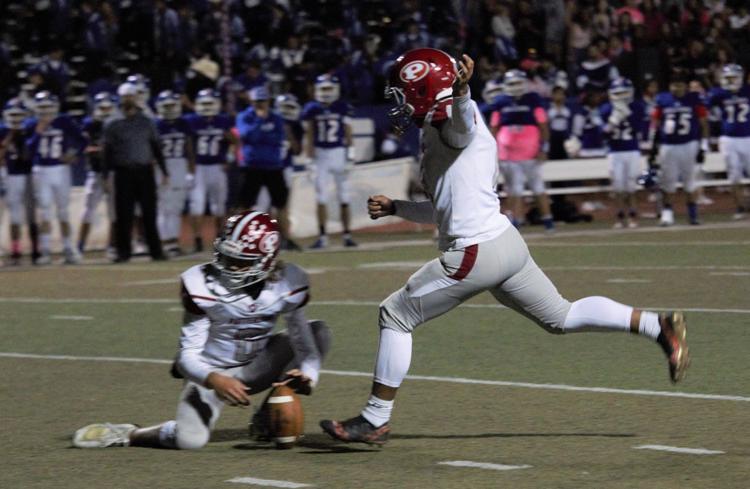 "We never give up. We stick together as a team and build off each other's energy," Godbolt said following the win. The senior was quick to praise his offensive line as a source of his career high success. "Couldn't have done it without my line."
Cozart had high praise for his senior running back's performance.
"One thing that stands out about Obi is that he doesn't take a direct hit and his balance is phenomenal," Cozart said. "He's a big -time player. He may not be a big guy, but he's a big-time player, and we are lucky to have him."
Patterson's passing game came alive in the third quarter. Junior Logan McCleery was efficient for the Tigers, going 11-17 for 200 yards and two touchdowns overall. Both of those touchdown passes came in the third quarter. With his performance last Friday, McCleery is 79-160, for 1,319 yards and 10 touchdowns in 2019.
Junior Miguel Mendiola finished with three receptions for 71 yards and a touchdown. He also had a pair of carries for 29 yards as a running back.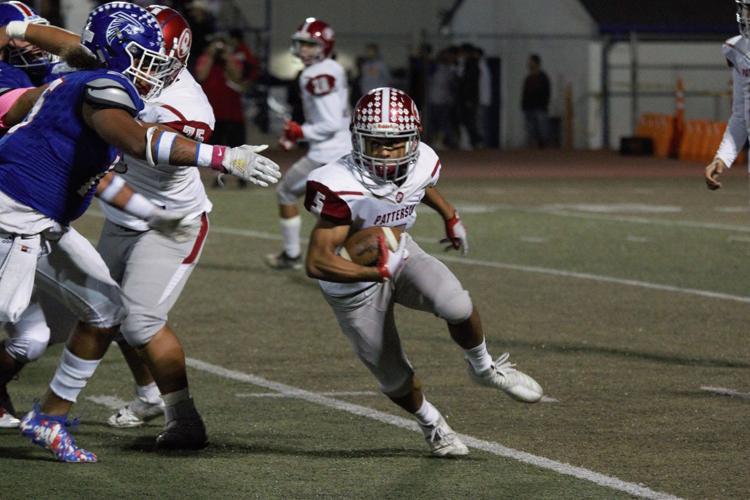 Sophomore Javier Huizar had two catches for 50 yards, while senior Davante Imhoff caught a pair of passes for 43 yards.
Junior Jordan Imada had two catches for 16 yards and a touchdown. He also ran for 68 yards on 13 carries and a rushing touchdown against the Falcons.
Patterson did not have a single first down until minutes into the second quarter; yet despite that, they outpaced Atwater with 21 first downs to the Falcons' 15.
After trailing Atwater 22-7 with 9:37 left in the second quarter, Patterson went into overdrive, outscoring the Falcons 45-21 the rest of the way. In total, the two squads scored a whopping 13 touchdowns overall.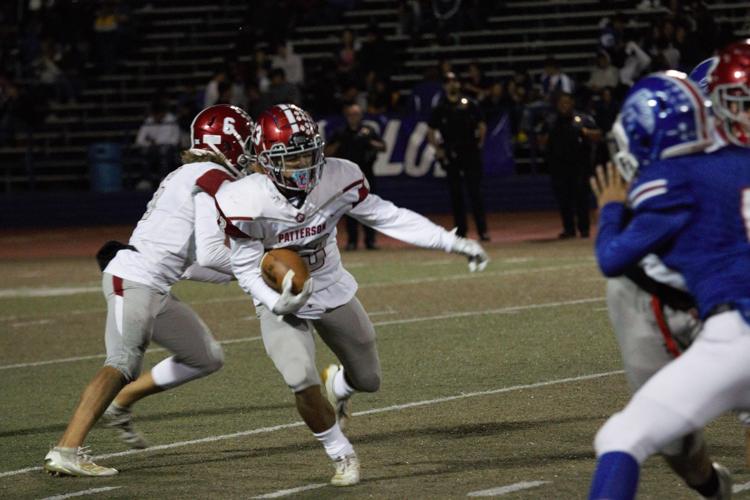 Atwater's Julius Peacock had a big game for the Falcons. The quarterback was 10-17 for 204 yards and a touchdown. He was equally as deadly with his feet, rushing for 179 yards and two touchdowns on just 11 carries.
Senior Charles Jackson was dynamic as a running back and receiver in the Falcons offense. He also hit the century mark with 10 carries, for 113 yards and a touchdown. The senior snagged four catches for 76 yards as a receiver.
Overall, the Falcons posted 355 yards rushing and a daunting 559 yards of total offense.
Rough start but strong finish
Although Godbolt got Patterson started on a good note with a 43-yard touchdown run, the Tigers had just 12 seconds to enjoy that success. This would turn out to be a theme between the two squads.
Just moments after, junior quarterback Julius Peacock gutted the Tigers defense with a 63-yard touchdown run. The Falcons took the lead with a two-point conversion, to go up 8-7.
Atwater added on to the lead with a 25-yard touchdown run from senior Charles Jackson and a one-yard touchdown run from sophomore James Thomas, to go up 22-7 with 9:37 remaining in the second quarter.
A bleak picture began to develop for the Tigers, but Godbolt gave Patterson a shot in the arm with a 65-yard touchdown run 10 seconds later for an immediate response.
Senior Javier Alvarado converted on a one-yard touchdown during his only carry of the evening a little over five minutes later, to trim the lead down to 22-21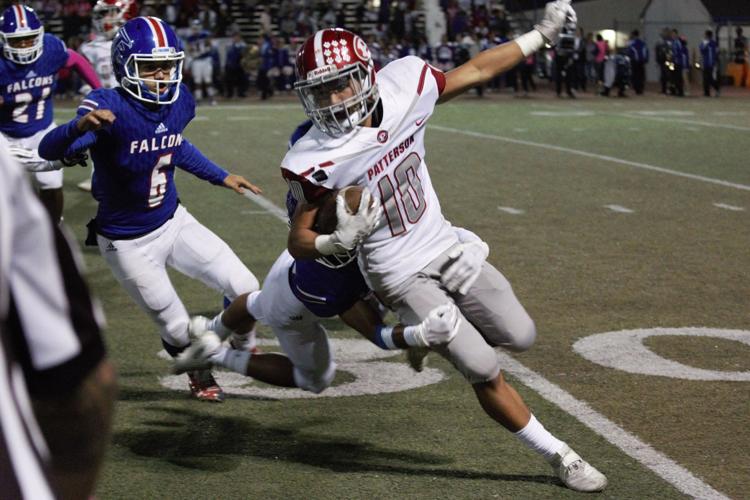 with 4:11 left in the second quarter.
An Atwater fumble that was recovered by Alvarado on the ensuing drive gave Patterson another opportunity to score, and the Tigers did just that, capping off a series of four big plays that ended with a 14-yard touchdown pass from McCleery to Imada, to head into halftime up 28-22.
Atwater received the ball to start the second half, and was on the cusp of retaking the lead when Thomas sprung free down the Patterson sideline with plenty of open space between him and the endzone.
The defense did not give up on the play, and Imhoff hustled back to recover, before jostling the ball free from the hands of Thomas to force a fumble. Alvarado was there once again to recover the fumble and reject an Atwater scoring opportunity.
Patterson took advantage of that mistake when McCleery found Huizar for a 30-yard touchdown pass, increasing the lead to 35-22.
Peacock responded two minutes later with an impressive 50-yard touchdown run, to pull the score to 35-29 with 5:18 left in the third.
The Tigers responded immediately on the next drive. Atwater had just begun to digest Peacock's 50-yard dash when McCleery hit Mendiola on a slant play for a 64-yard touchdown pass, to go up 42-29.
I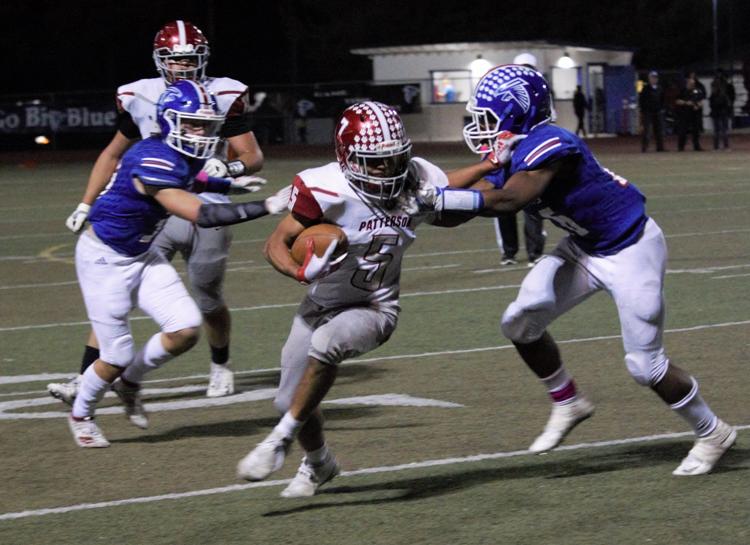 mada tacked on to the lead with a 22-yard touchdown run within the first minute of the fourth quarter to put Patterson up 49-29.
Atwater responded with a 32-yard touchdown run from Peacock, before the Tigers chipped in a 27-yard field goal from the foot of junior Adrian Melesio, to hold a 52-37 lead with under five minutes left in regulation.
Junior Adrian Aparicio-Sanchez had to come in for Peacock as quarterback due to an injury late in the game. He found junior Daniel De La Rosa for a six-yard touchdown pass, to put the score at its 52-43 resting place.
Hawks on Homecoming
Next week will be a festive one for Patterson High as they celebrate their fall homecoming. Coming to take on the Tigers will be Central Valley High. The Hawks are 3-4 overall this season, and are coming off a 30-23 victory over Golden Valley High last Friday, for a 1-2 record in the CCC.
Heading into last Friday's win, the Hawks averaged 145.3 rushing yards per game, and 114.3 receiving.
Quarterback senior Andrew Hernandez was 52-97 for 695 yards, six touchdowns and four interceptions.
Junior running back Isaiah Hidalgo has been the number one option on the ground, with 102 carries for 611 yards.
Senior Eindeveer Hothi (10 receptions for 191 yards), senior Christopher Simental (11 receptions for 132 yards) and senior Dylan Kong (11 receptions for 109 yards) round out Central Valley's top three receivers in 2019.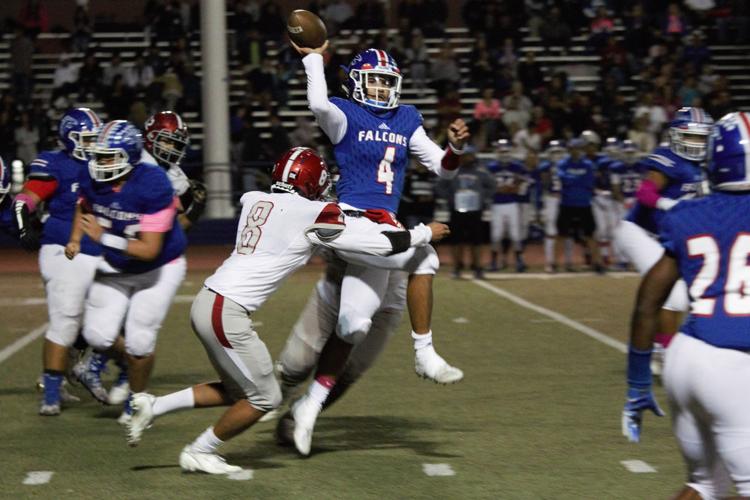 Standings through six weeks
The final three games in the CCC could prove to be a wild finish. Merced and Buhach Colony sit atop the CCC at 2-0 in league play.
Atwater sits in third at 2-1. Golden Valley is currently 1-1, while Patterson and Central Valley both possess a 1-2 record. El Capitan remains winless at 0-3 in the CCC.