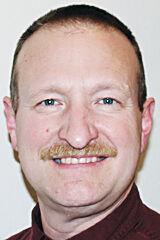 Hey neighbors! As I write this edition of Ken's Korner, we are moving along at thirty-nine thousand feet and nearly six-hundred miles per hour. We just flew over Albuquerque on our way to St. Louis to visit our Missouri family and a few friends.
This has become our new Thanksgiving tradition. The last time any of our children came home for Christmas was 2014. Once the kids stop coming home, it was time for a new plan for the holidays. This will make the sixth year we have jumped on a big old jet airliner and headed east. Nothing could be further from how I grew up.
As a child, we lived ten houses down the street from my paternal grandmother. Thanksgiving Day was a sleep-late day. There was no need for a big breakfast because of what would happen around noon. About eleven-thirty or a little before, we would walk to Gram's house. She started baking and cooking two days before because it takes a lot of time for one little lady (Gram was only four feet, ten inches tall and maybe ninety pounds) to create a feast fit for royalty.
There would be a turkey of some twelve to fourteen pounds filled with stuffing. Gram could not handle a larger bird due to her physical size. Of course, she could have asked for help, but that never happened. She did not need any help, nor did she the last year she made Thanksgiving at age eighty-nine. To go with the turkey there was her famous mashed potatoes, several vegetables (my brother liked peas and I liked corn) a salad or two, Mostaccoli (a pasta dish common in St. Louis), store-bought rolls and some other proper fixings.
The table would be so full, the dishes had to be placed on it like building a puzzle. Even the direction of the handles and spoons had to be worked out carefully. There were always too many different foods to even put a small amount of each on your FIRST plate. The second plate was for favorites and what you missed on the first. Yes, we all ate too much and savored it all. No one put on a feast like my Gram.
But that was just the main course. After the table was cleared of the main meal, it was time for homemade desserts. There was always cherry pie for my Dad and apple pie plus pumpkin pie. Then there were chocolate chip cookies and more. Again, this was a feast fit for royalty.
We would then head for the living room where we each had our spots. Napping was part of the tradition for my parents. Gram had the only color television in the family from 1965 through 1972, so we spent the entire day at her house. The Hasekamps did not watch football and there were only five or six stations in those days, so the choices were few.
About six o'clock, it was time for dinner and leftovers. There were no microwave ovens back then, so many of the dishes were warmed on the stove or in the oven. The turkey was always served cold, usually placed on the leftover rolls with some Miracle Whip. I am getting hungry thinking about all of this.
After a few more hours of watching television, playing pinball and the bowling machine in the basement while listening to the jukebox filled with old 78 RPM records, it was time to walk home. Much of this would be repeated at Christmas, but more on that another time.
By 1973, my parents had moved some fifteen miles west to get us out of the ghetto the old neighborhood had become. Gram continued to live there until the fall of 1980. The only change was we drove to her house, arriving by 11:30 am and no later. Family tradition, you know.
Gram passed from this life in 1994, so our last big Thanksgiving was 1993. My mother knew she couldn't replicate what her mother-in-law did year after year. As I was writing this, I asked my wife what we did in 1994 for Thanksgiving. She could not remember either. Thanksgiving and Christmas were never the same after the death of Gram.
So, our new Thanksgiving tradition is nothing other than traveling to see some of those we love. It hurts having all our family so far away and spread out with children in three time zones. Staying home, maybe going to others we love here in Patterson, is always an option. Who knows what next year will bring.
Take a moment and live in some of your fond memories after reading this. If you get a tear in one eye, it is okay. But also try to make some new memories with those you love. Thanks for reading this neighbor. Enjoy the day and this beautiful holiday season.