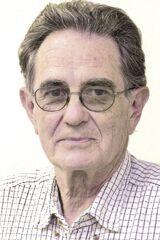 Gatherings to say final goodbyes are often gloomy affairs. That's why I've chosen to write my own eulogy and spice things up a bit. But I also have a secondary reason. Eulogies normally tell only half-truths about the deceased. By composing my own, I get to choose which half and not leave it to chance.
First, let me choose the terminology. I did not pass on, drift away, succumb, expire, check out, blast off, go to my maker, depart, move on, dry up or matriculate. I simply died, a word that has gone out of common usage but one that is a favorite of journalists. That's because "died" fits well in newspaper headlines and saves considerable text space on the obituary page. Just imagine the waste of newsprint if each obituary claiming the deceased "went to his maker!" That would consume a lot of trees.
Now for a bit of history.
I was born in a one-room log cabin in Kentucky and by age 5 was splitting firewood to support my family.
Actually, that's not true, but some people attending funeral services tend to let their minds wander early-on. Now maybe you will pay attention.
No, not Kentucky. I was born at home in a two-bedroom rental in a small Iowa town where I arrived just in time for breakfast.
Many of you undoubtedly grew up in a small town. So you recognize that small town people fall into three categories – your blood relatives, your many friends and a third group your family hasn't spoken to in one or more generations.
So of course everyone in a small community knows the business of everyone else – or thinks they do.
However, small towns do have their advantages. You can participate in just about anything and everything you want – from sports, music, drama, 4-H, Scouts and whatever else is being offered. You were never too small or too slow or too fat or tone-deaf or a klutz. No one was ever turned away from community and school activities - and that included me.
So I tried it all, skipping only Roller Derby – no rink – and Ice Hockey – weak ankles. I actually earned five varsity letters in baseball, roaming around the outfield and feeding hungry mosquitoes for five seasons. Those plump blood-sucking skeeters are the prime reason I weighed only 135 pounds when I graduated from high school.
And of course, most people in town knew of your successes and failures – and they often pointed them out. That's the nature of small town. Everyone knows. And everyone talks.
While the University of Iowa was only 30 miles from home, Iowa State was 90 and thus made my college choice easy. The further away from home, the better.
Having worked at my hometown weekly paper through high school and college, I finally decided on a career in the newspaper field. By then I was highly experienced in sweeping floors, melting down lead, running presses and delivering printing order. However, the career decision wasn't made until I was starting my final term toward earning a degree in Industrial Administration, a field in which I would have been about as inept as engineering.
When leaving Iowa for good, I migrated west, first stopping to take a few journalism courses at the University of Utah in Salt Lake City, and then on to my first full-time newspaper job in Prineville, Oregon. I was there for two years, met my future wife Kay, and with a partner and college friend – Ed Sternberg – found a small newspaper for sale in Patterson, California. That was in the fall of 1962.
Ed and I found Patterson to be a very "accepting" community. People were very nice to us, probably expecting that we would move on very soon. After all, the Patterson Irrigator had no less than five different owners in the 13 years prior to our arrival. What could a couple green-horns hope to accomplish running a small town newspaper? How long would they last?
Three months after Ed and I became co-editors and publishers, Kay and I were married. Our roots were sunk in Patterson for good. This was home. This is where we wanted to raise our family.
Patterson isn't perfect, but its good qualities far, far outweigh its bad. Its history is both unique and interesting.
Outside the newspaper business, which can be brutal on family life, I've been proud to have been associated with three local projects.
The first was the founding of the Patterson Township Historical Society. I was on a 1968 committee that included Virginia Williams, Mario Ielmini, Walter Filippini, Dorothy Harrison, John V. Azevedo and Claude Delphia. The committee drafted the procedure that founded the society a year later. I felt much honored to be in such a prestigious group. Now all of us are gone.
In 1971 came a plan to start a local celebration. It was to be a business promotion for downtown Patterson, and it resulted in the Apricot Fiesta that we enjoy today. The other local on that small founding group to still reside in Patterson is Nancy Selander. Hundreds if not thousands of locals have participated over the years to improve our major city celebration.
Then in 1978 a bunch of us restarted Patterson's Boy Scout troop. I wasn't intending to become its scoutmaster, but when the first guy left six months later, I pitched in to help and didn't leave for 28 years when medical problems forced me to hang up my neckerchief. But I missed the guys and four years later after the doctors had worked their miracles, a second Patterson troop was formed and I jumped back into the game. Hopefully some of those Scouts who I enjoyed so much are here today. You are the guys evoking countless memories – most of them good.
Many, many adults and parents assisted with the Scouting program here, but I want to mention several who gave great effort to making the program run – Jack Dolzadelli, Charlie Lindner, Bob Kimball, Bert Smith, Paul Borchardt, Tom Houk, Ruth Sierra, Don Keller, Ken Moeller, Gary Scoles, Kenny Buehner, Jaime Reyna, Eric Langstaff and many, many others. Hopefully they had as much fun as I did.
I also felt very honored when receiving my 50-year Scout pin and for the recognition received for starting an unusual troop that serves boys with special needs. I also was recognized with my 50-year Masonic Lodge pin.
While publishing a community paper for over 40 years, there were high peaks and deep valleys. Defeating the Gerry Kamilos proposal for the former Crows Landing Naval Base certainly was one of the 'highs.' Watching Patterson High athletic teams win honors was always exciting. I cite Coach Mike Worley's championship wrestling teams back in the '80s as an example. So were milestones such as changing the city of Patterson's government to the city manager system and reporting the academic achievements of our local students.
On the 'down' side were tragedies that took the lives of our young people. Those stories were tough to write, as were the obituaries of my own parents. And the Del Puerto Hotel fire in 1996 was itself a tragedy for our community.
But all-told, life in Patterson has been great. Thinking only recently about my 50-plus years in this community, I realized I have no regrets. I pitched in where I could make it a better place, experiencing more successes than failures. And I've enjoyed making many friends and working beside people who I much admire. I couldn't ask for more.
I've had a loving and supportive family that has grown even closer over the years. Kay and I have been fortunate enough to have taken 14 trips abroad. Heck, we even rode camels for 15 days, covered 140 miles, and actually survived. Am I bragging? Yes, I suppose I am.
Now aren't you glad we didn't invite you over to view our many thousands of photographs!
I've been blessed with maintaining contact and friendships with many who do not reside in Patterson. They include 20 from my college days at Iowa State and 15 of my high school classmates from 60 years ago. To all of you, keep the faith.
To those who over the years had a hand in the production of our newspaper, I thank you for your labors. We worked hard, we became a team, and we became an extended family. Love you all.
And to those whose efforts to improve our community have been laudable – and there are many of you – I can only say, "Keep up the good work."
This is a sampling of the euglogy written by Ron Swift and read at his funeral by Carol Scoles.